Inviting Writing: Thankful for Traditional Recipes
Nothing fancy, just warm and tasty and filled with tradition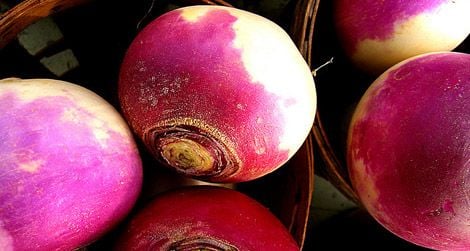 For this month's Inviting Writing, we asked for stories about thanksgiving, with or without the capital T. Stories about the holiday, being thankful for a certain food, or edible expressions of gratitude. Jessica McLean, like many of us, has wrestled with recreating traditional family recipes, which are often tricky, sometimes in surprising ways. She lives in Pennsylvania and says, "I enjoy eating anything my grandmother will cook for me, and watching from a healthy distance while she prepares it."
How Do You Make That?
For me, one of the best parts about Thanksgiving—and the winter holidays in general, really—is the traditional recipes.  The ones my grandmother breaks out only for Thanksgiving and Christmas (and maybe Easter). Many of them are family recipes she learned from her mother, and they aren't especially fancy. What makes them special is that she makes them only for holidays.
Turnips are one of these recipes. My great-grandmother was born in Estonia, and turnips were a common dish in her household growing up. Even after she'd moved to America, she would make this food from her childhood for her own girls. Her daughters all loved a particular turnip dish she made—I don't know what it's called, really. We always just call it "turnips" during the holidays, since it's the only turnip dish ever served. It's a sort of mashed and baked dish—nothing fancy, just warm and tasty and filled with tradition.
When I was little, I wouldn't go near them.  They smelled funny to me.
Truth be told, my grandmother and my great-aunt were really the only two in the family who ate them. But my grandmother makes them every year, even after the death of her sister, because they loved them and because the dish has been traditional for the holidays for generations. When I was in high school, I finally felt brave enough to try them and was surprised by how good they were. Creamy and soothing like mashed potatoes, but with such a delicate flavor…I almost always request them now, just to be sure they're at the table.
A couple of summers ago, I moved to a new town where I didn't know anyone and I was feeling pretty sorry for myself.  So I decided to give my grandmother a call and get the recipe for her turnips. I had this idea that if I could have just a few scoops of my favorite Thanksgiving food, the jolt of nostalgia would cheer me up. My grandmother cautioned that she didn't have exact measurements because the recipe was so old, and gave me the basic gist. I trekked out to the store and picked up the ingredients, including the all-important turnips. At home, I diligently prepped and chopped and mashed and baked, waiting with anxiety and anticipation to taste the outcome.
When the turnips were out of the oven and cool enough to eat, I put a big scoop in a bowl and settled onto the couch to enjoy. I took a bite and the taste was more or less correct, but the texture was just…off.  More like a chowder than thick mashed potatoes. It was still an enjoyable and affordable snack, but I called my grandmother right away to figure out what went wrong. I told her everything I did, hoping that she'd be able to fix this for me, to tell me what I did wrong or forgot to do so that I could recreate the delight I felt each Thanksgiving with my first bite of turnips.
After talking it over for a few minutes my grandmother suddenly gasped. "Jessie, I know what happened. My mother called these turnips because that's what they call them in Estonia, but they're actually rutabagas!"
I won't say that this turned my whole world upside-down because it wasn't quite that dramatic. We did have a good laugh about it, and I asked her to make an extra batch during the holidays that year so I could take left-overs home with me. But I still haven't attempted to make the rutabagas myself, even though I do have a corrected copy of the recipe.  I decided they were best left to the expert—my grandmother—and to Thanksgiving.