Inviting Writing: First Taste of Fire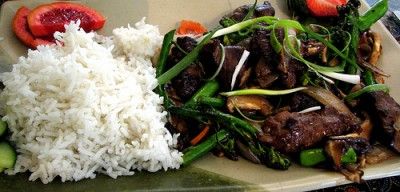 For this round of Inviting Writing, we asked you to tell us about "first tastes"—interesting initial encounters with a particular food or drink. Today's selected writer, Judy Martin of Cupertino, California, tells us about her first taste of hot peppers. Judy works for a medical device company and blogs about food at Tastemonials.
In the charitable season of the spirit, we've extended the submission deadline a few days! Send your stories to [email protected] by Wednesday morning, Dec. 22.
The Heat Goes On By Judy Martin
When I moved to California in 1984, I had limited experience with ethnic cuisine. My Chinese food repertoire included fried rice, egg rolls and Chung King chow mein from a can. The new town where I moved had a main street that was like the United Nations of dining, so it wasn't long before I began to explore the unknown foods there.
Chinese food seemed approachable, and there was a restaurant where my husband and his coworkers ate lunch frequently that he thought I would enjoy. It was owned by a friendly couple who spoke very limited English. We began to dine there at least weekly and work our way through the menu. Before long, I was ready to tackle the items marked with their HOT symbol.
But as with ethnic food, I also didn't have much experience with spicy. (I was raised mostly on canned and frozen food.) One night I ordered Hunan beef. It was a beautiful dish, featuring a rich caramelized sauce sprinkled with little red pepper flakes. I took a bite that included some of the beef, rice, and what I thought looked like a mushroom. Right about then, the chef/owner came to our table and saw me eat the first bite.
"NO EAT PEPPER!!!" he said waving his hands wildly. "FLAVOR ONLY!!!"
Well, it was too late. I had bitten into the hottest pepper I'd ever encountered and my mouth exploded. I had never experienced such a sensation. Sweat began to stream from every pore. I grabbed my glass of water. "NO WATER, NO WATER!!! RICE AND SALT!!" he urgently advised and demonstrated cramming my mouth full of rice.
I survived my first hot-pepper encounter thanks to that restaurant proprietor, and rather than being daunted, I was intrigued. I returned many more times to enjoy his cooking. Hunan beef became one of my favorites, the spicier, the better. I began to explore the flavors of peppers and developed a love for heat. Give me habaneros or Brazilian malaguetas any time; I'll cook you a spicy dish that will make you sweat!
My son was five or six years old at the time of the pepper experience, and for a long time refused to eat Chinese food. The owner and his wife would come out and try to entice him with little treats, usually with no success. Once, after they had made a routine friendly visit to our table, our son asked us their names. I was embarrassed to admit that I didn't know.
"But it's on the window," my son said. I didn't understand what he meant. So he took us outside and pointed to the front window of the restaurant, which read: "Mandarin and Szechuan Cuisine."
After that, we always referred to them as Mr. and Mrs. Cuisine. The restaurant eventually closed and they moved away, but we still remember them and their food fondly.