Inviting Writing: A Mad Dash from the Dorm Kitchen
I never realized how much patience and stealth it took to cook this tasty treat until I had to carry it down a long, "The Shining"-esque hallway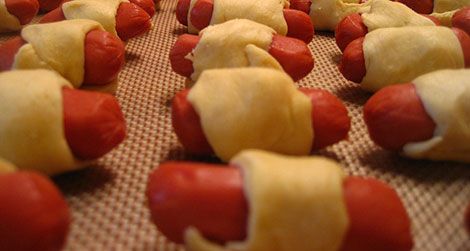 For this month's writing invitational, we asked you to tell us about your relationship with your kitchen. We got some terrific essays that we'll post on the next several Mondays. First off is Ashlee Clark's reminder that, no matter how small or inconvenient or outdated your current kitchen is, chances are you had it worse in college.
Clark is a freelancer writer and editor in Louisville, Kentucky. She writes about local food and frugal eating at her website, Ashlee Eats.
Dorm Food
By Ashlee Clark
I traveled through a medley of kitchens befitting of the life of a young adult during my college years. Dormitory kitchens were the worst.
These kitchens were dark and abandoned rooms at the end of the hall outfitted with a stove, sink and little else. The rooms always smelled of stale pizza and popcorn from other students' half-hearted cooking endeavors.
In the three dorms I lived in during my time as an underclassman, there was usually just one kitchen on each floor. I had the misfortune of always being on the opposite end of the hallway from aforementioned cooking spaces. Every time I got an itch to eat something that required more prep than tuna salad, I would have to gather my meager collection of utensils in a plastic grocery bag, go to the kitchen, make my dish, then take it all back. God forbid you leave your cooking tools in a communal kitchen. It would take only five minutes of your absence for your cookware to end up in the trash or in someone else's grocery bag.
Making pigs in a blanket, a comfort food that nourished me through many Western Civilization study sessions, was a true test of patience and stealth. I never realized how much it took to make this tasty treat until I had to carry it down a long, The Shining-esque hallway. There was the tube of crescent rolls, the package of hot dogs, the cheese slices. The Pam, the baking sheet, the oven mitts. The knife, the spatula, the plate.
I would spread my supplies across the Formica countertop and assemble my meal by the dim light above the oven. But slicing and stuffing a hot dog with cheese and rolling the creation in dough was simple compared to getting my meal back to my room with the original number of pigs in a blanket in hand.
The scent of processed meat quickly slid under the doors of my neighbors as my meal baked. Hallmates to whom I had never spoken would slide down to the kitchen and create some idle chitchat before finally asking me to share. My hungry belly wanted to yell out, "Make your own, buddy," but my Southern manners always made me oblige their request.
So to avoid sharing my bounty, I had to cook with ninja-like stealth. As soon as I slipped my baking sheet into the oven, I began covering my tracks. I threw away plastic cheese wrappers. I vigorously washed my utensils. I gathered everything I could back into my grocery bag and waited for the dough to turn a golden brown and the cheese to start dripping down the sides of the meat. At the first sign that my meal was complete, I took the tray in one oven-mitt-covered hand and the grocery bag in the other. I peeked my head out the door and sprinted down the hallway before someone discovered my culinary delight. This task was made difficult by the clanging of the utensils against my aerosol can of cooking spray, but I never stopped. If someone stepped out of their room, I gave them a simple nod without slowing my pace.
I repeated this process a few times each month for much of my college career. All that sneaking around taught me how to cook in an inadequate kitchen under extreme pressure. And I still have a soft spot for pigs in a blanket.