Incredible Political Fashion Statements From Past Elections
Forget buttons and T-shirts. Check out these mini dresses, bell bottoms and digital watches from old campaign trails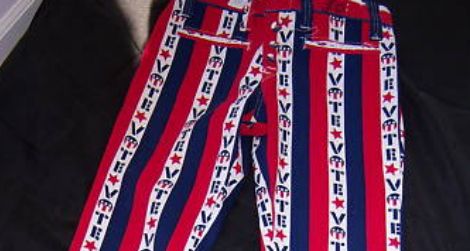 It's hard to believe—especially as the East Coast reels in the aftermath of Sandy—that the election is just a few days away. While the candidates crisscross battleground states in last-ditch efforts to win over undecided voters, and volunteers go door to door to get out the vote, voices are growing hoarse with strain. Of course, if all else fails and laryngitis sets in, you can communicate your campaign message through dress! Usually, that means the requisite campaign T-shirt, button, baseball cap—or mask, if you really want to make your point. But occasionally, campaign-wear turns more creative.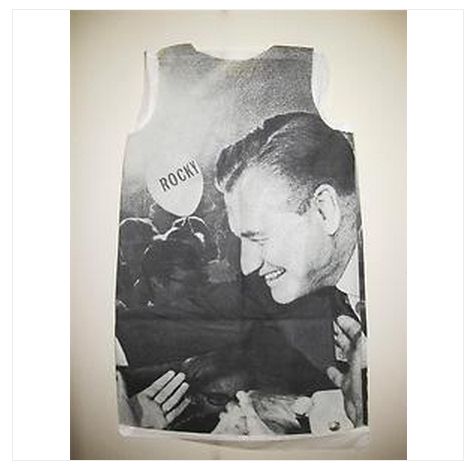 The most fun campaign garment I've seen of late is this Rockefeller for President dress made from paper! Designed by Candidress, it might have been worn by an avid Nelson Rockefeller supporter during the 1960, 1964 or 1968 presidential elections when he unsuccessfully attempted to secure the Republican nomination. Emblazoned with "Rocky"—on a balloon— and an extreme close-up of his face, the dress recently sold for $255 on eBay.
(Thanks, Sarafina Creeley!)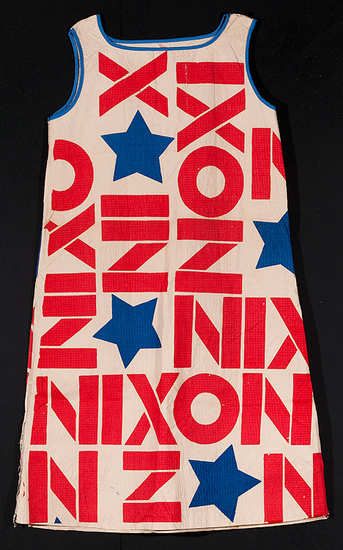 Another paper dress! This one, from 1968, was for the guy who actually won the Republican nomination. Who knew Richard Nixon was so design-savvy? (Anyone wear a paper shift when they were a fad?) Made by Mars of Asheville, North Carolina, the highly combustible disposable mini ("This material is fire resistant unless washed or dry cleaned, then becomes dangerously flammable when dry," the label explains.) can be yours for $1250.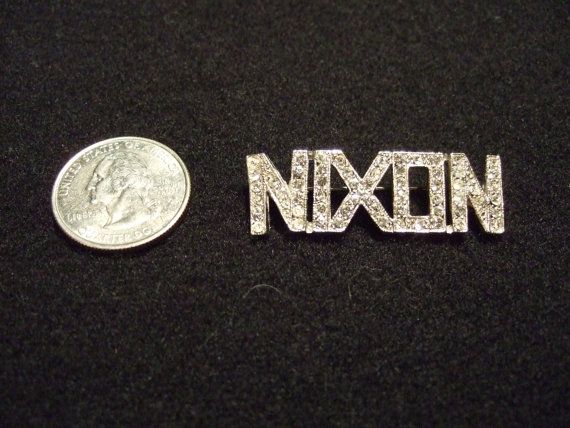 How about upgrading from the tired presidential button to something with a little more pizazz? Even though it's the size of a quarter, I'm sure this blinged-out campaign pin made a statement when worn—only on the fanciest occasions, of course!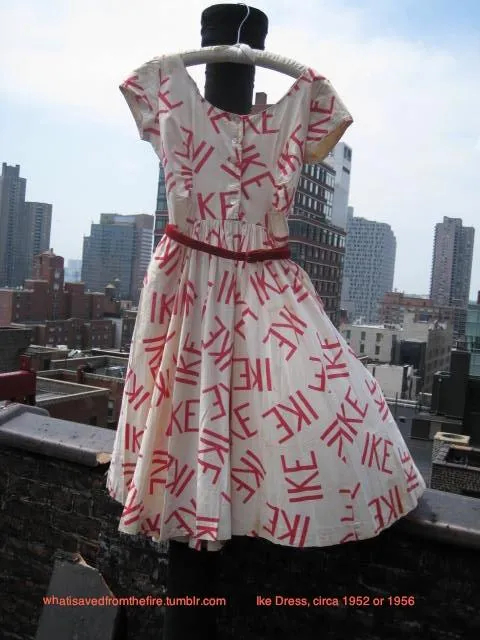 Going back a couple of election cycles, I enjoyed reading the story of this Eisenhower campaign dress on What I Saved from the Fire. The dress owner explains:
Surely I would grab my vintage Ike Dress from the fire. The Eisenhower presidential campaigns of 1952 and 1956 featured some of the best paraphernalia. Like the man himself, his campaigns were comparatively larger-than-life and infused with charisma and excitement; though a mediocre president, the General understood a good campaign.

More importantly, this dress was a gift to me from David Garth, one of the founders of the political media business, whose own outsized personality was infused with the spirit of a good fight, a sense of historical adventure, and the creation of dramatic moments full of wit and imagination, punctuated with high dudgeon, and, in all, just plain fun. Garth became my mentor as I was just starting out; as a young man he had worked for Adlai Stevenson in his second race against Eisenhower. In a way, then, Ike was a beginning for him and his gift of the Ike Dress to me reminds me of my own start.

So, in the beginning of the 21st century, I must say that in some ways I pine for the 20th—for campaigns like Ike's full of naive spectacle; for scrappy, lively people like Garth; for optimism and a belief in civic virtue in which, though politics and life might soil from time to time, any cynicism remains but a temporary reaction.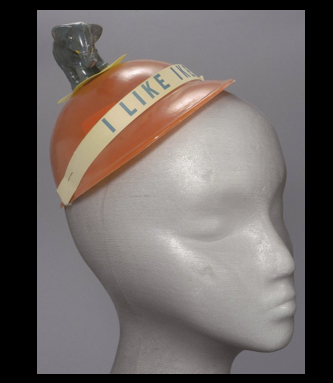 Continuing with Eisenhower's inventive campaign gear, this plastic child's hat with a moveable elephant is quite a campaign memento. Found in the Cornell University Library collection of political Americana, this hat convinced kids that politics were fun.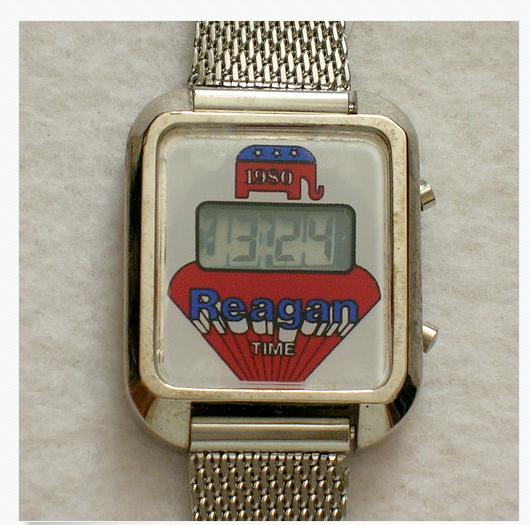 Reagan time! It was 1980, digital watches were "in" and Republicans wore this one in support of the Gipper.
GOTV-ers, check out these patriotic bellbottoms! Discovered on eBay a couple of years ago, I grabbed the seller's story about the pants for my online art project, Sentimental Value. She wrote (grammar and misspellings as is):
THERE IS A FUNNY STORY BEHIND THESE AS I HAD NO CLUE TO WHAT THEY WERE I HAD BOUGHT THESE AT A GARAGE SALE ABOUT 20 YEARS AGO AND I WAS WORKING AT THE POLLS . I JUST THOUGHT HOW COOL THEY WOULD BE TO WEAR WHILE HANDING OUT FLIERS. AFTER THAT, PUT THEM AWAY AND FORGOTTEN. THIS FOURTH OF JULY I FOUND THEM, LISTED THEM IN JUNE 2010 AND I GUESS THE WAY THEY WERE LISTED NOBODY PAID ANY ATTENTION TO THEM. I JUST HAPPENED TO BE READING A JUDITH MILLER BOOK LAST NIGHT TRYING TO FIND SOME OF MY GLASS WARE WHEN I SAW THESE PANTS AND THEY HAD THEM VALUED AT $180. SOMEBODY COULD HAVE GOT A GREAT BARGAIN BACK IN JUNE. WHO KNEW, I CERTAINTLY DIDN'T.
Partisan politics and paper dresses aside, remember to vote on November 6!