How to Toast Hemingway's 110th Birthday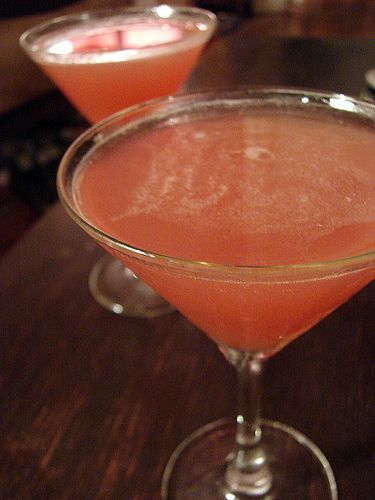 If Ernest Hemingway were around to celebrate his 110th birthday today, his party would no doubt involve a staggering amount of alcohol. He was a renowned writer—with more than a dozen books and a Nobel Prize in Literature to his credit by the time he ended his own life in 1961—and he was an equally renowned drinker.
I'm not advocating alcoholism, mind you, but I have to admire the gusto with which Hemingway approached everything. He packed a lot into his nearly 62 years as a writer, fighter (served in one war and covered two others), traveler (spent time in Europe, Africa, Asia and the Caribbean as well as the United States) and lover (four marriages! okay, not really advocating that either), deservedly earning a reputation for living life to the fullest.
So when I heard about last Friday's Resident Associates event, "Savoring Life with Ernest Hemingway," I had to check it out. The speaker was Phil Greene of the Museum of the American Cocktail, who I'd had the pleasure of hearing at a previous event about New Orleans cocktail history.
In between bits of Hemingway trivia and excerpts from his work, we learned (and sipped) five drink recipes he inspired. I'll share a few here, in case you feel inspired to give him a birthday toast.
The Jack Rose
1 1/2 ounces Applejack brandy or Calvados 1/2 ounce Grenadine 1/2 ounce fresh lime or lemon juice
Shake well with ice; strain into a chilled cocktail glass.
This is the drink to order while waiting for a date; it's good enough you may not care if they show up or not. Plus, you'll be channeling a scene from Hemingway's famous novel The Sun Also Rises, in which the narrator, Jake, waits for Lady Brett at a Paris hotel:
At five o'clock I was in the Hotel Crillon waiting for Brett. She was not there, so I sat down and wrote some letters. They were not good letters but I hoped their being on Crillon stationery would help them. Brett did not turn up, so about quarter to six I went down to the bar and had a Jack Rose with George the barman.
Or, if you'd rather be your own barman, check out Rachel Maddow's helpful how-to video.
The Green Isaac's Special
2 ounces gin 4 ounces green coconut water 1 ounce fresh lime juice Angostura bitters, to taste (about four drops)
Fill a highball or Collins glass with ice. Shake with ice and strain into the glass, or simply add each ingredient in order.
This drink "tastes as good as a drawing sail feels," declares a character in Hemingway's posthumously published novel Islands in the Stream. The coconut water and lime make it extremely light and refreshing; perfect for summer.
Death in the Afternoon
2 ounces Champagne or dry sparkling wine 1/2 ounce absinthe
"Pessimistic but sparkling"—that's an encyclopedia writer's description of The Sun Also Rises, but I think it sums up this concoction pretty well, too. It takes its name from Hemingway's 1932 novel about Spanish bullfighters.
There are only two ingredients: Champagne (or sparkling wine) and absinthe, in a 4:1 ratio. And yes, you can use real absinthe, a wormwood-based spirit that became legal again in 2007 after being banned from the U.S. for nearly a century. It tastes like licorice on fire, or, as a Hemingway character declares in The Garden of Eden: "This drink tastes exactly like remorse."
And if you exactly followed Hemingway's own recipe, published in a 1935 cookbook, that's likely what you would feel: "Pour 1 jigger of absinthe into a champagne glass. Add iced champagne until it attains the proper opalescent milkiness. Drink three to five of these slowly."