Hopping Vampires and Other Screen Bloodsuckers
Forget Twilight and True Blood, these overlooked vampire gems are perfect for Halloween viewing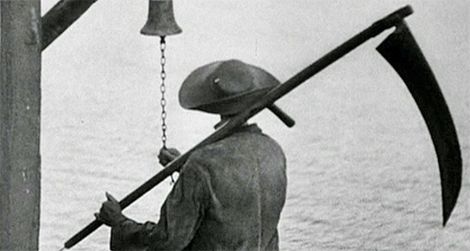 Vampires thrive in many cultures, from ancient Persia to modern suburbia. They seem especially prevalent now: HBO announced a fifth season of True Blood; entering its third season, The Vampire Diaries has been one of the more successful series on The CW; and November 18 marks the release of part one of The Twilight Saga: Breaking Dawn, the fourth entry in the film series adapted from Stephenie Meyer's books.
Our interest in vampires stems largely from Bram Stoker's 1897 novel Dracula, which the author tried to mount as a stage production soon after its publication. Stoker's widow Florence fought to prevent bootleg adaptations, almost succeeding in destroying F.W. Murnau's Nosferatu (1921), in which the German actor Max Schreck made a very convincing bloodsucker.
Mrs. Stoker authorized Hamilton Deane's London stage version of Dracula in 1924, which opened in New York in 1927 and later in a road company production starring Bela Lugosi. The play set down many of the "rules" of the vampire genre, from Dracula's motives and weaknesses down to his clothes. (His cape, for example, helped disguise the trapdoors necessary for stage disappearances.) Universal adapted the play for the screen in 1931, paying Lugosi $3500 for seven weeks' work as the lead. His performance—the halting speech, icy expressions, and sinister hair—set the standard for future screen vampires (and forever typecast him). Remnants of Lugosi's work can be seen in everything from the series of Dracula films Christopher Lee made for Hammer Studios to "The Count" from Sesame Street and Count Chocula cereal.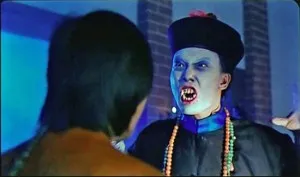 Vampires took on different forms in Asian cultures. In Yuewei Caotang Biji, the Qing Dynasty author Ji Xiaolan described a "jiangshi virus" that could turn victims into hopping vampires. Jiangshi bloodsuckers operate much like Caucasian ones, only they are afflicted with rigor mortis that causes them to hop with arms outstretched after their victims.
In 1985, producer Sammo Hung (a major screen star in his own right) initiated a phenomenally successful series of hopping vampire films starring Lam Ching-ying as a Taoist exorcist. Mixing comedy and martial arts, movies like Mr. Vampire and its sequels are broad, easygoing fun, full of lighthearted chills and intricate slapstick. They inspired numerous imitators through the years, even as filmmakers grabbed ideas from Hollywood. The Twins Effect (also known as Vampire Effect in the US), for example, used themes from Buffy the Vampire Slayer to become Hong Kong's number one box-office title of 2003.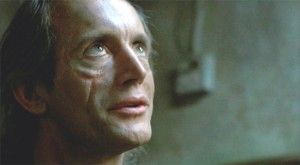 1987 saw the release of two films that tried to rejuvenate the vampire myth, The Lost Boys and Near Dark. The former, featuring a passel of Brat Pack wannabes and directed by Joel Schumacher, found kid vampires running amok in a California beach town. The latter, featuring much of the cast of Aliens and directed by Kathryn Bigelow, took a darker approach: vampires as bikers terrorizing small towns in a desolate West. Although a commercial failure, Near Dark developed an extensive following over the years. Gruesome, funny, and morbid, it has some of the most vicious action scenes of its time. (Both directors are still working. Schumacher's Trespass, starring Nicolas Cage and Nicole Kidman, just opened; Bigelow won a Best Directing Oscar for The Hurt Locker, and is currently prepping a film about the hunt for Osama bin Laden.)
Vampyr (1931) was also a commercial failure on its release, but no other film has as nightmarish a vision of the undead. Directed by Carl Dreyer as a follow-up to his masterpiece The Passion of Joan of Arc, Vampyr was produced independently on the cusp of the transition from silent to sound movies. Dreyer planned French, German, and English versions; only the first two were apparently finished. It was the director's first sound film, and he shot on location with a largely untrained cast. The negative and sound elements have been lost; prints today have been pieced together from incomplete copies. All of these factors help contribute to the movie's sense of unease.
The plot, adapted from J. Sheridan Le Fanu's short story collection In a Glass Darkly, finds amateur occult specialist Allan Grey (played by the film's producer Baron Nicolas de Gunszburg) investigating a mysterious illness in the village of Courtempierre. What he uncovers has become the building blocks of today's horror genre. Consciously or not, filmmakers around the globe have plundered scenes and special effects from Vampyr, but no one has quite captured its spectral tones. Combined with Dreyer's extraordinary use of screen space, the disorienting cinematography by Rudolph Maté and the deliberately fleeting soundtrack make watching Vampyr the equivalent of being trapped in an inexplicable and deeply menacing dream.
Perhaps vampires affect us so deeply because they fit so many metaphors. Bram Stoker may have been influenced by the rise in immigration rates in London, or the spread of venereal diseases like syphilis. Or he may have been writing about his boss, actor Henry Irving, a tyrant who sucked away the author's ambitions. Vampires have been portrayed as foreigners, neighbors, villains, clowns, lovers. They are misunderstood, demonic, lonely, noble, evil, both killer and prey. Preserved on film, they have truly become undead.