Hollywood Goes to China
From animation studios to movie stars to box office tallies, China has become the next frontier in film production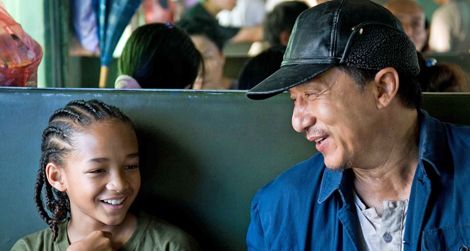 When The Artist won Best Picture at this year's Academy Awards, the achievement was noteworthy not just because the film was silent, but because it was made in France. So few foreign films get screened in American theaters that moviegoers might not be aware of long-established film industries in countries like India, Norway, and the Philippines.
By some accounts India has the largest film industry in the world; it's certainly the largest producer of movies. According to the Central Board of Film Certification, over 1250 feature films are released in India each year. In terms of revenues, Japan's film industry is slightly larger than India's. And at some point this year, China edged past Japan to become the second-largest film industry, with receipts well over $2 billion a year. (The US industry makes around $11 billion a year.)
For several decades, the film industry here has counted on foreign revenues for profits. In previous decades, studios actually opened production offices in Great Britain and Italy to take advantage of currency restrictions. Many Hollywood films receive some form of foreign financing to offset production costs. And in some cases—Disney's Alice in Wonderland and John Carter, for example—overseas box-office receipts were much higher than the domestic take.
For some industry executives, China is the next frontier. For the past two decades, Asian films have exerted a strong influence on American filmmakers. Hong Kong-based filmmakers like Jackie Chan, Chow Yun Fat, Michelle Yeoh, and John Woo have developed careers in Hollywood. Woo helped raise the bar for stunt choreography and gunplay throughout the industry, finding a new market for action choreographers like Corey Yuen and Yuen Woo Ping. Actors like Liam Neeson and Jason Statham now employ moves that a previous generation of action stars never knew existed.
The number of movie theaters in China has doubled to 6,200 over the past five years, and is expected to double again by 2015. But breaking into that market has been tough for Hollywood. One approach has been to include Chinese subjects and characters in films that might otherwise be taking place somewhere else. Mission Impossible: III had a sequence set in Shanghai, for example.
All foreign films must be approved by the China Film Group, which in past years has limited the number of U.S. films allowed to screen in China to 20. (A recent agreement, which has sparked a bribery investigation by the Securities and Exchange Commission, allows 14 additional films, provided they are 3D and/or IMAX.)
But producers have found a workaround: co-productions are considered domestic titles, and are exempt from the 34-film limit. So the 2010 version of The Karate Kid, co-produced with the China Film Group, could be screened without restriction in China.
When Titanic 3D opened in China this past April, it earned $58 million, the best weekend opening ever in that country. Perhaps not so coincidentally, director James Cameron attended last week's Beijing International Film Festival, where he told reporters that he was considering shooting the sequels to Avatar in China. "I think by the time Avatar 2 and 3 come out, China could easily be the same size market as the United States," he said. In Beijing, "you see how they're basically skipping the latter part of the 20th century and going straight to the 21st century, with installation of 3D compliant digital theaters in towns that never even had a movie theater before. They're just skipping film completely. There's no film in their film business – which is pretty cool."
Which brings us to Iron Man 3, a joint production of The Walt Disney Company in China, Marvel Entertainment, and DMG Entertainment, a China-based media company that was also involved with the Bruce Willis vehicle Looper. Just as The Karate Kid used Jackie Chan to help draw in Asian moviegoers, Iron Man 3 producers are currently negotiating with Andy Lau for a significant part in the new movie.
Studios like Walt Disney, 20th Century Fox, and DreamWorks Animation have already set up shop in China. They have been joined by production companies like Legendary, Relativity Media, and Village Roadshow. Endgame Entertainment worked with DMG on Looper. Keanu Reeves is filming his directorial debut, Man of Tai Chi, in China.
In his interview, Cameron couldn't have been more enthusiastic about the Chinese market, pointing out that Hollywood filmmakers could skirt around restrictions against science fiction films, for example. "The standards are relaxing," was how he put it.
Not everyone agrees. While there is no central production code, censors have to approve individuals titles. Without written guidelines, filmmakers must guess what will or won't pass. Terence Chang produced the historical epic Red Cliff for director John Woo. "It did not encounter censorship problems because it had absolutely no political implications," he told me. "However, a couple of years ago I produced a small romantic comedy, and its original English title, Dirt Rich in Shanghai, was banned. There was a scene in which everybody smokes in a boardroom. That scene had to be cut. I guess nobody in Shanghai was dirt rich, and Chinese people did not smoke in boardrooms." Chang agreed that he and Woo would not be allowed to make their breakthrough hit Hard-Boiled in mainland China today.
Born in Vietnam and based in Hong Kong, director Tsui Hark filmed Detective Dee and the Mystery of the Phantom Flame at a Chinese studio complex at Hengdian. He, too, worried about filmmakers censoring themselves in order to win a mainland audience. "That's a very tricky step," he told me. "There are a lot of taboos, so many things you can't touch upon, especially when you're filming modern-day material. We couldn't make A Better Tomorrow or The Killer for mainland China today. Before you start shooting, or writing, you're worrying about what will get a green light, what distributors will agree to show on the mainland."
Johnnie To, perhaps the most polished director working in Hong Kong today, faces similar problems. After making a string of incredibly tense and realistic crime films (including Triad Election and Exiled), he turned to romantic comedies to avoid censorship problems. While filming Romancing in Thin Air, he spoke with reporters about his changed goals. "This is intentional. We need to cultivate that market. It's difficult to do that with the kind of movies we typically make. In order to avoid problems and excessive edits with the censors, we are making softer movies like love stories and comedies. If we make a crime movie or one of our more personal films, there will be more obstacles."
Speaking of obstacles, one of the main problems facing Asian filmmakers is finding a way to get viewers here in the United States to watch their movies. Next week I will write about how you can find some of the best movies being made today.
Read new Reel Culture postings every Wednesday and Friday. And you can follow me on Twitter @Film_Legacy.