Holiday Gift Guide for Film Buffs
Movies every fan should have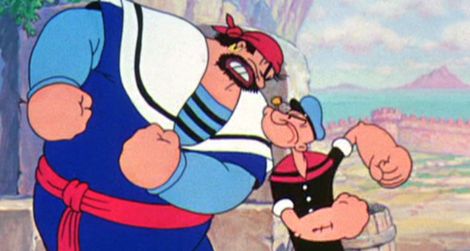 ​If you're reading this blog, your interests probably extend beyond current DVD and Blu-Ray releases. This is a great time to collect obscure titles as the industry scours its vaults to make one last killing in the home video market. And the holidays are a great excuse to stock up on movies. But get them while you can: there doesn't seem to be a way to stop the trend to the cloud.
As a critic I get a lot of screeners. They are both a blessing and a bane, especially as the piles of unwatched DVDs teeter higher around the TV every day. I've also reached the age where it's better to get rid of things than add to them. So it takes something special to convince me to spend more money on a technology that will soon be obsolete. Like the five titles listed below. Some are guilty pleasures, some required viewing.
1. Seven Chances. Kino has been doing a tremendous job releasing Buster Keaton's oeuvre on Blu-ray and DVD. Any of the comic's features would make a wonderful gift, but Seven Chances, from 1925, is one of his lesser-known works. Plus it just came out in an "Ultimate Edition" with a newly restored color for the opening reel. (Eric Grayson gives an absorbing account of the restoration on his Dr. Film blog.) Based on a Roi Cooper Megrue play, it's a sort of variation on Brewster's Millions, with Keaton playing a financier who has to marry by 7:00 p.m. in order to inherit $7 million. It's delightful to see the comedian in a relatively sophisticated role, just as it's always a treat to see his athleticism emerge in carefully worked out gags that in my opinion have never really been equaled. Just as worthwhile is Buster Keaton: The Short Films Collection (1920-1923), a two-disc set that includes some of the finest comedy shorts ever made.
2. The Rules of the Game. This 1939 Jean Renoir film examined the French social structure in such a pitiless light that it provoked a riot on its release. A shaken Renoir tried re-editing it, but soon left France for the United States. The negative was lost during World War II, and so essentially was the film until it was reconstructed in 1959. An account of a weekend party at a country chateau, the film veers from comedy to tragedy without ever losing its wry, detached tone. Bravura passages, like an unnerving hunt in the fields, and cinematography that predicts the New Wave twenty years later make The Rules of the Game seem timeless. This is one of the great masterpieces of cinema, and if you haven't seen it you owe yourself this excellent Criterion edition. (And check out some other great films in the Criterion Collection, like Carlos and Island of Lost Souls.)
3. Havana Widows. "Pre-Code" refers to a brief period between the transition from silents to sound and the imposition of stricter censorship regulations in 1934. For years pre-Code films were regarded as creaky antiques and largely neglected by studios. Now, thanks to growing demand, it's easier for us to appreciate their looser morals and racy, occasionally raunchy subject matter. Warner Bros. made the fastest and funniest pre-Code films, like this 1933 romp starring Joan Blondell and Glenda Farrell as blondes on the make. Somehow the plot has them stripping down to their lingerie with surprising frequency. Havana Widows will never be mistaken for a Jean Renoir film, but as escapist entertainment it's hard to top. (It's paired on this made-to-order disk with another Blondell feature, I've Got Your Number.)
​
4. Popeye the Sailor 1933–1938. Warner Home Video has released three collections of Popeye cartoons, but I think this is the best. It includes Popeye's first screen appearance (in the Betty Boop cartoon Popeye the Sailor) as well as his two-reel Technicolor extravaganza, Popeye the Sailor Meets Sindbad the Sailor. More important, it includes titles like I Yam What I Yam, The Dance Contest, For Better or Worser, and A Dream Walking that helped establish Popeye, Olive Oyl, Bluto, and Wimpy as some of the most popular cartoon characters on screen. You might be surprised how gruff, funny, and adult the pre-Code Popeye's muttering can be.
5. Remember the Night. Over the years this has become my favorite Christmas movie, perhaps because its humor and romance are tinged with so much remorse and loss. Barbara Stanwyck plays an unrepentant thief, Fred MacMurray an up-and-coming assistant district attorney, and through a masterful set-up by screenwriter Preston Sturges, both have to spend the Christmas holidays with MacMurray's angelic mother Beulah Bondi on her farm in Indiana. One part sparkling comedy, one part aching romance, one part harsh reality, the film sets a mood that I find unshakable. An early scene of Stanwyck and MacMurray dancing to "Back Home Again in Indiana" never fails to bring me to tears. Making small talk, MacMurray asks Stanwyck if her mother is still alive. Her response—"I hope so"—shows how deeply the film can cut.
Editor's note: There is one book for film buffs that Daniel didn't mention: his own! America's Film Legacy, 2009-2010: A Viewers Guide lays out everything you need to know about the 50 newest additions to the National Film Registry, including Dog Day Afternoon, The Muppet Movie and lesser-known films akin to what you've read here on the blog. If you enjoy Reel Culture, you'll enjoy his book.