Hanukkah Parties With a Twist
Latkes are delicious, but I've been thinking it's time to throw some new food traditions into the Hanukkah mix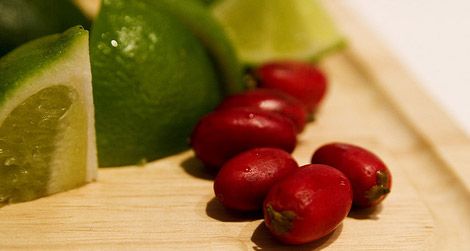 If you're Jewish—and maybe even if you're not—there's an excellent chance that you will eat latkes sometime before the end of Hanukkah next week (it starts tonight). I fully support this: Latkes are delicious. It wouldn't be Hanukkah without them. (I'm going with a zucchini-potato version this year to fit in with my low-carb pregnancy diet.) But are you going to eat them all eight nights of the festival of lights? Probably not.
I've been thinking it's time to throw some new food traditions into the Hanukkah mix. I have a few ideas to propose:
Have a fryapalooza. The reason latkes are so associated with the holiday is that they're fried, evoking the miracle of the oil that was supposed to last no more than one night but lasted for eight. So why stop at shredded potatoes? Have a fried-food fest that would put the Iowa State Fair to shame.
There are at least two ways you could go here. One is down-home, with fried pickles from Homesick Texan; corn dogs from Average Betty (using Hebrew National wieners, of course); Paula Deen's Southern fried chicken; and don't forget your veggies—Grit magazine's fried zucchini, perhaps. For dessert, if you and your guests aren't doubled over with stomachaches by this time, may I suggest funnel cakes, those crispy fried dough treats dusted with powdered sugar? Moms Who Think shows you how to make them.
Another way to go would be a world tour of fried food. Mediterranean appetizers could include Spanish-inspired smoky fried chickpeas from Food52 or Italian fried olives from Giada De Laurentiis. Japanese tempura vegetables have a lighter, more delicate flavor than their Western counterparts; Leite's Culinaria shares a recipe from Yotam Ottolenghi's new vegetable cookbook Plenty (which I'm hoping Hanukkah Harry brings me). And, though less famous than the cheesy Swiss version, fondue bourguignonne, where pieces of meat are speared on a fondue fork and cooked in hot oil, lets your guests get interactive. Make your final stop in Israel for a dessert that really is a Hanukkah tradition, the jelly doughnuts called sufganiyot; Chow shows how it's done.
Whichever way you decide to go, this fatty menu should probably be followed by a juice cleanse. Of course, you could always space these recipe ideas out over the course of the holiday instead of eating them all in one go. But where's the fun in that?
Dip it, don't fry it. There's no rule that says oil is only for frying. In fact, as Italians and other people from around the Mediterranean have long known, some oil is just too delicious to waste by heating away its flavor. You could host an olive oil tasting party with quality oils and slices of good bread, then follow the tasting with a meal of salads and other dishes that highlight the star ingredient. Kim Vallée and Fine Cooking magazine both offer suggestions for pulling it off.
Eat a miracle (fruit). Unlike the Passover story, which requires the whole Haggadah to explain, the Hanukkah story is told succinctly by the dreidel, the spinning top with four sides spelling out in Hebrew, "A great miracle happened there." Although the name has more to do with marketing than divine intervention, so-called miracle fruit is pretty neat anyway. Miracle fruit is a West African berry that temporarily alters the way you perceive flavors, turning everything sweet—even something as sour as a lemon—for a while. It's similar, though much more dramatic, to what happens when you eat an artichoke. The berries are available frozen, dried or in tablet form, or you can buy seedlings and grow your own. You could turn the evening into a game, serving an array of foods, some with bitter or sour flavors, and asking blindfolded guests to guess what they are.