Handel Slept Here
The composer's early-Georgian town house reflects his life and times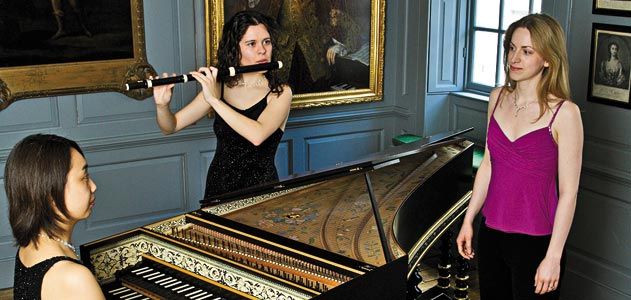 The house in which George Frideric Handel lived and worked for nearly 36 years, beginning in 1723, lies in the heart of London's bustling Mayfair district, bounded by Grosvenor Square to its west and Hanover Square to its east, a neighborhood now favored by foreign embassies and boutiques. But back in the 1700s, these were the city's rural western outskirts. Cows were still driven up and down Park Lane, today an elegant avenue. Sheep grazed in Hyde Park. And Kensington, today a fashionable residential area, was still a village, where coaches on the way to London often got mired in mud.
Since opening as a museum in 2001, Handel House has been restored in the style of the composer's time. The interior is largely repainted its original gray. The composer's bedroom is draped in crimson, including a bed that seems far too short for such a large man. "People back then were encouraged to sleep sitting up to aid their digestion—and of course, that may well have been the case with Handel," says Sarah Bardwell, director of the Handel House Museum. Among the 18th-century paintings on display are portraits of Handel patrons and friends, such as King George I, the poet Alexander Pope and the playwright-composer John Gay, best known for The Beggar's Opera (1728).
On a warm May night, I went to Handel House to attend a program of short pieces by Handel and several of his Baroque-era contemporaries, performed by a soprano and a trio of musicians playing period instruments—an oboe, cello and harpsichord. The instruments were restored 18th-century devices or replicas meant to convey a sound close to what Handel had in mind. The concert took place in the same second-floor rehearsal room where the composer's close friends and patrons gathered to listen to his works. There were 28 ticket holders in a cramped space no larger than a typical suburban living room.
For me, the high point was an aria—"Endless Pleasure, Endless Love," from Handel's 1744 opera, Semele—sung by Emily Atkinson, a 27-year-old Colorado-born soprano who came to London five years ago to study Baroque singing. "Knowing that Handel rehearsed in this same room is quite amazing," Atkinson said. She did not shift her feet during the recital—perhaps because the old wooden floor planks could creak loudly.
She had sung Handel music on many occasions, some of them during this anniversary year. But Atkinson could barely contain her enthusiasm at the prospect of performing, in the chorus, the most familiar piece of all. "I am about to sing Messiah for the first time," she said, beaming.