George Clooney Meets the Press
The star campaigns for two new movies, one of which might win him an Oscar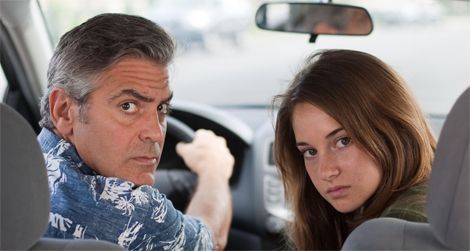 Few movie stars have adapted to celebrity as well as George Clooney. The actor, screenwriter and director has dominated media coverage in New York City for the past two weeks, first for his political thriller The Ides of March, and just this past weekend for The Descendants, a drama about a family from Hawaii coping with a crisis. (Fox Searchlight will be releasing The Descendants on November 18.)
To promote the former film, Clooney participated in a live "10 Questions" conference with Time magazine's Richard Stengel. Seated on a low stage before a hundred or so writers and staffers, the actor was just like we want our movie stars to be: warm, funny, articulate, willing to clown around with reporters but also to speak knowledgeably about Darfur. Asked if he would consider running for office, he quipped, "Run from is more like it."
You could gauge Clooney's appeal from those who attended the conference, including more well-dressed women than, say, Newt Gingrich might have attracted to his 10 Questions event. Even the male journalists were dressed up.
Clooney acknowledged that he received more attention than he probably deserved, but the corollary is that everyone expects something from him. And although The Ides of March received some lukewarm reviews, Clooney still had to play nice, giving reasoned answers to sometimes ridiculous or borderline offensive questions. And he was at it again later that evening for the New York premiere of The Ides of March at the Ziegfeld Theatre.
For The Descendants, Clooney appeared with many of the cast members and director Alexander Payne for a short conference at the New York Film Festival after a screening Sunday morning, October 16. (This was after another screening and conference the night before at a joint SAG/BAFTRA event.) Again Clooney faced maddening questions: Why did he wear Hawaiian shirts in the movie? What would he do if his girlfriend cheated on him? ("I'm not going to say anything because I don't want that answer coming back to me.")
Behind the joshing and teasing, Clooney seemed far more relaxed than he did promoting The Ides of March. For one thing, he did not direct, co-write, or produce The Descendants. But both the actor and the reporters present seemed to realize that The Descendants was something different, a movie of old-fashioned, even classical craft, one that offers Clooney perhaps the strongest role of his career.
The hyper-articulate Alexander Payne, director of such critical favorites as Election, Sideways, and About Schmidt, told the audience that he adapted The Descendants (originally a novel by Kaui Hart Hemmings) with Clooney in mind. An indication of the actor's power is that filming started only four months after he agreed to star in it.
In its settings and characters, The Descendants evokes a long tradition of Hollywood films that used to be called message dramas, or more frequently soap operas. They dealt with upper-cast life in posh settings, allowing viewers to luxuriate in unattainable life styles while reassuring them that they wouldn't be happy there anyway.
The Descendants takes place on the big island of Oahu, and Payne captures its achingly beautiful vistas in ways that haven't been seen much feature films. (He also cushions the story with classic Hawaiian music by Gabby Pahinui, Keola Beamer, and other traditional artists.) The director's calm, unhurried style puts the audience at ease before he springs the plot's tough moral questions.
The story centers on Matt King (played by Clooney) and his two young daughters Alexandra (Shailene Woodley) and Scottie (Amara Miller). Their mother has fallen into an irreversible coma after a boating accident. King, a distant father at best, tries to reconnect with his children in an awkward but instantly recognizable journey to some form of reconciliation.
The Descendants is ultimately a story about forgiveness, albeit one played out among country clubs, private schools, and beachside cottages. Payne cited two "ins" into the story, one in which King decides how to confront a rival, another in which a wife (played by the estimable Judy Greer) must face up to her husband's infidelities. Both moments ask viewers to consider how they would react, a narrative strategy that's the polar opposite of Hollywood's usual punch/counter-punch approach to storytelling.
Clooney is usually the alpha male in his movies. Think of his lawyer in Michael Clayton, a ruthless fixer who can talk his way out of any situation. Or Governor Mike Morris in The Ides of March, a politician so confident he can step beyond rules meant for more ordinary men.
Payne does something different in The Descendants: he strips Clooney of his power. Matt King isn't articulate, he isn't a very good father, and he was a failure as a husband. Cousins and in-laws, to say nothing of his daughters, push him around with ease. King puts up a good fight, but by the end of the movie everything he believed about himself has been taken away.
Clooney plays King as someone in a state of perpetual stunned disbelief. He reacts silently to each new revelation rather than spinning out glib one-liners, and he lets his pain show. It's a performance that makes him and The Descendants immediate front-runners in the Oscar race.