From Toronto to New York: The Fall Film Festivals
The fall film festival lineup is filled with avant garde movies and Oscar contenders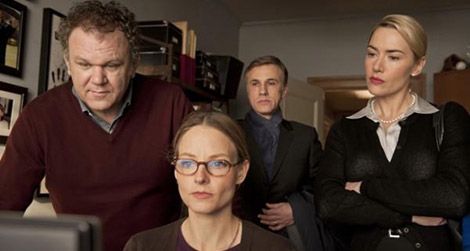 Film festivals used to have two seasons, roughly spring and fall. Spring saw Berlin's Berlinale and the Cannes Film Festival; fall was reserved for Venice's La Biennale di Venezia, now in its 68th year and one that promotes itself as the world's oldest. Since Venice first started handing out awards back in 1932, film festivals have grown into a year-round industry, with line-ups devoted to everything from medical films to silent Western star Broncho Billy Anderson.
Notorious for its parties and starlets, Cannes has lost some influence over the years. More distribution deals are struck at the Toronto International Film Festival, which this year screened some 300 films to audiences of distributors, critics, and moviemakers. Kevin Lally, executive editor of Film Journal International, gave me a rundown of his time in Toronto: "I saw 23 films and one shorts program in six days. For me, some of the best were less heralded foreign-language films like Terraferma and A Better Life (not the Chris Weitz movie). I suspect it was a good lineup this year, since there were a lot of well-received films I never got to. Three hundred movies is a lot to wade through." (You can read more of Kevin's impressions on his Screener blog.)
That's the problem with most film festivals in a nutshell: how do you see all the titles on display? Toronto gave awards to Where Do We Go Now?, The Island President, The Raid, and Monsieur Lazhar, few of which will make it to your local multiplex. Venice gave its Golden Lion to Faust, loosely based on Goethe's tragedy and the fourth part of a tetrology by the Russian director Aleksander Sokurov. (The other three films in his series concerned Hitler, Lenin, and Hirohito.) I bet more viewers wanted to see films like Shame and The Descendants at Toronto, and The Ides of March and Damsels in Distress at Venice—all of which will receive US theatrical releases.
With a limited number of award-worthy films available, it can be tough for festivals to find and preserve an identity. Schedules tend to lean to the middlebrow, with awards given to the films that most closely affirm the beliefs of their viewers. The treasures are often hidden behind more glamorous titles. Toronto had a new film by the great Hong Kong director Johnnie To, and the latest by Hirokazu Kore-eda, a Japanese filmmaker with a gift for depicting families and children. Venice screened a new Wuthering Heights, as well as Carnage by Roman Polanski and A Dangerous Method by David Cronenberg.
The New York Film Festival, now celebrating its 49th edition, operates under a different dynamic. Running this year from September 30 to October 16, the festival doesn't give out awards, and limits its screenings to a relatively small number of feature films. The editing process becomes key. Over the years, filmmakers from Jean-Luc Godard to Pedro Almódovar, among others, have become festival "favorites." Richard Peña, the Festival's program director, has singled out several deserving directors and cinema trends that New Yorkers might not otherwise see. But the Festival needs customers, which helps explain the presence of such commercial titles as the aforementioned Carnage, A Dangerous Method and The Descendants.
Again, it's the marginal titles that might be the most interesting to die-hard film buffs. This year the Festival's long-running sidebar "Views from the Avant-Garde" offers 104 films from 80 artists, including the remarkable experimental filmmaker Ernie Gehr. Another sidebar celebrates the centennial of the Nikkatsu Corporation, including the noteworthy anti-war film The Burmese Harp. A "Masterworks" section includes a new edition of the monumental Ben-Hur as well as a digital restoration of Nicholas Ray's last movie We Can't Go Home Again.
Of the New York Film Festivals I've attended, none was more moving than the 2001 edition, which took place in the aftermath of the World Trade Center attack. Among the films that year was Wes Anderson's The Royal Tenenbaums. The sight of its star Bill Murray mingling with friends and well-wishers on the sidewalks outside Lincoln Center's Alice Tully Hall prior to the screening proved to me that the city would recover.