From New York to Mumbai, the Top 100 Design Trends of the Urban World
From micro apartments in New York City to the slums of Mumbai, these are the issues currently obsessing designers around the world
The BMW Guggenhim Lab is, as the name suggests, a research collaboration between the automaker and museum franchise. Based on the belief that cities are catalysts for innovation and human progress, the joint venture takes the form of a "mobile urban laboratory" that, over the last two years, has traveled to three major world cities holding free programs and workshops to inspire and cultivate ideas about design and urban living. Recently, the Lab launched a website listing the top 100 urban trends in the three cities they visited–New York City, Berlin, and Mumbai–based on discussions and research presented in each city. According to Richard Armstrong, Director of the Solomon R. Guggenheim Museum and Foundation, the trend list is a means to "further the conversations started by the Lab and spark analyses of these three cities and comparisons of the respective urban environments."
A few items on the list have been discussed on Design Decoded before. 3-D printers, for example, are among the top design trends in both New York and Berlin, and are recognized as viable alternatives to mass production with potentially profound implications in industrial design and architecture. Additionally, small-scale building proved a popular topic in NYC, with affordable housing, micro apartments, and shipping container architecture making the list. These small buildings and environments are seen as ways that good design can transform the way urbanites live and more efficiently use the limited spaces available to them. The New York and Berlin Lab was itself a type of versatile, micro architecture. The lightweight carbon fiber pavilion (top image) was designed by Tokyo-based architects Atelier Bow-Wow as a sort of architectural "toolbox" concealing performance equipment that could be lowered into the presentation space as needed.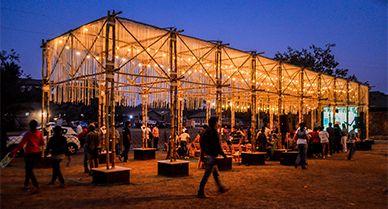 While design trends in New York and Berlin were quite similar, those in Mumbai addressed an entirely different set of issues. Perhaps reflecting the fact that the city was a relatively unique venue, a new Lab pavilion was constructed for the Mumbai program (above image). Designed by Atelier Bow-Wow, the light, bamboo structure was inspired by a type of Indian pavilion known as a mandapa, typically used for celebrations and public events.
Mumbai is the most populous city in India and one of the most densely populated cities in the world. And like many cities in the developing world, it's growing quickly and without any sort of formal planning. It's no surprise then that issues related to overcrowding and infrastructure were among the primary concerns of designers in Mumbai. Public transit issues in particular seem to be a hot topic, with buses, auto rickshaws, and "informal" transit featured prominently on the list, along with discussions on infrastructure planning and centralized data collection.
Architectural restoration, thought not often touted as a proactive agent of change, was also discussed as an economical means to improve the quickly changing city while preserving and celebrating its rich history and eclectic urban fabric. Other "trends" unique to Mumbai were the fascinating notions of "City Mythology" and "infraspace." City Mythology is defined as "the weaving together of mythological places that appear in folklore and religious texts with real, physical urban spaces." Public spaces given value through cultural traditions and stories serve to cultivate a sense of community and pride among a city's populace and foster "a type of imagined historical memory." Infraspace is a term coined by one of the Mumbai Lab team members to describe the latent architectural and spatial possibilities inherent in Mumbai's infrastructure. For example, architect Neville Mars suggested transforming an enormous defunct pipeline into an auto rickshaw highway and pedestrian bridge.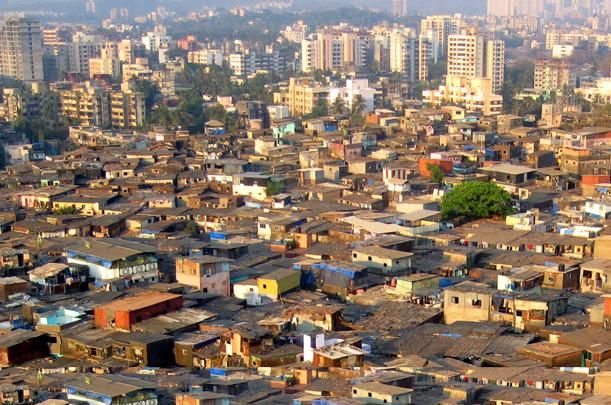 Of course, no discussion of Mumbai would be complete without addressing one of the most prominent and pressing issues in the city: slums. A large percentage of Mumbai's population –60 percent by some estimates– live in slums, defined by the United Nations as "a heavily populated urban area characterized by substandard housing and squalor." Issues related to the development, research and growth of slums were obviously at the forefront of many Lab discussions in Mumbai. Many of these high density settlements exist with scarce access to clean water or civic infrastructure, and if they're at all considered during the urban development process it's often only in terms of eviction and demolition. The Mumbai Lab was interested in studying these places more closely, in looking at them as a unique architectural typology that developed organically and has its own intrinsic values. During one of the Lab's design exercises, architecture students worked with a slum contractor to design a "tool house" – a typical slum building type that includes both work and live spaces. This exercise was conducted to better understand the complex economic, social, and architectural systems that exist within the slums like a cultural microclimate, systems that shape and are shaped by the slum typology.
While some of these design "trends" are cutting edge, others represent the continued interest in longstanding, and sometimes overlooked, issues. With cities around the world become larger and denser, many designers are casting a critical eye on their environment to improve living conditions for everyone. As the Lab writes in its mission statement, "greater urban density can mean more conflict, but it can also produce a greater diversity of viewpoints and more opportunity for positive change."
This research collected by the BMW Guggenheim Lab will culminate with an exhibition this October at the Guggenheim Museum in New York.