Franchising Neighborhoods: Can IKEA Sell Urban Design?
As part of a long-term investment plan, the Swedish furniture retailer is planning to construct entire neighborhoods in England and Germany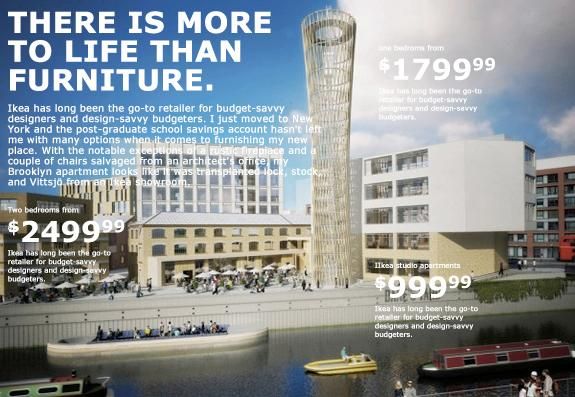 IKEA has long been the go-to retailer for budget-savvy designers and design-savvy budgeters. I just moved to New York and the post-graduate school savings account hasn't left me with many options when it comes to furnishing my new place. With the notable exceptions of a rustic brick fireplace and a couple of chairs salvaged from an architect's office, my Brooklyn apartment looks like it was transplanted lock, stock, and Vittsjö from an IKEA showroom.
Does it look nice? Sure. But there's something cold about it. Still, it's hard to resist the ease, affordability, and contemporary design offered by the Swedish furniture giant. But can those qualities, which have made IKEA ubiquitous in apartments around the world, translate to a larger scale? What would a Malm building look like? Or a Billy-burg (not to be confused with Williamsburg, of course)? Would an IKEA metröpolis stay true to the tenets of the brand? Inter IKEA Systems, the complex corporate möthership that owns the IKEA "concept", intends to answer just that question with two new developments in London and Hamburg.
Inter IKEA took their first tentative steps into the work of urban design in 2009 when they purchased 11 hectares (about 27 acres) of land south Olympic Park with the intent to develop the area into a new neighborhood, which will be known as Strand East. Presumably, the project is a part of the much touted Olympic Park regeneration plan – or, at the very least, an attempt to capitalize on the promised redevelopment. The 1,200 home project will be developed by LandProp Services, the real estate branch of Inter IKEA. The community will exclusively consist of rental units, which will all be owned –though not furnished!– by IKEA. It will also include more than 500,000 sq ft of commercial space and a hotel. More interesting is what it will not include: an IKEA store. The company is trying to keep this new project separate from its more familiar ventures. Though it will abide by some of the tenets of IKEA furnishings, it will not be a fully branded town.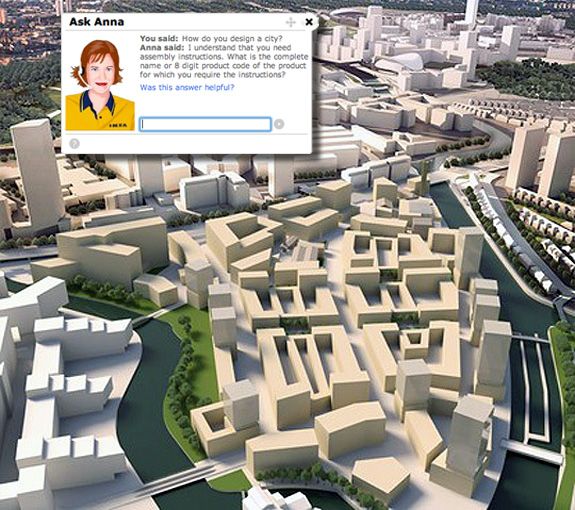 Just last month, IKEA announced their plan to develop a similar five-acre project in Hamburg. The hallmarks of both developments will be sustainability, walkability, and, of course, affordability. "We are in keeping with the IKEA philosophy," says Harald Müller of Landprop. "We don't want to produce for the rich or the super-rich; we want to produce for the families, for the people." So while the towns won't share the IKEA brand, they will be targeted to a similar market. Obviously, building a neighborhood is a lot different than building a warehouse showroom, but working at a scale larger than a coffee table isn't an entirely new idea for IKEA, who have also recently invested a billion euros into the construction a chain of 100 affordable, modern, boutique hotels to be built across Europe. Again, nothing is branded with the IKEA name, even though they may follow similar aesthetic and cultural guidelines, and the hotels will be operated by an independent management company.
The focus on architecture and urban design is part of a new long-term investment plan for Inter IKEA. But even if the first hotels and Strand East are a success, will IKEA be able to repeat that success? Will they be able to franchise a city? What would that even mean? Let's entertain a little speculation and presume that Inter IKEA approaches franchise urbanism according to the same policies used to franchise stores. From their corporate website:
When selecting franchisees, Inter IKEA Systems B.V., among other things, evaluates the following:
- thorough retail experience
- extensive local market knowledge and presence
- corporate culture and values
- financial strength and ability to carry through the investment penetrating a country in full and in a large-scale retail environment format
Following those guidelines, an IKEAville franchisee would be responsible for any and every IKEA-run town/city/neighborhood in any given country. They would determine where and how each city is built. Extrapolating a bit, IKEA franchisees would ideally have extensive development experience and a knowledge of local buildings and cities. They'd also have to demonstrate the capability to plan contextual developments that are sustainable, walkable, and affordable. Each IKEA neighborhood would be an idealized microcosm of a city's fabric.The picturesque street layout and planned townhouses of Strand East, for example, will resemble a historic London neighborhood more than a modern Scandinavian affordable housing development.
In America, this would likely follow the model of New Urbanism, the urban design theory espousing dense, walkable towns – most famously represented by Seaside, Florida and Celebration, the charming but hyper-regulated Florida town founded by the Walt Disney Company and planned by Robert A.M. Stern Architects to look like the prototypical American small town that probably only ever existed in movies. Like Celebration, whose residents must famously maintain their homes according to aesthetic regulations, Strand East will also be closely controlled by its parent company, not only because the community is all rentals –implying that residents aren't likely to make any drastic changes to their property– but also to ensure that the neighborhood stays as lively and well-trafficked as an IKEA showroom.
To realize this goal, IKEA will manage regular events like farmers markets and run picturesque amenities like flower stalls and coffee carts. Disney never attempted to replicate Celebration, but IKEA is already planning a second neighborhood before the first is even out of the box, as it were. Can IKEA franchise a city? With the right operator, and close adherence to their existing standards and regulations, it seems like they might be able to. But will it feel like city? Or will it have the cold, sterile feeling of my showroom apartment? We'll have to wait until 2018, when Strand East is scheduled to be finished, to find out. Perhaps by then, I'll be furnishing my IKEA apartment with Brooklyn furniture.