Food and Think's Greatest Hits of 2011
A look at the most popular posts among our readers from the past year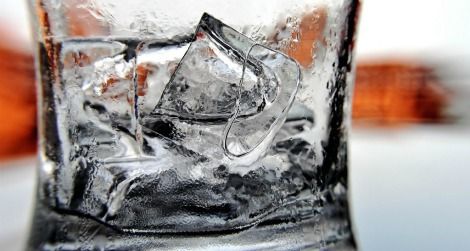 A new year is here and we are all looking forward to what 2012 might bring—namely with regards to food. (Is there be a condiment revolution brewing? Will it be televised?) But before we get too caught up in looking ahead, let's look back at the past 12 months here on Food and Think. Lisa recently rounded up a list of her favorite posts from the past year, but now let's look at the most popular posts among our readers in 2011.
1. Why Don't Other Countries Use Ice Cubes? Lisa posed and explored the question about why the custom of using those little bricks of frozen water to chill drinks is so big here in the States but not so much in other parts of the world. Perhaps it's because they take up too much space in a glass that could otherwise be occupied by the actual drink, or because—at least in hotter countries—hot drinks can actually be used to cool a person down.
2. Four Deadly Disasters Caused By Food Be it a flood of molasses crashing through the streets at 35 miles per hour or exploding flour mills, food can be seriously destructive—and deadly. However, in looking at the comments thread, I have to wonder if there was more interest in the verbiage than in the image of people being swept away by a floods of molasses or beer.
3. Five Ways to Eat Persimmons What does one do with those brilliant orange fruits? Sure, you can eat them on their own, but why not up the ante a bit with a few of these ideas—which include salads, mixed drinks and desserts. And be sure to know which type of persimmon you're buying before you chow down. Unripe hachyia persimmons might completely kill your interest.
4. The Sweet Sound of Vegetables Thankfully, the members of this Vienna-based musical group didn't listen to that age-old parental admonishment: "Don't play with your food!" Looking to the produce aisle for inspiration, they find musicality in a variety of veggies which are crafted into instruments and used in live performances.
5. Five Ways to Cook with Pumpkin We've all done the pie. It's great, won't knock it—but come on, there's gotta be more that this squash can do. From eating the seeds, to using them in soups and baking, you can show a much broader appreciation for pumpkin in your kitchen.
6. The File Inside the Cake: True Tales of Prison Escape Baking a file inside a cake as a means to get out of jail might sound like the cliched stuff of Saturday morning cartoons. Well, it turns out that jailbirds actually have used baked goods as a means to fly the coop.
7. Five Ways to Eat Cadbury Crème Eggs Those little chocolate eggs with the gooey white and yellow filling are one of the ultimate guilty pleasure foods come Easter. But why satisfy yourself with eating them as is? Deviled, fried or in a McFlurry (in certain markets), there are lots more ways to use these seasonal sugar bombs.
8. Tastes Like Disco To celebrate her husband's 33rd birthday, Lisa did some culinary detective work to craft a dinner menu straight from 1978. (Seems the heavy cream sauces should remain in the past.) Paired with a playlist including the likes of Fleetwood Mac, Steely Dan and the Bee Gees, a birthday meal doesn't get groovier than this.
9. Why Did Jewish Communities Take to Chinese Food? A somewhat tongue-in-cheeck sociological study offers insight into the trend of Jewish families dining out at Chinese restaurants. At least in part, Chinese cooking can abide by kosher law and the restaurants themselves served as safe havens for people dealing with antagonism from a largely Christian nation.
10. Hamburger: The Quintessential American Meal Ah, the humble hamburger: where did it come from and why did diners in this country show the little slab of beef on a bun so much love? Between some clever marketing from early hamburger restauranteurs and the fact that the dish is a remarkably versatile creative medium, what's not to love?