Food and Farms in Focus at the DC Environmental Film Festival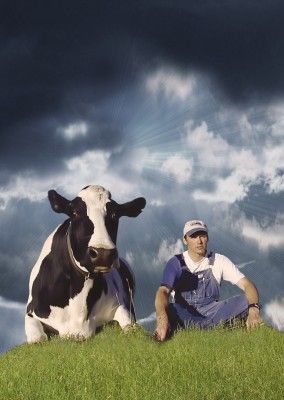 The DC Environmental Film Festival started this week, continuing through March 28, and its theme this year focuses on the many connections between food, agriculture and the environment.
I'm faced with some tough decisions: many of these sound fascinating, but it's not physically possible for me to make it to all of the screenings. Here's hoping Netflix will have a few of these titles eventually....
1. Fresh (USA, 2009, 72 min.) This showed last night, sorry—I missed it, too! But this documentary is making the rounds nationwide; find a schedule here or even host your own screening. It features farmers, activists and businesspeople who are "re-inventing our food system" with an eye to both sustainability and practicality.
2. Terra Madre (Italy, 2009, 78 min) Ermanno Olmi's documentary combines reportage about the international Slow Food movement with lyrical images of farmers and their environment. Screening at 7 p.m. on Thursday, March 18 (tonight!) at the E Street Cinema, tickets are $10.
3. The following four films will be shown consecutively in a free screening on Saturday, March 20, in the National Museum of Natural History's Baird Auditorium:
12:30 p.m.: Dirt! The Movie (USA, 2009, 90 min.), a documentary about why soil is so important to all life, narrated by Jamie Lee Curtis.

2 p.m.: Ladies of the Land (USA, 2007, 30 min.), a profile of four women farmers, in recognition of the growing proportion of women in American agriculture.

2:45 p.m.: Soil in Good Heart (USA, 2008, 14 min), about the literal earth we depend on to grow food. This is a preview of a longer film in progress by Deborah Koons Garcia, whose "The Future of Food" (2004) is also worth watching.

3 p.m.: Seed Hunter (Australia, 2008, 59 min.) spans several continents chasing scientist Ken Street, a "real-life Indiana Jones" (though I think Nikolay Vavilov would be a more impressive comparison) as he collects seeds from hardy, drought-resistant indigenous crop species that could help humanity cope with climate change.
4. The following three films will be shown in a free screening on Sunday, March 21, in the National Museum of Natural History's Baird Auditorium:
Noon: Homegrown (USA, 2009, 52 min.) How one California family lives and farms "off the grid" in an urban environment.

1 p.m.: Ingredients (USA, 2007, 66 min.) Traces the birth and progress of the local, sustainable foods movement in America.

2:15 p.m. Honey for the Maya (US, 2009, 8 min.) The ancient Mayan art of keeping stingless bees.
5.  Lunch (USA, 2010, 25 min) looks at the links between nutrition and learning, through the lens of Baltimore's public school cafeterias. Larry Engel's Potato Heads (USA, 2010, 30 min) explores the history of the potato while tying into larger agricultural issues. Free screening of both films at American University's Wechsler theater at 7 p.m. on Monday, March 22.
6. Nora! (USA, 2009, 30 min) celebrates chef and farmers' market champion Nora Pouillon, whose namesake DC eatery was the nation's first certified organic restaurant. Free 7 p.m. screening on Tuesday, March 23 at International Student House, followed by discussion with Nora Pouillon.
7. Seeds of Hunger (USA, 2009, 52 min) A primer on the political, environmental and social challenges of achieving food security as the global population climbs. Free screening at 4 p.m. on Wednesday, March 24 at the World Bank, RSVP required.
8. Harvest of Shame (USA, 1960, 55 min) The National Archives revisits CBS television broadcaster Edward R. Murrow's powerful investigative report about the plight of migrant farm workers in the United States. Free screening 7 p.m. on Wednesday, March 24, followed by discussion with Bob Edwards.
9. E2 Transport: Food Miles (USA, 2008, 30 min), narrated by Brad Pitt, addresses the problems of a fossil-fuel driven food transportation system and highlights solutions. Next up, The Great Food Revolution: 24 Hours, 24 Million Meals (Canada, 2009, 45 min) uses the microcosm of New York City to illustrate the "complex choreography" of food distribution. Free screening of both films at 7 p.m. on Thursday, March 25 at the Maret School.
11. Our Daily Bread (Austria, 2005, 92 min) describes itself as "pure, meticulous and high-end film experience that enables the audience to form their own ideas" about the systems at the heart of industrial food production. Free screening at 7:30 p.m. on March 25 at the Embassy of Austria. Reservations are required.
12. Food Fight (USA, 2008, 73 min). Christopher Taylor's documentary about the corporatization of the American food system in the 20th century, and the growth of alternative local-sustainable-organic foods movement. Free screening at noon on Friday, March 26 at the Martin Luther King Jr. Library.
13. Peaceable Kingdom: The Journey Home (USA, 2009, 78 min). A film that "explores the awakening conscience of several people who grew up in traditional farming culture and who have now come to question the basic premises" of their way of life.  Free screening at 12:15 p.m. on Saturday, March 27 at the Carnegie Institution for Science.