Five Funky Food Museums
Here's a quick look at five funky food museums worth visiting, including ones devoted to SPAM, mustard and Pez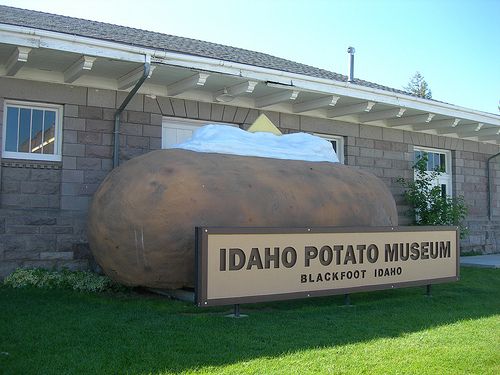 With summer on the horizon, many people are making plans to go on vacation, relax a little and see some new sights. Of course, befitting our connection to the Smithsonian Institution, we're a bit partial to hitting up museums as a means of having fun while traveling. This month Smithsonian presents wonderfully offbeat museums to see here in the United States (and there are plenty abroad). But what if you're a vacationing bon vivant looking to take in a little food culture? Here's a quick look at five funky food museums you can visit. (This list is by no means comprehensive—you can search this online directory of over 1,400 food museums from around the world.) Coincidentally, today is also International Museums Day
Designed by Hormel to make use of unused bits of pork shoulder, SPAM debuted in 1937. It gained in popularity during World War II, although this precooked tinned meat had its share of detractors. Some G.I.s dubbed it "meat that failed the physical, while former British Prime Minister Margaret Thatcher recalled the product as a "wartime delicacy" in the midst of severe food shortages. Love it or hate it, SPAM is something of a cultural icon. (In 1997, examples of SPAM packaging were donated to the Smithsonian.) The SPAM Museum, located in Austin, Minnesota, is free to the public and packs its 16,500 square feet of space with vintage advertising, memorabilia and activities. Ever want to try your hand at canning meat? The SPAM Museum is open Monday through Saturday from 10 a.m. to 5 p.m. and on Sunday from noon. to 5 p.m. The museum is closed on New Year's Day, Easter, Thanksgiving, Christmas Eve Day, Christmas Day.
2. Moxie Museum (there are two to choose from!)
If you're itching to visit a soda-themed museum, the Coca-Cola Museum in Atlanta is pretty big blip on the radar. For those of you wanting to get familiar with a regional soft drink, try the Moxie Museum in Union, Maine, which houses an extensive collection of artifacts such as vintage advertisements and soda stands. Patented in 1876 and initially marketed as a medicinal drink, Moxie outsold Coca Cola until the 1920s and is Maine's state drink. Made with gentian root, some people can't get past the strong flavor—some bloggers have compared it to chugging a fig newton—but it remains a New England favorite even though Moxie is now manufactured in Atlanta. In Lisbon Falls, Maine, you will find another Moxie Museum, this one with some memorabilia and lots of Moxie merchandise. If you're in the area the weekend of July 8, 2011, you can enjoy the Moxie Festival, an annual event that features fireworks, recipe contests and Moxie-chugging contests.
After a late-night trip to the grocery store, Barry Levinson (no, not that one) felt compelled to start amassing prepared mustards. He came home with a dozen jars of the stuff on that initial store run and now has a collection of more than 5,300 jars along with an assortment of mustard memorabilia. If you visit the National Mustard Museum in Middleton, Wisconsin, you can enjoy exhibits about mustard pots, mustard-themed musicals and saddle up to a tasting bar. The National Mustard Museum is open 7 days a week—except New Years, Easter, Thanksgiving and Christmas—from 10 a.m. to 5 p.m.
This loving ode to Idaho's finest is housed in a stone building that formerly functioned as a railway depot. With its giant statue of a buttered baked potato out front, who could resist going in? In addition to learning about the history of spuds and how they became to be synonymous with this particular state, you can see the world's largest potato chip—a whopping 24 by 14 inches—as well as potato-sack clothing and a potato signed by former vice President Dan Quayle. (He had a potato-related mishap at a spelling bee some years back.) Located in Blackfoot, Idaho, the museum is open from October to March, Monday through Friday from 9:30 a.m. to 3:00 p.m.; and from April to September, Monday through Saturday from 9:30 a.m. to 5:00 p.m. The museum is closed Martin Luther King Day, President's Day, 4th of July and between Christmas Eve and New Year's.
So this one may be debatable for inclusion. Are you coming because: a) you enjoy the tiny chalky-sweet bars whose flavors bear little resemblance to anything that occurs in nature, or b) you enjoy the plastic novelty dispensers? Whatever your reason, Pez, which was initially marketed to people who were trying to stop smoking, is one of those hallmarks of childhood candy consumption. And it's a great place to see dispensers that you probably won't find at your local grocery store. And who wouldn't want to get their sugar fix from a plastic bust of Wolfgang Amadeus Mozart? Located in Burlingame, California, the museum is open Tuesday through Saturday 10:00 a.m. to 6:00 p.m.