Five Films About Faith
Movies that question your beliefs, from Steve Martin to Bengalese film to a nostalgic look at the old West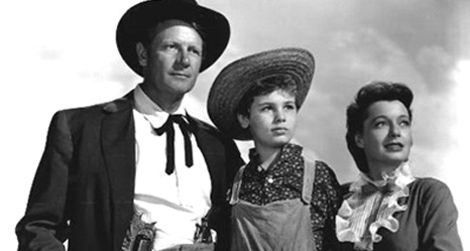 Never argue politics or religion, the warning goes, especially in a bar. Our beliefs are so ingrained that we often take opposing views as personal affronts. Perhaps that's why it's so easy to argue about movies. All films are political on at least one level, because all films have a point of view. And all films require faith to succeed: in order to watch a movie, we must suspend disbelief and accept that individual frames (or, increasingly, digital bits) containing visual information can be seen as motion.
Mainstream filmmakers shy away from overtly political or religious films, afraid to offend their intended audience or their opponents. Of course exceptions abound, but they rarely capture the imagination of viewers the way that more entertainment-oriented movies do. That is unless you look deeper into them. How much do the Star Wars movies deal with politics, for example, or the Indiana Jones films with faith? The former feature rebels fighting evil tyrants over the centuries; the latter uncover the Ark of the Covenant and the Holy Grail during their adventures.
In no particular order, here are five films built almost exclusively around faith. That is, with belief rather than dogma, ruling out obviously religious films like King of Kings or Diary of a Country Priest. There are several other examples ranging from Peter Pan and E.T. The Extra-Terrestrial to the wonderful French film Ponette, but let's start with five that you might not have thought about the following in terms of faith.
1. Leap of Faith (1992): Steve Martin plays Jonas Nightengale, a con man masquerading as a tent-show evangelist who is put to the test when his truck breaks down outside a small Kansas town. Drought has crippled the economy, leaving the townspeople susceptible to Nightengale's fraudulent faith healing. But filled with self-loathing, he reaches a crisis that threatens his identity. The plot owes a lot to The Rainmaker, a play filmed with Burt Lancaster and Katharine Hepburn in 1956, but Leap of Faith is more hard-boiled, less forgiving about the consequences of belief. Critic Roger Ebert was particularly impressed by Martin's performance as "a seedy, desperate, bright, greedy man without hope." The movie has been adapted into a musical that will tentatively open on Broadway in 2012.
2. Devi (1962): A film by the extraordinary Bengalese filmmaker Satyajit Ray, Devi, or The Goddess, is set in Chandipur in 1860. A wealthy landowner dreams that his daughter Doyamoyee (Sharmila Tagore) is the reincarnation of the goddess Kali, and as such must be worshipped. Peasants bring her gifts in hopes that she will intercede for them. Doyamoyee's husband Umaprasad (Soumitra Chatterjee) tries to fight what he sees as outmoded beliefs, but a miraculous cure upends his thinking. Devi has the feel of a fairy tale, one with a sharply barbed moral. Ray also directed the Apu Trilogy (Tagore made her debut in The World of Apu), Days and Nights in the Forest, Distant Thunder, and several more remarkable movies. Tagore, who displays unearthly composure and gravitas, was just sixteen when she filmed Devi.
3. The Land Beyond the Sunset (1912): Noted film historian Kevin Brownlow groups this movie, filmed with the cooperation of the Fresh Air Fund, with a cycle of "social conscience" films popular at the time, like Life at Hull House (1911), or Children Who Labor (1912). The Land Beyond the Sunset concerns Joe (Martin Fuller), a newsboy living in wretched conditions in a New York City slum. A invitation to a Fresh Air Fund picnic in the Bronx opens up a world Joe never realized existed. Through a storyteller, Joe finds something to believe in, but he will pay a terrible cost for his faith. Film historian William K. Everson called this "the screen's first genuinely lyrical film," and while it is certainly beautiful, it stings in an unexpected way.
4. Stars in My Crown (1950) Based on a popular novel by Joe David Brown, Stars in My Crown takes the form of a memoir as a child recalls his father, a post-Civil War minister who backs up his beliefs with hand guns. Directed by Jacques Tourneur (Cat People, Out of the Past), the film is a warm, nostalgic look at life in the small-town West—until it tests the beliefs of the minister (played by the Western veteran Joel McCrea) and his family in a surprisingly brutal manner.
5. Ordet (1955) Directed by Carl Theodor Dreyer, this could be the acid test for films about faith. Adapted from a play by Kaj Munk, Ordet ("The Word") takes place on a rural farm where three sons follow different paths of belief with tragic results. Few filmmakers grasped the power of the medium as well as Dreyer. In films like Day of Wrath and The Passion of Joan of Arc, he used intensely emotional material to connect with viewers on deeply personal levels. You can either surrender to the power of Dreyer's imagery, to his hypnotic pacing and scorching insights, or you can resist his work entirely. Scores of film buffs dismiss him as a bore; actual filmmakers, on the other hand, realize how difficult it is to duplicate his accomplishments. No question that Ordet is demanding, but it pays off in ways that simpler, easier films cannot.