Finding Love at the Movies
Hollywood does romance best in its comedies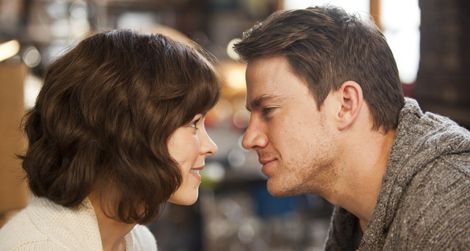 Valentine's Day has become a huge marketing opportunity, for greetings cards and flowers (like this Love-O-Meter Rose Guide), of course, but also restaurants and ski resorts.
This year Hollywood offers two variations on romance movies for Valentine's Day. The Vow, an old-fashioned tearjerker, is loosely based on a true story, although it also owes some of its narrative inspiration to Random Harvest, a 1942 MGM melodrama based on a James Hilton novel and starring Ronald Colman and Greer Garson. Both films see love as a sort of minefield or obstacle course in which fate tries to keep people apart, in this case through amnesia.
It's a ploy that storytellers have used for centuries—not necessarily amnesia, but some outside force that prevents lovers like Romeo and Juliet, Guinevere and Lancelot, Beatrice and Dante from finding happiness. In films like 7th Heaven and Gone With the Wind, Hollywood seized upon war as a means of separating lovers. Other, trickier devices have included car accidents (Love Affair), an arrest for pickpocketing (Remember the Night), brain tumors (Dark Victory), domineering mothers (Now Voyager), jealous wives (In Name Only), jealous husbands (The Postman Always Rings Twice), clowning around on a speedboat (Magnificent Obsession), politics (The Way We Were), ice bergs (Titanic), and murder (Ghost).
A lot of the classic Hollywood romances look cruel today, with heroes and heroines martyring themselves for the sake of love. The lovers in Brief Encounter both choose unhappiness to avoid hurting their families. The only way Ingrid Bergman can prove her love for Cary Grant in Alfred Hitchcock's Notorious is to allow herself to be poisoned by a Nazi.
On the other hand, there's This Means War, a romantic comedy in which love is a battle between two contestants vying for the same person. The roots of This Mean War come from one of Hollywood's favorite formulas, the romantic triangle. It's one that goes back to silent clowns like Mabel Normand and Charlie Chaplin, but which found its greatest success in the screwball romances of the 1930s.
With The Awful Truth (1937), director Leo McCarey (who was also responsible for Love Affair) came up with a story line that Hollywood has plundered repeatedly. (To be fair, The Awful Truth was based on a play that had been filmed twice before.) Cary Grant and Irene Dunne play a wealthy, glamorous couple who through sheer stubbornness wind up in divorce court. The audience knows they are meant for each other, but McCarey keeps finding plot complications to keep them apart: a Tulsa oilman, a nightclub dancer, even their pet dog. In the course of the film Grant and Dunne get to express emotions like desire, jealousy, and anger that are often shunted aside when things like war and brain tumors come into play.
The screwball comedy, as films like The Awful Truth came to be called, is where Hollywood really excelled at depicting romance. Movies like The Lady Eve, It Happened One Night, The Thin Man, The More the Merrier took viewers right into the give and take of love, with its ever shifting balance of power and its constant outside threats.
Both The Vow and This Means War were originally supposed to open on Valentine's Day, just as the Warner Bros. omnibus film called Valentine's Day did last year. But folks at 20th Century Fox apparently got cold feet going up against The Vow and pushed the opening of This Means War back to February 17 (apart from some sneak preview screenings).
If that's too long to wait, you can find remnants of the screwball formula in films like Something's Gotta Give and You've Got Mail, although they seem too labored and desperate for many viewers. And there's usually a Katherine Heigl comedy around somewhere (currently the aptly named One for the Money), even as her reputation in the industry plummets.
The best romance movies I've seen lately have come from Asia. Released in 2008, If You Are the One focused on a middle-aged bachelor's search for love. Starring Ge You and Shu Qi, it outgrossed Titanic in China, and led to a sequel and a reality TV show. Or there's Don't Go Breaking My Heart (2010), in which an architect and a banker compete over a working girl. Directed by Johnnie To, Don't Go Breaking My Heart is funny and rueful in equal parts, just the way Hollywood used to make them.