Coffee Retailers Reinterpret the Container Store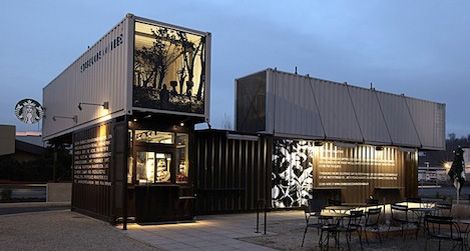 More than $15 billion worth of coffee is exported each year. That makes it the second most traded commodity in the world, behind only oil. The majority of this coffee grows between the Tropics of Cancer and Capricorn, but most of the world's coffee is consumed in countries located well beyond beyond that stretch of the globe often referred to as The Bean Belt. Wherever beans may be sent after cultivation, they're almost surely shipped in the nigh-ubiquitous, intermodal, internationally-standardized shipping container. These corrugated steel boxes have been used to ship coffee around the world since the 1950s. More recently, they're also being used to sell coffee.
Starbucks has recently gotten a lot of attention with a new prototype retail store in Tukwilla, Washington known as "The Reclamation Drive-Thru," a 450-sq-ft drive-thru and walk-up store built from four refurbished shipping containers. Inspired by the view from their Seattle headquarters, which looks out onto a yard of unused shipping containers, Starbucks salvaged old containers from the scrap heap to create their much buzzed-about new temporary structure. It is one of the first projects designed by the retailer specifically to explore new options in sustainability and it represents their dedication to making every element of their business more sustainable. Starbucks aims to make achieve LEED certification for all their new stores.
Until recently, the coffee colossus was known for the uniformity of their coffeehouses and the mediocrity of their coffee. That's starting to change. Well, the coffee may still be mediocre, but with a recent design initiative Starbucks has produced some high-design cafes that herald a drastic overhaul of all their future stores. While some noted architects have designed stunning cafe's around the world, the Tukwilla drive-thru is garnering the most attention. The shipping container store is functional, relatively quick to assemble, and creates a portable landmark and a lot of buzz. Good design is good business, right? Indeed, it would seem so. The project was recently recognized by Architectural Record as a winner of the quite literally-named Good Design is Good Business Award, given to companies that embrace architecture as a means to enhance the bottom line.
The Starbucks project is only a prototype and, while the company's Global Store Design Senior Manager isn't sure about the future of such stores, he hopes that it will influence the shape of things to come:
"We are now talking about ways to extend the thinking and learning from this project into other areas, perhaps in prefabrication projects or in exterior furniture and accessories. I'm not sure where this all will land, but the launch pad has now been successfully cleared and the resulting conversation has been positive."
While Starbucks is the largest store to embrace intermodal transport as a temporary retail space, it surely isn't the first.
Architect Adam Kalkin has also made a name for himself using shipping containers as the main building material of his architecture. Kalkin's containers, however, are also mechanized. With the push of  a button, his aptly-named Push Button House blossoms from a standard shipping container to a four-room living arrangement. The design was retrofitted by Italian coffeemaker Illy to serve as a portable push-button cafe during the 2007 Venice Biennale.
Lesser known cargo cafes include  Cafe Froebe in Linz, Austria, la boîte cafe in Austin, Texas, and Ritual Roasters in San Francisco, who created their temporary boxcar location as part of an event last year, Proxy, that celebrates modular cafe culture by seeking "to mobilize a flexible environment of food, art, culture, and retail within renovated shipping containers."
Shipping container architecture is not new. While on some level, it's probably been around as long as the shipping container, their use by architects as building-sized, habitable bricks first entered the design zeitgeist around 10 years ago. Containers have since been used as everything from pop-up boutiques to nomadic museums. While it may present a new set of opportunities and challenges, as a piece of architecture, it's frankly not that interesting. There's only so much you can do with a modular box. But it's not about design, not really. As a building material, the shipping container is a means to an end, a way of exploring new ideas and to begin to think differently about space and consumption. That's why we're seeing so much of it lately. As people –and businesses– have become more interested in sustainability, the idea of an relatively cheap "green" building has become more appealing. Perhaps to a lesser extent, their use in cafe design can also be attributed to the recent popularity of "pop up" stores and gourmet food trucks.  No where is it better used though, than the coffee shop. Less than a building but more than a food truck, the shipping container cafe brings the humble coffee bean full circle, from a farm in The Bean Belt to a four dollar in Tukwilla, Washington.