Celebrating the Nicholas Brothers
A compilation tribute to the extraordinary dance team of Fayard and Harold Nicholas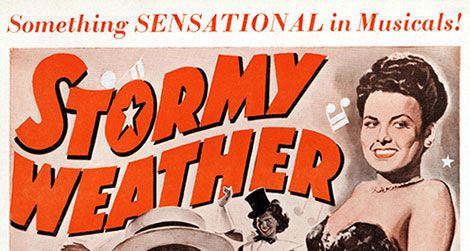 Their fans include Gene Kelly, George Balanchine, and Mikhail Baryshnikov. Fred Astaire thought their "Jumpin' Jive" production number in Stormy Weather the greatest musical sequence of all time. Over a career spanning eight decades, they starred in vaudeville and nightclubs, on Broadway and television, and made a huge impact in film. And yet the Nicholas Brothers are largely unknown today. And an important part of their legacy is in danger of disappearing.
According to Bruce Goldstein, Director of Repertory Programming at New York's Film Forum, the Nicholas Brothers—Fayard (1914–2006) and Howard (1921–2000)—were "the greatest dancers of the twentieth century." Mr. Goldstein put together a compilation tribute to the team that received a standing ovation at the recent TCM Classic Film Festival; he's repeating that program at the Film Forum on Monday, September 19. Grab any opportunity to see the brothers' work you can, because not much of it is available.
The brothers grew up in Philadelphia, where their parents performed in the Nicholas Collegiates band in vaudeville houses. As Goldstein told me in a phone interview, Fayard could wander backstage and meet all of the great African-American acts of the time. "He'd watch them and copy them, then went home and taught their steps to his little brother." Apart from some courses in acrobatics that Harold took later, the brothers had no other formal training. By 1932, with Harold not yet a teenager, the brothers were a featured act at Harlem's famed Cotton Club.
"We tend to think of them now as stunt dancers because of their acrobatics," Goldstein said. "But that takes away from the fact that they were incredibly graceful, elegant dancers. They were great comedians, too, with a real chemistry between them, and Harold was also a wonderful singer."
The Nicholas Brothers were a hit on Broadway in both The Ziegfeld Follies of 1936 and Babes in Arms in part because choreographer George Balanchine was a big fan. "He had them doing amazing things," Goldstein enthused. "I think Balanchine's the one who came up with Harold sliding in a split through the legs of like ten showgirls at once. Amazing stuff."
But the brothers never starred in their own movie, a source of frustration to them over the years. "Being black made them a specialty act in Hollywood," Goldstein explained. "The Nicholas Brothers got big billing in most of their films for Twentieth Century-Fox, but they never got a featured role. They only made five films for Fox because the studio didn't know how to use them."
The brothers' films at Fox included Down Argentine Way, where they could skirt around racial issues by pretending to be "Latin American," and Stormy Weather, whose all-black cast also included Bill Robinson and Lena Horne. When Fayard was drafted, Harold performed solo in two movies. At Gene Kelly's insistence, Fayard and Harold re-united on screen for MGM's The Pirate.
"Originally in The Pirate they had speaking roles," Goldstein said, "but the studio cut them out. You can see snippets of them in the background of shots, but basically they had one number, 'Be a Clown.' And it's not their greatest piece because Gene Kelly couldn't do what they could do." But Kelly could copy them, and The Pirate features some of his most virile and stunt-laden work. Goldstein believes that Harold helped coach Donald O'Connor, his life-long friend, for the "Make 'Em Laugh" number in Singin' in the Rain.
Fed up by racism, Harold left the country for Europe in the 1950s. But the brothers' influence can still be felt throughout our culture. Bob Fosse modeled his first dance act on them, for example, and Joseph Jackson hired Fayard to help train his children, The Jackson 5. Both Michael and Janet Jackson were later students of the brothers. Fayard and Howard also taught at Harvard and Radcliffe.
Goldstein's compilation clips feature some of the Nicholas Brothers' best routines on film, a succession of jaw-dropping leaps, flips, and splits executed with flawless style. The tribute also includes selections from their home movies, a source of considerable worry for the programmer.
"I'm very concerned about the home movies," he said. "No one seems to know where they are. Back in the 1930s, the Nicholas Brothers had a 16mm camera, and they filmed wherever they went. When they got to Hollywood in 1936, they filmed in front of all the studios, they took shots with their friend Joe Louis, and there's a clip of them dancing behind a soundstage with Fred Astaire."
According to Goldstein, the UCLA Film & Television Archive made video masters of the footage in the 1980s, but the films themselves appear to be missing. "Twenty years ago I had the 16mm prints in my hands, and now I don't know where they are. They are such a valuable document, not just of their lives but of the entire era."