Bound for Glory
Or maybe not. America's most grueling adult tricycle competition is tough on riders and equipment alike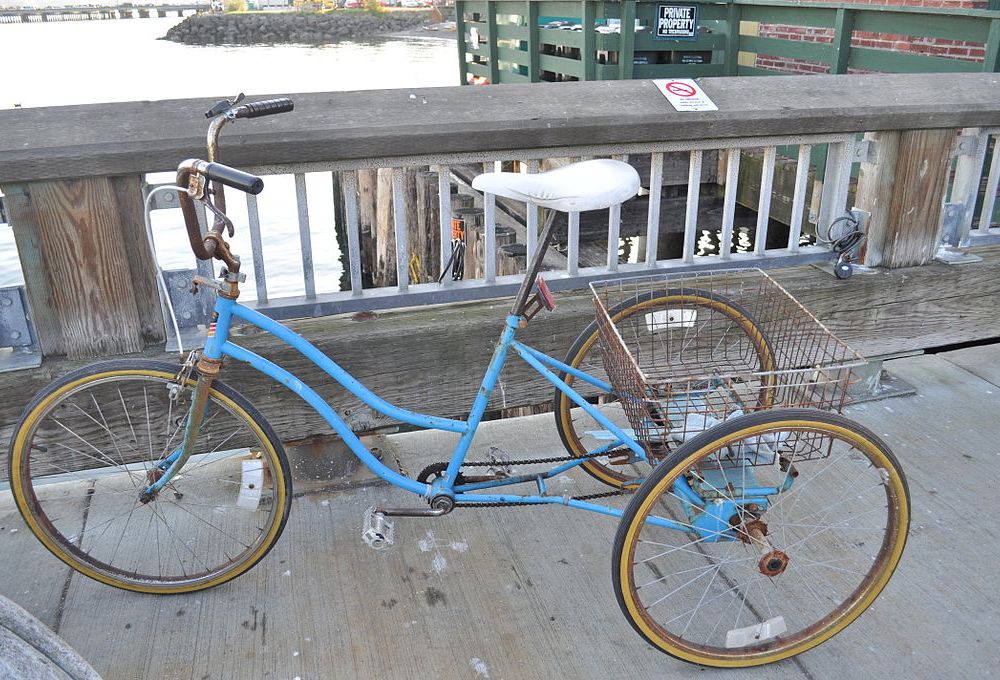 Each summer in towns and cities across the country, thousands of full-grown adults make utter fools of themselves in front of their friends and neighbors. They race beds through the streets. They row bathtubs in junk regattas. They spit watermelon seeds for distance. Call them childish. Call them weird. Whatever. Crazy competition is as American as, well, an apple-pie-eating contest.
For years, I've admired our wacky contests and longed to win one, but my talent for lunacy is limited. I considered entering a stone skipping contest held each July 4 on Mackinac Island, Michigan, but after two skips my stones always go splunk. The World Championship Posthole Contest in Boise City, Oklahoma, each June would be just my style if I'd ever dug a posthole. Once again this year, I just couldn't force myself to train for the Championship Muskrat Skinning Contest in Golden Hill, Maryland. But then I heard about an event for which I'd practiced while I was still chewing on carpets.
On the third weekend in June, Marysville, Washington, holds its annual Strawberry Festival, which features the most grueling adult tricycle races. On Friday evening, dozens of adults ride big trikes through downtown Marysville, a suburb pitched in the evergreens a half-hour north of Seattle. Never mind that an adult pedaling a trike is the silliest sight this side of a sack race. Lining the streets, spectators cheer as their hometown trikers take over State Avenue from Bundy Carpets to the Seafirst Bank. Then, after plaques are awarded to the fastest and slowest relay teams, racers put their trikes in garages to await next year's Grand Prix. Like certain animal mating behaviors, there is no explanation for all this. It just happens.
I hadn't ridden a trike since the Eisenhower administration. The only one I ever owned was a deep royal blue. I must have put 100,000 miles on it before moving on to a two-wheeler. "Trikes are for kids," I had said then, but when I heard about Marysville's race, my royal-blue roadster came roaring out of distant memory. So shiny, so sturdy, so tight in the turns. Did it really hit 70 miles per hour as I pumped the pedals? Wasn't I destined to be the Mario Andretti of adult triking? Might I even relive my childhood on three wheels?
The kind folks in Marysville told me the races were open to all comers. They'd gladly lend me a trike. Did I want to race solo or join a relay team? Both, I said. When it comes to trikes, I don't spare the horses.
As I pull into Marysville, I discern no hint that the locals are about to get a little loony. The Strawberry Festival merits a banner across 4th Street, where shopping centers have replaced the strawberry fields that inspired the town's first fest in 1932. Only when I approach Comfort Park do I see them — trikes that were born to be wild. During the time trials, three-wheelers with front tires as big as an adult bike's careen through the street in front of Flapjack's Restaurant. Each is unique, which is to say, handmade, welded together from a hodgepodge of parts. With bike helmet in hand, I join a small crowd talkin' trikes. "Think Brett'll win this year's Grand Prix again?" one man wonders. "Are the women doing the Powder Puff race?" another wants to know. "What kind of horsepower do these babies have under the hood?" I ask.
At 7 p.m., Toni Mathews of Cascade Bank, this year's race sponsor, explains the rules. During the time trials, we'll race around a block-long track. Based on our times, pole positions will be assigned for Friday night's obstacle course, complete with a Jell-O pit.
"Jell-O pit?" I ask.
"You'll see," Toni says.
Before I can come to my senses and grow up, I meet Rick Bates. A soft-spoken but serious triker, Rick ducttapes his shoelaces so they don't get caught in the spokes. He is captain of my team. I soon learn we don't ride for the thrill of victory. We ride because Rick's son can't ride, and is barely able to walk. He has ataxia-telangiectasia (A-T), a rare genetic disorder. Rick hopes our team, A-T Northwest, will raise public awareness of the disease, and perhaps some contributions, as well. (A-T Northwest is the regional chapter of a national charity, A-T Children's Project, Inc.) He introduces me to our teammates, John Haedt and Bruce Knechtel, but before I can ask how they were talked into becoming Buffoons for a Day, it's our team at the starting line. "On your mark..." a man shouts into a bullhorn, and the trials begin.
Watching an incongruous procession of adults hunched over their handlebars, pedaling furiously down the street, I develop a theory about why Americans love crazy contests. It's because contests are great equalizers. Whether you're riding a trike in Marysville, getting squishy at the annual Grape Stomping Contest in Morrow, Ohio, or playing snowshoe softball in Priest Lake, Idaho, equality is the name of the game. All comers, regardless of athletic ability, look equally ridiculous. It's just a theory, but I get to test it when John finishes his lap and passes me the trike.
Crossing the starting line, I roar down the street well ahead of my opponent. But I've forgotten that trikes can't coast. When I lift my feet to go through the turn, the pedals spin frantically. By the time I regain control, I'm racing neck and neck, Ben-Hur-style. Seconds later, I cross the finish line two lengths behind. But although I've blown my relay leg, A-T Northwest still manages to earn a spot in Friday's Sprint Class. We'll compete with the perennial favorites, Golden Corral Restaurant and the Marysville Fire Department, brawny men who ride trikes while wearing fire helmets.
After the relays come the solo trials. Here I prove myself equally inept. My time, 35 seconds, earns me a plaque reading "Slowest Time Grand Prix." The winning speed, a lightning 27 seconds, is recorded by Brett Edwards, who is vying for his eighth straight title. Brett's family has been racing for two generations. "It's not fair," I whine.
No one remembers which local clown dreamed up Marysville's trike races. Sometime in the 1970s, a bunch of the regulars who frequented the saloons along State Avenue began racing kid-size trikes around obstacles, stopping to down a beer at each bar. Over the years, the races got bigger and crazier. More obstacles were added. Helmets became mandatory and beer stops were eliminated. Brett Edwards' uncle raced in those pioneering meets, and Brett, a 26-year-old auto machinist, caught the fever. Seven years ago, he built a trike at a cost of $1,500. It has mountain-bike suspension, an aluminum frame and a low, sleek design for cornering. Like any good hot rod, it's painted candy apple red and white. "Cherry trike," I tell Brett. "But what are these mats above the axle for?"
"To wipe your feet."
"What could get on your feet?"
"You'll see."
Late Friday afternoon, volunteers close off Marysville's downtown and begin installing the obstacle course. They set up a wooden teeter-totter, a trough filled with water, and a slalom of orange traffic cones. They lay out a plastic sheet, then squirt it with dish soap to make it slippery. These and other inconveniences are but a prelude to the most notorious obstacle of all: a 15-foot-long pit filled with ice water thickened by 72 boxes of strawberry Jell-O. I am informed that all riders are required to park their trikes and dive through this soupy slew.
So I borrow some swimming trunks and watch Marysville's trikers hit the street. Some skid on the soap. A few take corners on two wheels. And all dive headfirst into the Jell-O pit. Gasping for air, each emerges, sticky, soaked, shivering. Trailing streams of pink gunk, they pass their trikes to the next suckers. And before I know it, that next sucker is me.
With a vroomm! in my head, I hit the course. I ride uuuppp the teeter-totter, then downnnn. After I negotiate the slalom, a hose soaks me in a second. Out of breath, I park my trike, dive through a hanging tire and head on. I steer cautiously across the soapy vinyl, then dismount to shoot a free throw. I make it on the second try!
On the back stretch, I begin to run out of gas, but the roaring crowd gives me a shot of adrenaline. I go through a water pit, rattle over a wooden trellis and head straight for my just desserts.
The only tricycle I ever owned was that trusty royal blue. After riding it, I'd go inside where my mother often had Jell-O waiting for me in the refrigerator. Just before I dive into the pink pit, the scent of strawberry summons sweet childhood memories. Then the icy bath washes away every thought except one: this is the real reason why America won the Cold War — we'll do anything to win.
As I stagger across the finish line, I realize that trike racing has cured me of all competitive zeal. At the awards ceremony, dozens of people, their hair flecked with pink Jell-O, cheer this year's champions, Golden Corral. A-T Northwest has come in a respectable third and we've earned $250 in contributions. And so, as a salmon-colored sun sets beyond the horizon, I pack my helmet and "Slowest Time" plaque and head home. Trikes are for kids, and for the adults of Marysville, who take their kidding very seriously.
By Bruce Watson