Big!
Pop artist James Rosenquist returns to the limelight with a dazzling retrospective of his larger-than-life works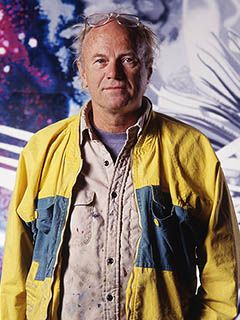 As a young man in the 1950s, James Rosenquist dabbled in shapes, squiggles and splotches like lots of young American artists in thrall to Jackson Pollock and other Abstract Expressionists. But at his day job, Rosenquist created on a larger canvas. Hanging from ropes or standing on scaffolding high above Times Square, he painted the signs of the times—billboards. Rosenquist rendered men's shirts, celebrity faces and whiskey bottles so large he could barely recognize them from point-blank range. His billboards were enormous, but were they art? Not yet.
"I'd paint a 60-foot glass of beer beautifully, with bubbles and the right yellow and everything," Rosenquist, 70, recalled in art critic Robert Hughes' American Visions, "and the salesman would come along and say 'James, that beer doesn't have enough hops in it. Make it a little lighter.' So I did it onethousandth degree lighter, the whole damn thing. . . . The next day I painted an Arrow shirt twenty feet high. 'James, the collar looks dirty. You gotta change the collar'. . . . So I had all this color. I had Ford Seafoam green. I had dirty beer color, wrong hops. I had dirty Arrow shirt color. I took that paint home. . . . Then it dawned on me. Why don't I try to make a mysterious painting by doing enlarged fragments . . . . " While adding mystique to his studio art—juxtaposing commercial and commonplace images in bizarre combinations (a plate of spaghetti below a reclining woman and the grille of an old Ford)—Rosenquist continued to paint billboards. He was fired from some jobs, laid off from others, but his gregarious Midwestern manner kept him busy.
By 1963, the 29-year-old Rosenquist had joined Jim Dine, Andy Warhol, Roy Lichtenstein and Claes Oldenburg in America's hottest cultural craze—Pop art. He sold out his first one-man show, at Manhattan's Green Gallery, only to find himself belittled as one of Pop's "New Vulgarians." In the four decades since, he has ignored the critics and continued to create bold paintings, many so monumental they cover all four walls of a gallery, most a cryptic mix of images—from butterflies and bacon to paper clips and flowers. His montages of everyday objects have taken him beyond Pop into his own distinct interpretations of Surrealism and Photo-Realism. Now his work, which he calls "visual inflation," is enjoying its first comprehensive exhibition since 1972.
"James Rosenquist: ARetrospective" opened last spring at the Menil Collection and the Museum of Fine Arts in Houston, and is on display at New York City's Guggenheim Museum through January 25, 2004. (It will travel to the Guggenheim in Bilbao, Spain, in the spring.) The exhibition features some 200 sculptures, drawings, prints, collages and the artist's signature, room-size paintings. "Rosenquist always seemed a unique figure to me, not like Warhol or Lichtenstein," says the Guggenheim's senior curator of 20th-century art, Walter Hopps, who organized America's first Pop show in 1962 as well as the current Rosenquist exhibition. "He's not so much a Pop artist as an imagist. He reconstructs things in really imaginative ways, with truly amazing and complex imagery."
Some visitors to the retrospective may find themselves overwhelmed as they gawk at pencils lined up to resemble a spaceship; drill bits boring down on a lipstick's traces; a woman's fingernail morphing into the tip of a fountain pen. What do they all mean? "The subject matter isn't popular images," the artist has said. "It isn't that at all."
To Rosenquist, objects are less important than the associations between them. "Living in the Plains," Rosenquist told Hopps, "you'd see surreal things; you'd see mirages. I'm sitting on the front porch, as a little kid at sunset, and the sun is in back of me, and walking across the horizon is a Trojan horse four stories tall. . . . It was the neighbor's white stallion, which had got loose, caught the light in the heat and looked four stories tall. These kinds of little things make, I think, the curiosity, or the inquisitiveness, that make an artist."
Born in 1933 in Grand Forks, North Dakota, Rosenquist was the only child of Louis and Ruth Rosenquist, amateur pilots in the heyday of Lindbergh who had grounded themselves by the time their son was born. The Depression kept them moving. While his father worked as an airline mechanic, James attended seven schools by the time he was 12. Often alone, he developed an interest in cars, airplanes and drawing. He drew elaborate World War II battle scenes on the back of sheets of wallpaper supplied by his parents. In junior high, he won a scholarship for a class at the Minneapolis School of Art, but it wasn't until the end of his freshman year at the University of Minnesota, when he answered an ad that read "Wanted: Artist," that he really began to take art seriously.
The job was sign painting, and Rosenquist spent the summer roaming the Midwest with a team of hard-drinking men painting huge "Phillips 66" lettering on gas tanks and refinery equipment. The following summers, he painted billboards, turning buckets of paint into two-story gas station logos, Davy Crockett faces and other popular images of the 1950s. His art professor, Cameron Booth, urged the talented young man to go East. So in the fall of 1955, with a scholarship to the Art Students League and $400 in his pocket, the 22-year-old Rosenquist left for Manhattan. To support himself while in school, he began painting billboards again. Veteran sign painters called him Baby Jimmy, but there was nothing immature about his confidence; he talked his way into painting jobs usually reserved for more senior men and taught himself to enlarge images by superimposing them on a grid. "I thought that if I could learn that technique, I could paint anything," he said in an interview in a 1994 catalog of his work. "I could paint the Sistine Chapel. I couldn't paint it very well, but I could paint it."
Over a period of several months, Rosenquist painted a Schenley whiskey bottle 147 times. "I got so tired of it, one day I painted 'Mary Had a Little Lamb' on the label," he told me when I visited him in his Florida studio. "You couldn't see it from the street." Another day he watched a fellow worker fall to his death. Later, he cheated death himself when a scaffold collapsed. In 1960, tired of "living dangerously and not doing what I wanted," he turned his back on billboards, married textile designer Mary Lou Adams, whom he had met at the Metropolitan Museum of Art, and began painting full time in a studio on Manhattan's Lower East Side. Most of his works from this period were abstract, but inspired by the impastoed flags and targets of his friend Jasper Johns and his own billboard images, Rosenquist started to compose pictures of fragments, with images that appeared to overflow the canvas. He called his first such effort President Elect. The painting featured a piece of cake, a car fender and the face of the newly elected U.S. president, John F. Kennedy. He traced his affinity for incongruous juxtapositions to his youth. "When I was a boy," Rosenquist told Hopps, "I went to a museum with my mother. There were on the same wall a painting, a shrunken head, and a live flower. It was almost like what they would have in an Oriental tea ceremony. Three different things. . . . "
By the late 1950s, other artists had also begun painting artifacts of popular culture. The movement had begun in Britain, but in the United States Andy Warhol was soon painting soup cans, Roy Lichtenstein was enlarging comic-strip images, dots and all, and Rosenquist was bringing his billboards down to size. By the fall of 1962, Pop was all the rage. "Pop is about liking things," Warhol deadpanned, though most critics did not like it. Time called it the "cult of the commonplace," and Rosenquist was dismissed as a mere "billboard painter." The Nation's critic Max Kozloff asked: "Are we supposed to regard our popular sign board culture with greater fondness or insight now that we have Rosenquist? Or is he exhorting us to revile it—that is, to do what has come naturally to every sensitive person in this country for years?" In 1964, when Pop dominated the influential Venice Biennale art fair, the Vatican condemned its "grotesque relics," and Italy's president refused to hand out the top prize to Pop precursor Robert Rauschenberg.
But the public, perhaps tired of puzzling meaning out of abstractions, seemed to get it. "Bing . . . Bang . . . Pop Art," an article in Glamour declared. "It will boom on. Expect Warhol, Rosenquist and Lichtenstein to become household words like Liz and Dick and Mr. Clean." Yet while Warhol and Lichtenstein rode the Pop wave, Rosenquist began trying other things. "I don't know what Pop art is, to tell you the truth," he would say years later. "I never liked the label because it sounds like something that comes and goes quickly. Instant gratification."
In the summer of 1964, Rosenquist returned from Europe, where he'd had several shows, feeling somewhat alienated from his homeland. (JFK had been assassinated six months before.) At an amusement park near his parents' home in Dallas, an old B-36 bomber had been installed for children to climb on; it stuck in his mind. Later that year, he read about a new fighter plane being developed for the escalating Vietnam War, got drawings for it and began sketching. He spent eight months on the painting, which he named after the new aircraft—F-111. The work, 10 feet high and 86 feet long, filled 51 panels and wrapped around the front room of the Leo Castelli Gallery on Manhattan's Upper East Side.
From tip to tail, F-111 depicts a fighter plane streaking across what Rosenquist called "a contemporary modern-day flak of household things." Panels show a huge radial tire, a mushroom cloud, spaghetti, and a little girl beneath a hair dryer. Rosenquist explained in Hughes' American Visions: "I thought of this new war device that's a defense economy item, supporting aircraft workers, each with two-and-a-half statistical children in Texas or New England or wherever. And I thought that being an artist was insignificant."
F-111 was an immediate sensation. It was hailed as "the apotheosis of Pop," and its purchase, in 1965, for $60,000, made the New York Times. While the painting toured Europe, Rosenquist cemented his reputation as an eccentric—and made sport of the flimsiness of trends—by wearing a suit he tailored out of paper to parties and art shows. By then, Pop was spreading ever deeper into American culture, but Rosenquist, now in his mid-30s, moved on, experimenting with sculpture and incorporating such materials as barbed wire, Plexiglas and sheets of Mylar into his works.
Then everything changed. On February 12, 1971, Rosenquist, his wife and their 7-year-old son, John, were vacationing in Florida when their car was hit broadside by another car on a rainy night. Rosenquist suffered a perforated lung and three broken ribs. His wife and son were each left in a coma. "Life was instantaneously terrible," he recalled. While his wife and child remained unconscious—his son for five weeks, his wife for four months—Rosenquist faced mounting hospital bills. Sixty thousand dollars in debt, he spent the 1970s digging out of depression, and after his family recovered, divorce.
As an opponent of the Vietnam War, Rosenquist was arrested during an anti-war protest in 1972 and lost commissions when he criticized the politics of potential patrons. With Pop now passé, critics circled like vultures around his reputation. Influential New York Times critic John Canaday likened Rosenquist's 1972 retrospective at New York's Whitney Museum of American Art to a wake, and his work, to a corpse. Seeking respite from the New York art scene, Rosenquist moved in 1973 to East Tampa, Florida, where he created a studio out of two abandoned dime stores. There he worked ferociously on paintings, prints and sculptures, many of which convey a sense of foreboding. One canvas, Slipping Off the Continental Divide, featured a stairway, a handful of nails and an open book turned facedown. Other works, constructed out of wires, wrecked auto parts and techno-paraphernalia, suggest a man struggling to preserve his humanity in an increasingly mechanized world.
During the 1980s, Rosenquist's work was back in vogue and his paintings began to sell, he says, "like popcorn." In 1981, Florida's DadeCountyArt in Public Places Committee selected Rosenquist's Star Thief (above) to hang in the Eastern Airlines terminal at Miami's airport. The 46-foot-long painting included a woman's fragmented face and floating bacon superimposed on a starry background. "Star Thief," Rosenquist says, is "about the idea of astronauts trying to keep their sanity by bringing things from Earth with them into space, little mementos of home." Eastern Airlines chairman Frank Borman, who, as an astronaut in 1968 had circled the moon on Apollo VIII, was vehemently opposed to the selection and even tried to have the Art in Public Places program abolished. "Although I am admittedly unschooled in modern art," he said at the time, "I have had some exposure to space flight and I can tell you without equivocation there is not any correlation between the artist's depiction and the real thing." After three years of debate, DadeCounty officials announced they would not be going ahead with the $285,000 purchase. Shrugging off the decision, Rosenquist returned to his canvases.
The past two decades have seen no diminution in his vivid and enigmatic imagery. His 1988 Through the Eye of the Needle to the Anvil juxtaposed a needle, a flower, a human brain scan and a pair of high heels, and his three-part, room-size The Swimmer in the Econo-mist, done in 1997 for the Deutsche Guggenheim Berlin, contrasts figures from Picasso's 1937 anti-Fascist painting Guernica with glittering industrial images and brightly colored logos from consumer goods. Contemporary critics do their best to decipher these montages, reading Rosenquist's work as overlapping billboards, Freudian symbols from his childhood, or Surrealism à la Belgian artist René Magritte. In the exhibition catalog Rosenquist offers his own interpretation: "In collage there is a glint . . . or reflection of modern life. For example, if you take a walk through midtown Manhattan and you see the back of a girl's legs and then you see out of the corner of your eye a taxi comes close to hitting you. So—the legs, the car—you see parts of things and you rationalize and identify danger by bits and pieces. It's very quick. It's about contemporary life."
Other clues lie in his current Florida home and studio, 45 miles north of Tampa. (He also maintains a studio in New York City, and a home in Bedford, New York, with his second wife, Mimi Thompson, and their 14-year-old daughter, Lily.) Most artists' studios are cluttered, but Rosenquist's is disheveled on a grand scale. Scattered throughout the two airplane-hangar-size buildings are junked cars, an old fishing boat and—order out of chaos—several of his stunning, fluorescent canvases. When Rosenquist, dressed in old jeans, paint-spattered shoes and a black T-shirt, begins to explain them, his conversation is spiced with memories of the Depression and World War II. And just when he begins to sound like an aging North Dakota farmer, he jumps to something he read about Russia, ancient Greece or Eastern philosophy. Stories about New York in the 1960s are interwoven with theories about art and tales from his travels. And while he speaks with a friendly, Midwestern accent, he's also a dead-on mimic. Discussing his goals as an artist, he stops and raises one finger. "I want to be clear on this," he says. "All the art students in the 1950s liked Abstract Expressionism. It was very vigorous, and I liked it too, but I never wanted to look like I was copying someone else. I wanted to do something new."
At the start of his 70s, Rosenquist remains, as one Artforum critic noted, the painter of "the clutter that adds up to the emptiness of American space." He is planning a 50-footsquare mural for a San Francisco hotel and wondering where his next painting will take him. "Recently I was saying to Jasper Johns that I was having trouble with a certain painting," he notes. "And Johns said, 'It doesn't get any easier, does it?' That's because Johns is very true to himself, and like me, very anxious not to repeat what's already been done."
As for Pop art, the frenetic hodgepodges that once looked so daring and outrageous now seem as modern and commonplace as a remote-control surf through the dizzying images of cable television. Acereal box label. Click. Ayoung girl's face. Click. A razor blade. Click. Alipsticked mouth. More than most modern artists, Rosenquist recognized that popular culture is not a freeze frame but images zapping by in rapid-fire succession. His own amazing array of them seems driven by his determination to be, above all, an American original. "I always wanted to make something different," he says. "All the paintings I'd seen looked like they were viewed through a window frame. I wanted to do something that spilled out of the painting onto the floor, something that stuck out in your face."