Best of Children's Books 2011: For Picture Book Readers (Part I)
As you begin your holiday shopping, review these selections of the best picture books of the year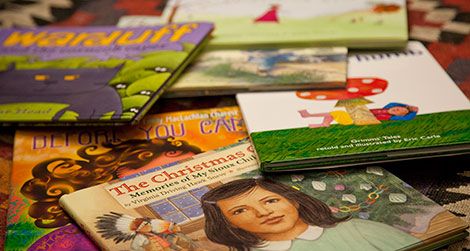 This year's selection of children's books, as always, reflects the dazzling output of artists and writers who range into realms of past and present, dream and documentary account, memoir and reportage, fiction and fact. Last week I covered the best titles for the earliest readers and below is the first half of the best picture books of the year:
Drawing from Memory written and illustrated by Allen Say
From the Caldecott Medal winner, an illustrated memoir that recalls his childhood in wartime Japan and the barren years when a relative insisted: "Drawing again! You'll never amount to anything." As if by magic, however, a series of serendipitous events leads Say to the mentor who would nurture his imagination and shape his future.
The Mangrove Tree: Planting Trees to Feed Families by Susan L. Roth and Cindy Trumbore
In 1993, American biologist Gordon H. Sato conceived the idea that he could transform impoverished villages in Eritrea by planting mangroves in the Red Sea-bordered landscapes where desert and salt water converge. Today, he is creating a sustaining ecosystem in similar environments across Africa.
Franklin and Winston by Douglas Wood, illustrated by Barry Moser
A storied encounter between FDR and Churchill unfolded when the British Prime Minister made a perilous transatlantic crossing to Washington in the winter of 1941. On Christmas Eve, two leaders of the free world together lighted the National Christmas Tree—and cemented a legendary partnership.
Wardruff and the Corncob Caper by Mat Head
A fox on the prowl is no match for the hero of the tale, one indolent feline to be sure, but also certain in the knowledge that brains overpower brawn any day. This droll debut by a British writer-illustrator likely presages a brilliant career.
The Christmas Coat: Memories of My Sioux Childhood by Virginia Driving Hawk Sneve, illustrated by Ellen Beier
The author recalls a childhood when an act of simple kindness ultimately became its own reward.
Sarah and Simon and No Red Paint written and illustrated by Edward Ardizzone
A debt of gratitude is due the publisher David R. Godine, who reissued the enchanting 1965 classic. Two perceptive and resourceful siblings must save the family fortunes when their impoverished father requires a costly tube of pigment to complete the masterpiece he has been painting.
George Flies South by Simon James
You'll never know how far you may venture—until you spread your wings.
Tom Thumb: Grimms' Tales retold and illustrated by Eric Carle
Winningly recast, the selection of classic fables constitutes a perfect-pitch introduction to the folk tale.  The author of The Very Hungry Caterpillar invests these offerings with his signature command of color and form.
Before You Came by Patricia MacLachlan and Emily MacLachlan Charest
The Newbery-Medalist author and her daughter created a gentle celebration of quotidian joys, from paddling in a canoe to reading in a hammock.
Chanukah Lights by Michael J. Rosen, illustrated by Robert Sabuda
Glorious fold-out paper instructions create a three-dimensional depiction of scenes evoked by the 2,000-year-old holiday.
Chirchir Is Singing by Kelly Cunnane, illustrated by Jude Daly
Set in the green hills of rural Kenya, Cunnane's tale centers on a child's perennial dilemma: what to do when grownups insist that you're too small for the task at hand. Plucky Chirchir handily circumvents that dilemma.
Born and Bred in the Great Depression by Jonah Winter, illustrated by Kimberly Bulcken Root
Even in tough times, there were compensations to leaven hardship—library books, chess games, the self-reliance of a family determined to stick together. The author's intimate portrait of life in an east Texas town is based on his father's childhood experiences.