Are Craft Breweries the Next Coffeehouses?
Taprooms springing up across the country are cultivating communities and helping to revitalize entire neighborhoods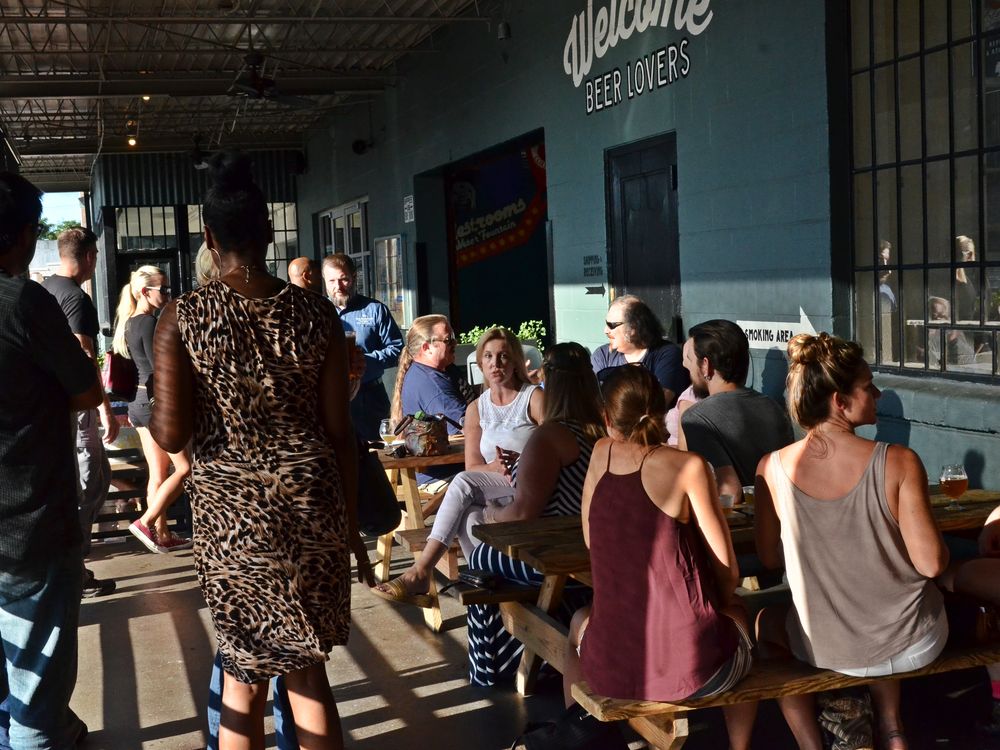 It's the end of the work week and that means the self-proclaimed "Friday Friends" are gathered around a table outside O'Connor Brewing Co. in Norfolk, Virginia, slipping into the shadows to avoid the summer rays between trips to the frosty taproom inside.  
It's a diverse group, mostly from Old Dominion University about 20 blocks north— managers of the motor pool, parking services, grounds and facilities, and environmental health and safety, a professor and one of his former students. There's also a pharmacist and a woman they call their gastronomical engineer—she brings food—who joined the group after giving one of the guys a hard time. 
Most of them have been stopping by several times a week for years. "I have a hard time staying away from here," says Rob Grandon, a special events manager for parking at the university. "I live only a mile away."
They banter about work politics, children, music spots in town, and their best practical jokes. It's a good time, and a testament to how craft breweries have emerged as another informal meeting place—"a third place"—over the past decade.
"Breweries have become third places, outside the home and office, where Americans congregate," says Mike Stein, a beer researcher and historian for the DC Brau Brewing Co. in Washington, D.C.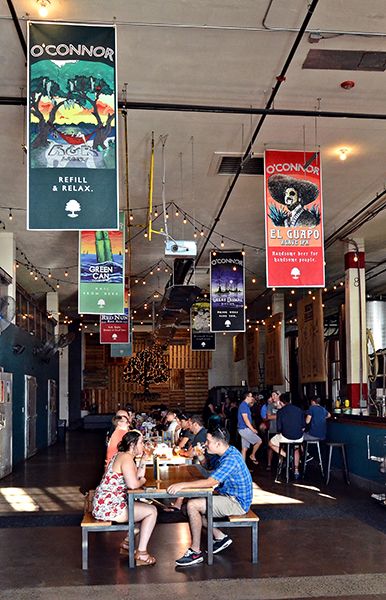 The idea of a third place apart from home and work was highlighted in The Great Good Place, a 1989 book by Ray Oldenburg, then a sociologist at the University of West Florida.
In the book, Oldenburg chronicled the social importance of third places—English pubs, French cafes, American taverns­—and lamented the lack of them as Americans moved to suburbia.
"Though a radically different kind of setting for a home, the third place is remarkably similar to a good home in the psychological comfort and support that it extends," he writes. "They are the heart of a community's social vitality, the grassroots of democracy, but sadly, they constitute a diminishing aspect of the American social landscape."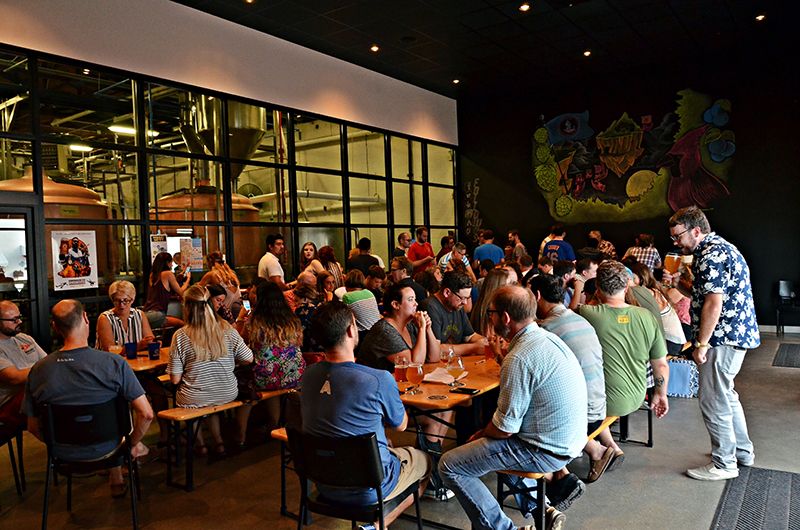 On Norfolk's southwest edge two nights earlier, it was standing room only inside the tasting room of Smartmouth Brewing Co. Trivia players penciled in answers to questions about the mystical creature that is Scotland's mascot and what celibate monk was considered the founder of genetics. Outside, Capt'n Crabby's food truck served crab cake sandwiches.
You won't find people hypnotized by giant television screens blaring sports or their smartphones at places like this. You'll find them talking at community tables, maybe playing a game like Cards Against Humanity, Scrabble or cribbage, or intensely removing one piece at a time from a giant Jenga set. 
Craft breweries across the country have become schmooze central, a modern-day evolution of the British pub and the colonial tavern. In a decade, their number has grown to more than 5,300 from 1,500. They are the evening analog to the third place of the morning, the coffeehouse. 
George Homewood, Norfolk's director of planning and community development, has watched the rise of small breweries and their importance to the social fabric of a city. It's why Norfolk and other cities have pursued them as attractions and as economic development generators.
He notes that microbreweries are different from the traditional Irish bar or the tavern of decades ago that never changed from day to day. "That's not what we want today," he adds. "We want our third places to challenge us a little bit."  
At many craft breweries, there is a different food truck outside nightly. Depending upon the brewery, there may be yoga on Sundays, trivia on Wednesdays, retro video games on Thursdays, and music on Saturdays as well as neighborhood block parties, a monthly pet adoption day or a free community meal. It's part creating community, part smart marketing.
"They are gathering places that are in many ways replacing things like libraries and recreation centers within a neighborhood," Homewood says. "I read a quote—and I don't remember from where—that you put in a microbrewery and a tasting room and if you're not careful a whole neighborhood will grow up."
In Milwaukee, partners Andy Gehl and Kevin Wright, a recovering attorney and a brewmaster who met as youths at a summer camp, developed their brand concept for Third Space Brewing around the idea of a third place based on Oldenburg's book. 
It was news to Oldenburg, who is 85, retired, and lives in Florida. Reached by telephone, he said he planned to look into the rise of craft breweries as third places for the next edition of his book.
"We thought with the rise of craft beer, what better place than a brewery to be your third place," Gehl says. Gehl and Wright have a taproom and a beer garden that is both kid friendly and dog friendly. That's the norm, another way to encourage people to linger and mingle.
In Portland, known as Beervana because it is has 70 craft breweries, Colin Rath and his partner, co-owners of Migration Brewing Co., began as home brewers who held block parties sharing their beer with neighbors. They thought it would be awesome, he says, to host events and make beer for a living. So the brewery was born in an old radiator shop more than seven years ago. There, they continue to foster community, hosting a monthly dine out night with proceeds going to charity as well as making their events space available for everything from school groups to nonprofit fundraisers. Over time, Rath has become such good friends with some regulars that he invited them to his wedding.
Rath likens brew pubs to the Public House, an idea going back to Roman times. "The public house is where people can talk, get things done, and see each other as human beings," he says. "That's the point of a third place. It's where people can feel comfortable. They know they're going to be accepted no matter what their views."
In Philadelphia, Mike Wambolt and his partners opened Crime and Punishment Brewing Co. in an old bike shop in the city's Brewerytown neighborhood in 2015. The brewery sponsors Little League, hosts arts events and fundraisers for neighborhood schools. "We're in a gentrifying neighborhood," says Wambolt, who has a master's degree in philosophy and has lived in the neighborhood for nine years. "We're considered the cornerstone business. That's really cool. No matter who you are or where you're from, you can pop in a find a beer you like to drink. We've tried to create a place where you can hang out and have two or three beers."
Opening a craft brewery seems to attract people who give back. In Hendersonville, North Carolina, Lisa McDonald and her partner opened Sanctuary Brewing Co. based on their love of community, their love of beer and their love of animals. Once a week, the brewery hosts free vegan meals, pet adoption days and yoga with cats. It offers live music seven days a week during the summers. The brewery features a Kindness Wall where donations of food and clothing are left. "From day one, we've been, like, that's a wacky idea, let's absolutely do that," McDonald says. "We have so much activity and so much excitement every day."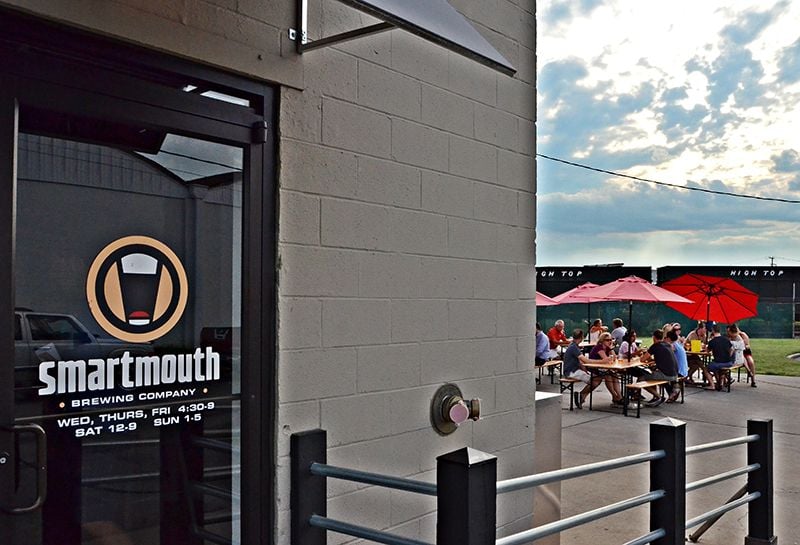 At Smartmouth in Norfolk, there's an outdoor picnic area with corn hole and ring toss. Owner Porter Hardy says there have been times when so many parents with toddlers stopped by that staff created a stroller parking area. Laws about minors in drinking establishments, and their caveats and loopholes, vary state by state. While bars may not allow those under legal drinking age to enter, particularly in evening hours, many craft breweries encourage families. At Norfolk's O'Connor Brewing, a chalkboard inside the warehouse's bay doors features a long list of events, from an upcoming folk festival to an evening with a DJ and a dance-off to game nights and vinyl nights. There's plenty for everyone, even nondrinkers.
"It's not a bar," says Kevin O'Connor, the owner of O'Connor Brewing. "It's not a bar mentality. People are not here to get hammered."
O'Connor says there has been an evolution since he started making beer in 2009 a few blocks away. When the brewery moved to its present location in 2014 and opened a sprawling tasting room and events space, he says community members came forward with ideas, everything from arts exhibits, craft fairs, including one that attracted 3,000 people, and weddings. Yes, you, too, can get married in your favorite craft brewery.
All that activity day after day means craft breweries can be engines of neighborhood revitalization, often in industrial areas that have fallen into disuse. Wynkoop Brewing Co., a brewpub founded by former Colorado Gov. John Hickenlooper in 1988, is credited with jump starting the renaissance of what has become Denver's LoDo neighborhood, now a bustling hip place with Coors Field, one restaurant after another and chic boutiques.
In Richmond, Virginia's Scott's Addition neighborhood, developers in recent years have begun aggressively moving into the long-ignored industrial buildings following on the heels of a handful of new breweries. In Norfolk, since O'Connor opened, there's been a slow renaissance in the neighborhood. Two restaurants, a distillery and a bookstore have opened. Developers have plans to create hundreds of apartments in old industrial buildings nearby.
"These things are mini-economic development generators wherever they pop up," says Chuck Rigney, Norfolk's director of economic development. What Rigney has observed in Norfolk has happened throughout the country in Cleveland, rural North Carolina, Boston, Portland and elsewhere. He says the city, which has seven craft breweries, is looking for more.
 "One of the things we want to be is a place where, in particular, young people want to stay and work and make their lives in our community," he adds. "Having the kinds of experiences that breweries bring with food trucks or adjacent restaurants and other experiences is the lifeblood and future of the city. It's not by coincidence that we try to fuel these things."
At Smartmouth, founder Porter Hardy IV, another recovering attorney, says he didn't realize how successful they'd been creating a third place until the brewery's first anniversary party. They expected maybe 500 people. More than 1,500 showed up. "I remember thinking, 'Wow, this must really mean something to people,'" he says.
"Whenever I have a bad day," he adds, "the way I get over it is to go into the tasting room and see everybody enjoying themselves. People coming here to relax. People coming here to run into other people. It's the best reminder to me of why I do what I do."