A Trip to the Moon as You've Never Seen it Before
One of the landmark films in cinema can now be seen in color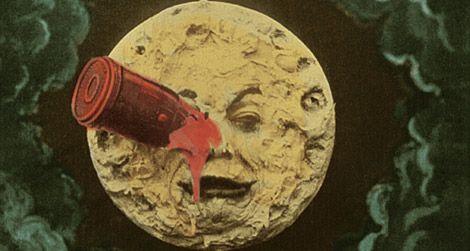 It's one of the most famous films in cinema, a special-effects, science-fiction extravaganza that became an international sensation when it was released in 1902. Almost instantly it was pirated, bootlegged, copied and released by competing studios under different names. And for decades it's only been available in black-and-white copies.
Now, after a 12 year project that approached a half-million euros in cost, Lobster Films, The Technicolor Foundation for Cinema Heritage, and Fondation Groupama Gan pour le Cinéma are unveiling a new version of A Trip to the Moon, "resurrected," in the words of preservationist Tom Burton, from an original, hand-colored nitrate print. For the first time in generations viewers will be able to see the color version of the film that stunned early 20th-century moviegoers.
Le voyage dans la lune, to use its French title, is one of over 500 movies made by Georges Méliès, perhaps the first filmmaker to fully grasp the potential of cinema. The son of a wealthy shoemaker, Méliès was born in 1861. Fascinated by magic and illusions, he left the family business in 1888. Buying the Robert-Houdin theater from his widow in Paris, he developed a successful act with illusions such as "The Vanishing Lady." Méliès was in the audience when the Lumière brothers held their first public film screening on December 28, 1895, and within months was exhibiting movies at his theater.
Méliès made his first film in November, 1896, built his own studio in 1901 and formed the Star Film brand to market his work in France and internationally. He made movies about current events and fairy tales, replicated his stage illusions on screen and developed a highly advanced technical style that incorporated stop-motion animation: double-, triple-, and quadruple-exposures; cross-dissolves; and jump cuts. More than any of his contemporaries, Méliès made movies that were fun and exciting. They were filled with stunts, tricks, jokes, dancing girls, elaborate sets and hints of the macabre.
A Trip to the Moon had several antecedents, including the 1865 novel From the Earth to the Moon by Jules Verne and A Trip to the Moon, a four-act opera with music by Jacques Offenbach that debuted in 1877. Méliès may also have been aware of a theater show at the 1901 Pan-American Exhibition in Buffalo, New York, called A Trip to the Moon. Filming started in May, 1902. It was released on September 1 in Paris and a little over a month later in New York City.
At the time exhibitors and individuals could purchase films outright from the Star Films catalog. Color prints were available at an extra cost. Probably not too many color prints of A Trip to the Moon were ever in existence, but it came out right around that time color became a real fad. Within a couple of years, the hand-painting was replaced by tinting and stencil process, so color became more prevalent and less expensive. Several color Méliès films survive, but it was believed that the color Trip to the Moon had long been lost.
But in 1993, Serge Bromberg and Eric Lange of Lobster Films obtained an original nitrate print from the Filmoteca de Catalunya. The only problem: it had decomposed into the equivalent of a solid hockey puck. In 1999, Bromberg and Lange, two of the most indefatigable of all film historians, began to try to unspool the reel by placing it in the equivalent of a humidor, using a chemical compound that softened the nitrate enough to digitally document individual frames. (The process also ultimately destroyed the film.)
Years later, Bromberg had some 5,000 digital files, which he handed over to Tom Burton, the executive director of Technicolor Restoration Services in Hollywood. In a recent phone call, Burton described how his team approached this "bucket of digital shards."
"What we got was a bunch of digital data that had no sequential relationship to each other because they had to photograph whatever frame or piece of a frame that they could," Burton recalled. "We had to figure out the puzzle of where these chunks of frames, sometimes little corners of a frame or a half of a frame, where all these little pieces went. Over a period of about nine months we put all these pieces back together, building not only sections but rebuilding individual frames from shattered pieces."
Burton estimated that they could salvage between 85 to 90 percent of the print. They filled in the missing frames by copying them from a private print held by the Méliès family and digitally coloring the frames to match the original hand colored source.
"It's really more a visual effects project in a way than a restoration project," Burton said. "A lot of the technology that we used to rebuild these frames is the technology you would use if you were making a first-run, major visual effects motion picture. You'd never have been able to pull this off 10 years ago, and certainly not at all with analog, photochemical technology."
For Burton, A Trip to the Moon represents the beginnings of modern visual effects as we know them today. "Seeing it in color makes it a whole different film," he said. "The technique involved teams of women painting individual frames with tiny brushes and aniline dyes. The color is surprisingly accurate but at times not very precise. It will wander in and out of an actor's jacket, for example. But it's very organic. It will never rival the way A Trip to the Moon first screened for audiences, but it's still pretty amazing."
A Trip to the Moon was shown at the opening night of the Cannes Film Festival in May, and is screening on September 6 at the Academy of Motion Picture Arts and Sciences. Bromberg will be showing it at this year's New York Film Festival, and on November 11 at the Museum of Modern Art, along "with the world premiere of my documentary about the restoration. An absolute must!" as he wrote in an e-mail. Was this his most exciting restoration? "One of them, of course," he answered. "The best one is the next one!!"