A Trio of Outstanding Picture Books
Three more books to add to the Best of Childrens Books 2011 list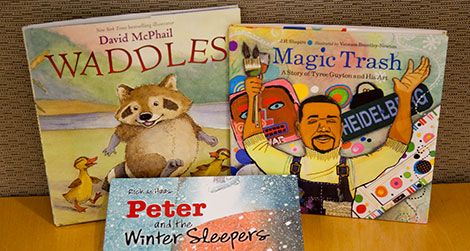 As we continue to acknowledge this year's outstanding titles, three offerings seemed to merit a special shout-out all their own.
Waddles by David McPhail
A text-and-image magician who has illustrated more than 100 books for children, including Budgie & Boo, Water Boy, and When Sheep Sleep,  McPhail is simply a national treasure. Fortunate is the child who grows up in the company of McPhail's imagination. Waddles showcases a master at the top of his form. McPhail's portly raccoon may have a yen for pizza, but he maintains an even bigger appetite for the quiet joy of friendship.
Peter and the Winter Sleepers by Rick de Haas
From a surpassingly talented Dutch illustrator, an entrancing tale of the night when a blizzard swirls around the lighthouse where a boy and his grandmother wait out the storm, snug in their redoubt. Soon, they discover, there will always be room to shelter a motley cavalcade of wayfarers. The perfect read for the first snowy night.
Magic Trash: A Story of Tyree Guyton and his Art by J. H. Shapiro, illustrated by Vanessa Brantley-Newton
When Guyton, the Detroit artist, began creating sculpture from cast-off materials and using the walls of abandoned houses as his canvas, he revived his dying Detroit neighborhood. Today, his internationally acclaimed Heidelberg Project celebrates its 25th year, a template for the transformational power of art.