A Restored Version of Let There Be Light Available Online
Here's your chance to see a haunting and long suppressed WWII documentary about PTSD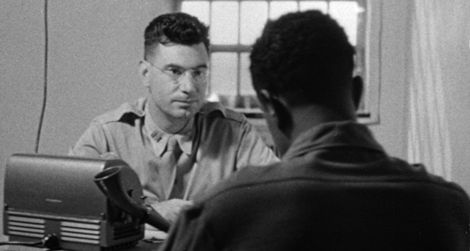 Suppressed for over thirty years, Let There Be Light has never received the attention it deserves as one of the most moving and honest of wartime documentaries. A new restoration undertaken by the National Archives and Records Administration and hosted on the National Film Preservation Foundation's website may help bring this John Huston film to a wider audience. With help from Fandor.com, the NFPF is making this restoration available online from now until August 31, 2012.
I've written about Let There Be Light before, on this blog and in my book about the National Film Registry. I also contributed to Sara Fishko's recent piece about the film for WNYC radio. I relied on the available prints: scratched, dupey 16mm copies with muffled soundtracks and frequent splices. The restored version makes it clear that Huston was among the best documentarians of his time.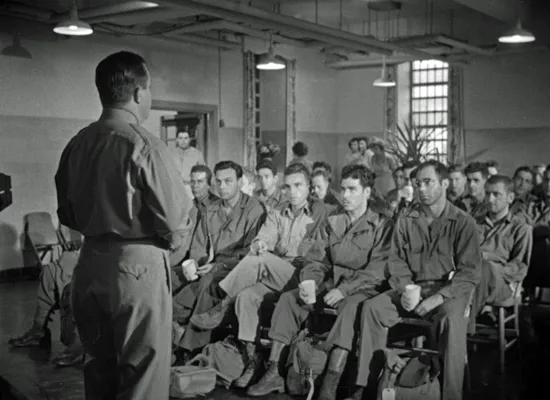 Huston was an established screenwriter (Jezebel, Juarez) and a promising young director (The Maltese Falcon) when World War II broke out. Like many of his colleagues, he volunteered for the U.S. Army Signal Corps, which made instructional films for members of the armed forces, as well as propaganda for more general audiences.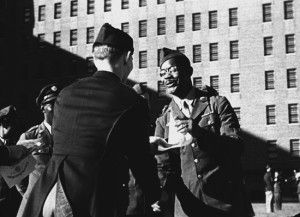 Huston worked on several Signal Corps films, but devoted his full energies to a trilogy of documentaries: the Oscar-nominated Report from the Aleutians (1943), about the building of an airstrip in Adak; The Battle of San Pietro (1946), about a small Italian town recovering from an extended fight with the Nazis; and Let There Be Light (1946). The films form an incisive portrait of three phases of war: preparation, fighting, and its aftermath.
Rey Scott, a cameraman on San Pietro, suffered what was called shell shock after the bombardment of Caserta during the Italian campaign. He was treated at the Army's Mason General Hospital in Brentwood, Long Island. When Huston, who was working in Signal Corps studios in nearby Astoria, visited Scott, he became intrigued about how soldiers with psychological injuries were being treated.
In the spring of 1945, the Army asked Huston to make a film about the "Nervously Wounded." (The film's original title was The Returning Psychoneurotics.) Officers wanted Huston to reassure viewers that there were very few psychoneurotics in the armed services, and that their symptoms had been exaggerated in the press. Most important, Huston's film would show that someone classified as psychoneurotic in the Army could still be a "success" as a civilian.
Huston began filming without a finished script, but with a good idea of what he wanted to cover. Much as cinema verite directors would do some twenty years later, the director tried to capture the day-to-day routine at Mason General in unstaged, unscripted scenes. He set up cameras in receiving rooms, classrooms and offices, covering both individual and group sessions. The patients were told they were being filmed for a documentary, and in his autobiography An Open Book, Huston wrote that the presence of the cameras had a positive effect on the soldiers. He claimed they became more responsive and recovered more quickly when they were being filmed.
According to film historian Scott Simmon, Huston's cameramen shot 375,000 feet of film—almost 70 hours—which was edited down to an hour. These interviews—raw, painful, hopeless—form the core of Let There Be Light. They have an immediacy and honesty missing from most films of the time. What haunts me about them is the inability of many soldiers to articulate their problems and needs.
By letting the soldiers and doctors speak for themselves, Huston could build a subtle case about war and its impact without stating it directly. Let There Be Light exposed the racism and class divisions that were a part of the armed services. More troubling was the director's suggestion that the issues the soldiers faced extended beyond the war itself. Drugs or hypnotherapy were not going to cure problems like unemployment. "Every man has his breaking point," as Walter Huston warns in a voice-over.
Unfortunately, the Army wanted a film that blamed shell shock on actual shells, not intractable social problems. Although some Army officers and a few civilian critics saw the film when it was finished, Let There Be Light was shelved. Huston left the armed services soon after to work on The Treasure of the Sierra Madre.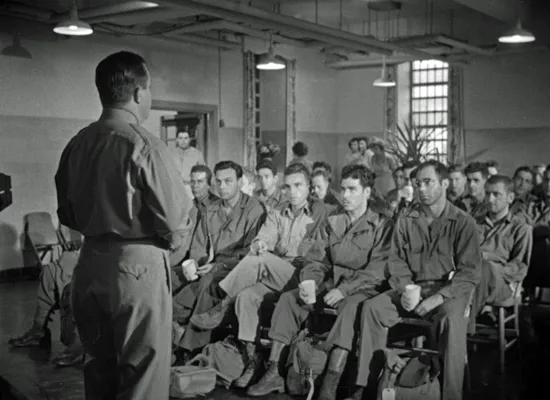 That might have been the end of the story, but as Scott Simmon points out, the Army did end up releasing a film about shell shock (in today's terms, post-traumatic stress disorder, or PTSD). Shades of Gray, directed by Joseph Henabery, was released in January 1948. It essentially remade Let There Be Light, but with an almost all-white cast of actors—not soldiers—and with strikingly different conclusions. (You can see Shades of Gray online at the Internet Archive.)
Let There Be Light didn't surface again until 1980, when producer Ray Stark, motion picture lobbyist Jack Valenti and Vice President Walter Mondale campaigned for its release. (Stark was producing Huston's adaptation of Annie.) Viewers who saw it then were underwhelmed, perhaps expecting an expose of horrid conditions instead of a sober, quiet examination of how war cripples soldiers emotionally as well as physically.
Since then, Let There Be Light has circulated in poor quality 16mm prints and even worse videocassettes and DVDs. But soundtrack on the NFPF version, restored by Chace Audio by Deluxe, makes audible several passages that had been close to unintelligible. For the picture, the National Archives and Records Administration (NARA) created a new negative from an acetate fine grain master, the best surviving source. NARA is still in the process of preparing a 2K scan of the film in order to make high resolution copies.
Was Huston fair in his portrayal of Mason General? Should the Army have censored his film? The best way to decide is to watch it yourself.
Read new Reel Culture postings every Wednesday and Friday.  And you can follow me on Twitter @Film_Legacy.