A New Life for Old Breweries
In response to a changing economy and demographic shift toward urban areas, the deserted homes of Schlitz, PBR and other beers are being repurposed
Our previous post on the origin of Pabst's blue ribbon got me thinking about the current state of the former Pabst Brewery in Milwaukee, Wisconsin. Pabst left Milwaukee in 1996 after more than 100 years of brewing and the 18.4 acre site, which is listed on the National Historic Register, remained unoccupied until 2006, when its 16 decaying buildings were saved from becoming yet another industrial ruin. The late developer and philanthropist Joseph J. Zilber bought the entire property with the aim of transforming one of the city's most prominent locales into one of the city's most prominent neighborhoods.
After taking years to thoroughly and safely clean the site, development is now underway. One of the first development projects on the site, the Blue Ribbon Apartments, includes live/work spaces for artists and amenities such as a music studio, workshop, theater, fitness center and community space. Future plans for the Brewery development include additional apartments, senior housing, over a million square feet of retail and office space, a hotel, and educational facilities, including a 50,000 square foot building to house the University of Wisconsin-Milwaukee's School of Public Health. The Brewery aims to be "one of urban America's premier sustainable neighborhoods" and is currently on track to achieve LEED Platinum certification.
Pabst isn't the only former beer maker in Milwaukee. Other former brew sites in the city have been repurposed and reprogrammed. Parts of the old Blatz brewery have been turned into luxury apartments while the former home of Schlitz, "the Beer that made Milwaukee famous," is now a middle school and office park.
The adaptive reuse of breweries has been going on for quite some time and only seems to be gaining popularity in response to a changing economy and demographic shift toward urban areas. Old breweries, with their enormous, light-flooded spaces, are ideal for conversion into flexible artists lofts and creative spaces. But as these sites become more lucrative, many are also being transformed into luxury apartments, retail, and entertainment complexes.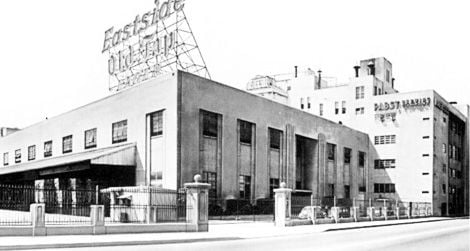 The Brewery Arts Complex in Los Angeles was also a former Pabst Brewery. It was originally constructed in 1903 as the Edison Electric Steam Power Plant, then was transformed into a brewery when Pabst took over in 1953. Today, it's full of small businesses and true artists' lofts (so it's probably safe to assume that there's still a lot of PBR there). The adaptive reuse was made possible by changes to building codes pertaining to industrially-zoned buildings. America just doesn't make as much as it once did, and as former industrial areas become decidedly less industrial, such rezoning, which once seemed unimaginable, has become commonplace. In 1980, Carlson Industries bought the 28-acre property and began transforming it into what is now often referred to as one of the largest arts colonies in the world. The Brewery's 21 buildings house art galleries and raw live/work spaces that artists can build out according to to their needs.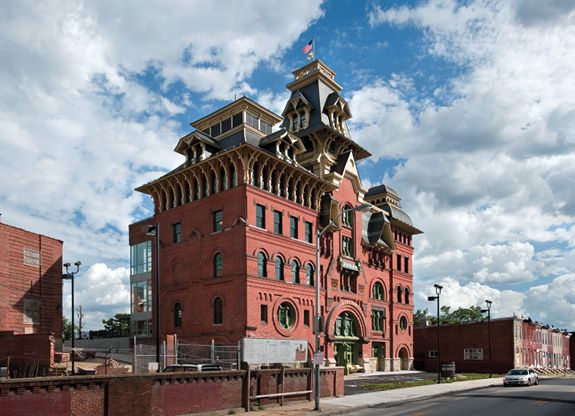 In Baltimore, the former home of the Weissner and American Breweries now houses the social-service nonprofit Humanim. Originally built in 1887, the five-story, red brick building has stood empty since the American Brewery closed its doors 1973. The building remained vacant until 2010 when, after five years of restoration and renovation, Humanim moved into the transformed structure, using its large, well-lit spaces for collaborative work environments and an ersatz community center.
When the owners and architects first entered the building, they found rotting structure, decaying floors, and "mounds of rancid grain left over from brewing days." The original building is a shocking eclectic mix of architectural styles that looks more like a haunted house than a brewhouse. The architects behind the renovation, Cho Benn Holback + Associates Inc., let those eccentricities shine. The designers also embraced the building's past: they've reused the massive fermenting tank as a prominent design feature and have preserved other vestigial brewery artifacts. Whenever possible, salvaged materials were repurposed and used in the new construction. The high-profile adaptive reuse has had the added benefit of bringing attention to the nonprofit and has prompted discussions of further renovations, including the possible transformation of a former bottling plant into a charter school.
Of course, this isn't just an American phenomenon. The Kunsthalle Zürich recently moved into a renovated brewery in the Löwenbräu art complex.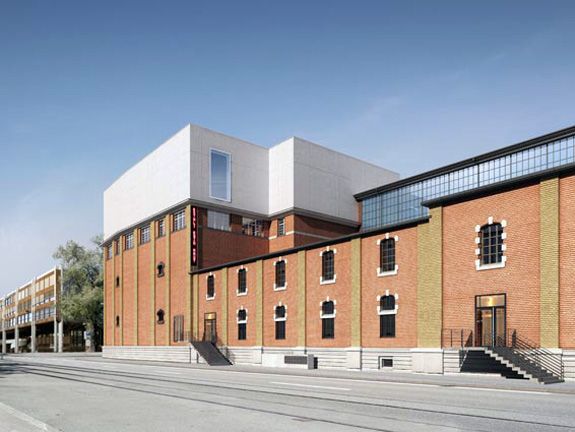 Designed by two Zürich architectural offices, Gigon/Guyer and Atelier WW, the Kunsthalle renovation was designed to create new space for offices, meeting areas, event space, exhibition space, archives, and a public library for the arts organization. The large spaces of a brewery are perfect for a kunstalle, which has no permanent collection but must be able to accommodate a variety of exhibitions and installations. The most prominent feature of the renovaiton is the addition of an upper floor in the form of a sparse white cube, which doesn't only serve as a universal symbol for "art gallery," but also as a giant exterior canvas for commissioned murals and site-specific installations.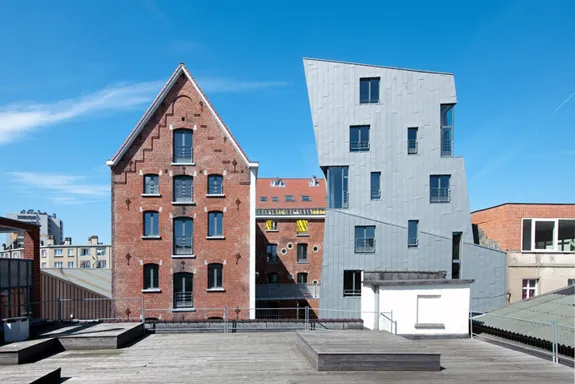 In Brussels, Belgium, the former home of the Hallemans brewery was renovated to house 31 live/work spaces specifically designed for artists. Studios Cheval Noir, as the project is now known, is the product of a collaboration between collaboration between L'Escaut and Atelier Gigogne. The original structure was gutted and partly demolished to bring in more natural light and is connected by footbridges at each floor to a new, zinc-clad, distorted doppelgänger. Architects like to call this a "dialogue."
These projects represent only a small number of the many instances of brewery restoration and renovation projects across the world. As factories and manufacturing plants close their doors, many local governments have been taking steps to ensure that the historic industrial buildings will be preserved with new policies that include zoning changes and tax credits offered  for rehabilitating historic structures. Adaptive reuse isn't always the cheapest or easiest option, but it offers environmental benefits, economic opportunities, and can help revitalize declining urban areas. As for the American beer industry, there is a small silver lining for patriotic beer enthusiasts: independent craft breweries are on the rise.