A New Ethiopian Food Truck in D.C.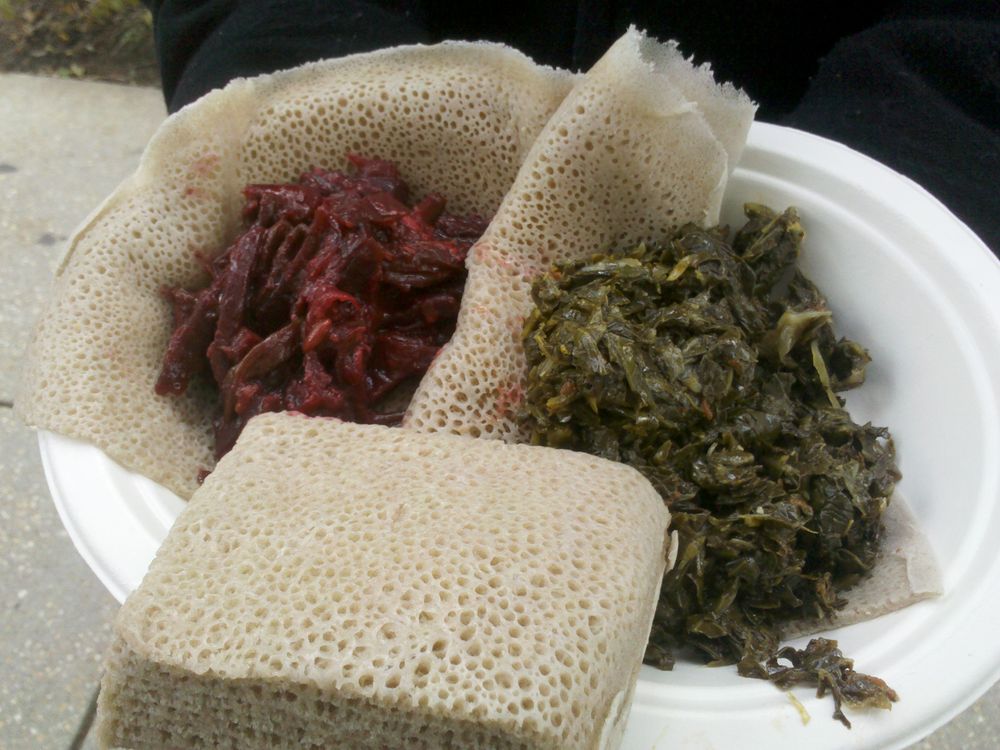 When it rains, it pours: In the past two years, more than a dozen food trucks have sprouted in what was once a culinary desert at L'Enfant Plaza, just south of the National Mall. These mobile vendors roll in at lunch hour on various days, selling everything from Canadian poutine to Korean tacos to cupcakes.
The Fojol Brothers were my first love; their hearty vegetable curries were a welcome alternative to the overcrowded deli and fried-foods buffet that were the main lunch options near my office. So I was delighted when they launched a sister truck this week that puts another country on the map of D.C. food trucks: Ethiopia.
They're calling it "Benethiopian," because not-quite-reality is their schtick, complete with fanciful costumes, pseudonyms and fake mustaches (the original truck sells "Merlindian" food, and they call themselves a "culinary carnival").
"It's 'ben' like 'beneath,' because Ethiopia is at the root of everything, you know?" the guy at the window told me. And according to the blog Capital Spice, the recipes come from the Ethiopian wife of a partner in the Fojol business.
I ordered their beets and collard greens, which came on a bed of injera (atop a paper plate), the staple of Ethiopian cuisine. I've had injera before, but am fascinated by it every time—the taste and texture combine elements of a crepe, a crumpet, sourdough bread and a sponge. It's typically made from teff, a tiny, protein-packed African grain that is largely gluten-free—which means that instead of rising, it tends to bubble when fermented with yeast. (The Exploratorium explains in more detail.)
The injera functions as both a plate and a utensil for scooping up the stews and sauces served with it, which means eating Ethiopian food can get a bit messy. The new Fojol truck has a sink in a niche on the outside of its truck for customers to wash their hands, and offers packets of wet wipes with each order, which were definitely needed! (Note to self: Ethiopian isn't good desk food, especially when beets are involved. Sorry about that, white keyboard.)