A Micro-Winery in the Colorado Mountains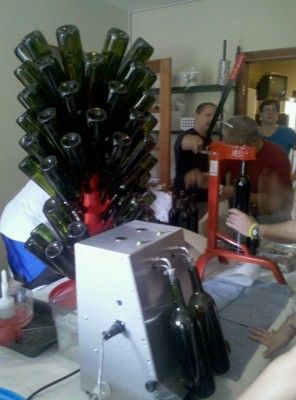 We've all heard of micro-breweries by now, but how about micro-wineries? The concept was new to me until this summer, when I went on a family vacation that involved spending a few nights in Conifer, Colorado.
My aunt, who lives nearby, had made reservations for us at a charming four-room B&B called the Clifton House Inn. She mentioned that the place doubled as a "micro-winery" called Aspen Peak Cellars, but I wasn't too sure what that meant.
A bottle of their Conifer Red—a simple, pleasant blend of half Sangiovese and half Cabernet Sauvignon that tasted like sweet berries—welcomed us when we reached our room late the first night. In the morning, the view from our front balcony revealed only mountains and a meadow flickering with the movements of finches, hummingbirds, jays and a single grazing horse. No sign of vineyards or winemaking facilities.
Turns out, that's because they don't have any. Marcel and Julie Flukiger, the couple who own the place, don't want to run a huge winery. They've got enough on their hands running an inn and bistro. As Marcel explains, winemaking started as a hobby and had grown into an obsession by the time they bought the inn last year.
"I got Julie a winemaking kit for Christmas about five years ago, and we just couldn't seem to stop playing with it. There was never a carboy empty in our house after that,"  he says, wearing a T-shirt that reads "Cork Dork."
They buy grape concentrate from vineyards in California—selected after some sampling at trade shows—and ferment it for about two weeks in plastic vats stored in an annex of the inn's kitchen. Then the wines are aged for three to six months in American oak barrels, which are half the size of traditional ones, because of space constraints.
When wines are ready to bottle, as they were on the morning we departed, one of the dining room tables gets temporarily re-purposed as an assembly line. I watched as the Flukigers, their friends and even a few random volunteers (two of the men said they'd just come for brunch at the bistro the day before and thought coming back to help with bottling sounded fun!) operated the hoses, filling, corking and labeling equipment by hand.
Every time a case of 12 was complete, Marcel carried it away...at least, about 15 feet away. The walls of the inn's small kitchen were lined with cardboard boxes of wine.
"This is pretty much it for storage," he said with a sheepish shrug. "It's not a big place."
Aspen Peak Cellars made about 1,000 cases in its first season, which ended in June. The Flukigers hope to incorporate some Colorad0-grown grapes in future seasons—there weren't any surpluses available to buy this year, due to drought—and have started experimenting with adding skins to create more tannic reds, Marcel said.
"We didn't go to college for winemaking," he's quick to point out. "We're both chefs. So for us, it's the food pairing that's important. We want to make fun table wines, and make a menu to match those wines."
So far, he said, at least 95 percent of people who have tasted the wines reacted favorably.
"Then, of course, you have the 'wine snobs,'" he said. "We'll make something for them in the future."