2012 Oscar-Nominated Animated Shorts: A Cheat Sheet
Which are the best shorts to watch and which one will take home the award next weekend?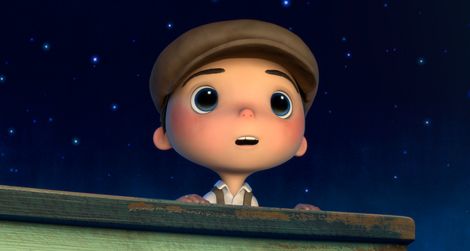 When it comes to predicting Oscar winners, it's pretty easy to guess among feature film nominees. Foreign films and documentary features can pose more of a problem, although buffs can usually find enough information to make educated choices.
Shorts films, on the other hand, are deal breakers when it comes to office pools and Oscar night competitions in front of televisions. The Academy of Motion Picture Arts and Sciences has been handing out Oscars for animated and live action shorts since 1931, and for documentary shorts since 1941. Few viewers ever get the chance to see the shorts, making predictions about them the equivalent of a stab in the dark.
Starting in 2005, ShortsHD began packaging Oscar-nominated shorts into programs for theatrical and cable release. ShortsHD teams with Magnolia Pictures to bring the Oscar nominees to theaters, at the moment on 200 screens. (Find a theater near you.) On February 21, many of the shorts will become available on iTunes. The packages are also available via some "On Demand" cable systems.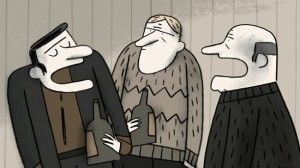 The animated nominees include an entry from Pixar, two hand-animated films from the National Film Board of Canada, and two independent computer-animated films. If you're looking for trends, the past is again king. Four of the five films dispense with dialogue, or use nonsense words or intertitles. One makes explicit reference to silent comedian Buster Keaton, another imitates the look and feel of black-and-white cartoons, and a third manipulates vintage black-and-white newsreel footage to provide a setting for its story.
In alphabetical order:
Dimanche/Sunday, directed by Patrick Doyon, is a melancholy look at a Sunday afternoon through a small boy's eyes. Sundays can be tough when you're young, especially in the country: dress-up clothes, church, a visit with grandparents and relatives dominated by drinking and adult talk. In a film of stark graphics and wistful music (by Luigi Allemano), Doyon plays with scale to imitate a child's perspective: trains and adults alike tower over the youth, and small objects achieve immense importance. Dimanche is harsher than most cartoons, and its morbid sense of humor might cost it at the ballot box. From the National Film Board of Canada.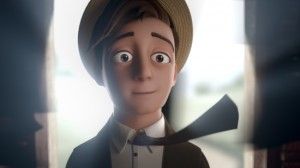 The Fantastic Flying Books of Mr. Morris Lessmore, at 15 minutes the longest of the animated nominees, was codirected by William Joyce and Brandon Oldenberg. Joyce is an illustrator and author of children's books whose works have been turned into films like Robots and Meet the Robinsons. Flying Books flings its Keatonesque hero via a tornado to a black-and-white world where books are living things with wings and feelings. They might die if no one reads them. The feel-good storyline incorporates flip-book animation as well as up-to-the-minute computer imagery to comment on technology and obsolescence. Although it's ostensibly about books and reading, the film relies exclusively on a cinematic grammar, an irony no one connected with Flying Books bothers to address.
La Luna, directed by Enrico Casarosa, is hands-down the most accomplished of the nominees, due in no small part because it comes from Pixar. Cars 2 marks the first time the studio was shut out from Oscar's Animated Feature competition, so La Luna may pick up some sympathy votes. Frankly, it deserves to win. A beguiling story of two men and a boy in a rowboat on a moonlit sea, La Luna has a wholesome but succinct premise, an adventurous plot, intelligent and genuinely funny sight gags, and music and animation that are simply breathtaking.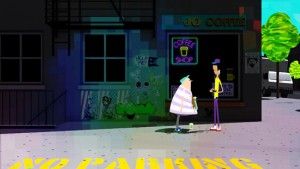 A Morning Stroll, directed by Grant Orchard, is the most original and energetic of the nominees, but it may skew a little too young for Academy voters. The film recounts the same gag in three different time frames, each with its own lovingly detailed style and technique. It would be unfair to reveal the storyline other than to say that the film gets great revenge on those clueless pedestrians who zone out to their smart phones.
Wild Life, directed by Amanda Forbis and Wendy Tilby, is another entry from the National Film Board of Canada, over the past 50 years one of the best producers of short films. Typical of NFB films, Wild Life is smart, expertly made, and defiantly non-commercial. Since Forbis and Tilby are working for an art crowd, not a mainstream audience, they don't have to pay as much attention to details like gags, structure and length. They can be digressive, focus on context rather than entertainment, and tell small stories with diffident characters. Many will appreciate the artistry and care that went into Wild Life's story of an English transplant in 1909 Alberta; some will long for a bit more juice.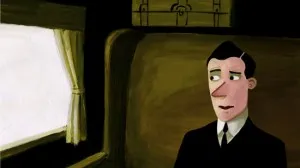 All of the nominees are worthy contenders, but if I were voting myself I would give serious consideration to La Luna and A Morning Stroll. For Oscar pool purposes, remember that voters love a sentimental story that pretends to be about something, which would make The Fantastic Flying Books of Mr. Morris Lessmore a front-runner.
The Academy keeps tweaking the rules for animated shorts. This year voters were allowed to view screeners for the first time, for example. I just hope the regulations don't prevent Daffy's Rhapsody from competing in next year's awards. A throwback to the heyday of Warner Bros. cartoons, Daffy's Rhapsody is currently playing before Journey 2: The Mysterious Island. Sam Register, Warner Bros. Executive VP, Creative Affairs, previewed a short clip this past November. It is a blast.