National Zoo Celebrates Second African Lion Cub Birth in Three Months
On Sunday, 9-year-old lion Shera became the mother of four new additions to the pride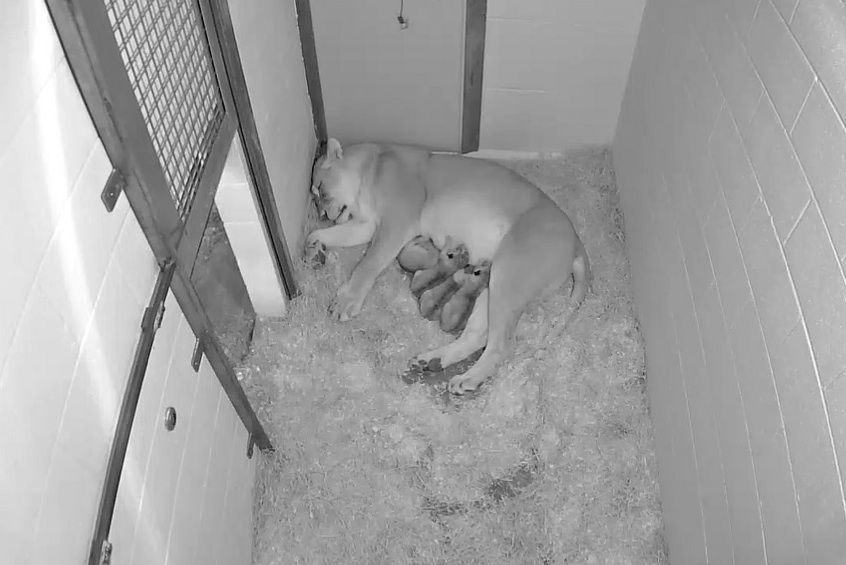 Let's give Luke, an 8-year-old African lion at the Smithsonian's National Zoo, a cigar and a slap on the back. He's finally a father—again.
On Sunday morning March 2, Shera, a 9-year-old lion, gave birth to a litter of four cubs. This was Shera's second litter, and Luke's fifth; he also sired the two daughters born to 10-year-old Nababiep in January. The Zoo, which celebrated Nababiep's delivery as the arrival of its first African lion cubs in four years, can now mark its second feline birth in three months. Now, the only question is whether there'll be enough raw meat to go around at the christening. 
All four cubs are doing well, says Rebecca Stites, the Zoo's great cats keeper, who witnessed Shera's 8:27 a.m. birth via camera. Stites, who had not expected Shera to give birth so early in the morning, was "pleasantly surprised to see the cubs," and relieved to see them nursing and sleeping normally after the birth.
"Shera has taken on her role as a mother pretty naturally," says Stites. "It's almost like old news for her—she's done it before. She seems so experienced."
Nababiep's cubs are curious about their familial additions, and have already wandered around Shera's door in hopes of catching a glimpse of the four future playmates. But they shouldn't be expecting a fast friendship, says Stites; the new lion cubs will be more sleepy than sportive over the next four weeks, and will mostly interact with their mother. 
The cubs are not available yet for public viewing, but check them out on the Zoo's Lion Cub Cam.