Thousands of Airplanes Will Descend on Washington This Weekend
You can fly into D.C. for the inauguration—as long as you do it very carefully.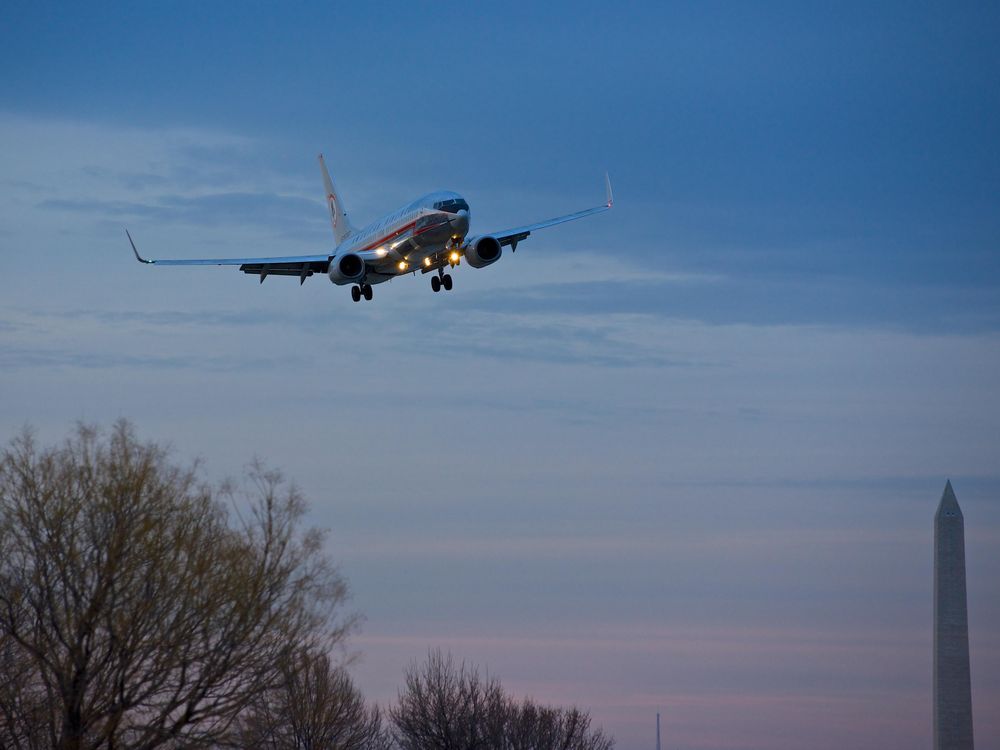 The 45th President of the United States will be sworn into office tomorrow in front of the Capitol building in downtown Washington, D.C. As people pour into the city from all over the world, much of downtown Washington will be blocked off in the interests of security and crowd control. So big are the expected crowds that D.C.-based Federal workers, by far the largest workforce in the city, are given Inauguration Day off in order to clear out the normal commuter traffic.
The FAA also expects a flood of visiting airplanes for the inauguration—between 800 and 1,100, according to estimates—and aviation authorities have put up aerial roadblocks and detours of their own. Just how does Washington plan to handle all these movers, shakers, fans, and protestors?
The closest airfield to the action is Washington Reagan National Airport (DCA), which is relatively small but still very busy. DCA is already under strict restrictions: It's so close to downtown Washington that airplanes approaching and departing from its runways are required to execute some quick turns to avoid overflying the White House, Capitol Building, Pentagon, and other key sites. Following the 9/11 attacks, general aviation was at first banned entirely from DCA, then allowed to fly under tight restrictions: Passengers and crew must undergo rigorous background checks, arrivals are only permitted from certain airports, a careful TSA inspection is required, and an armed security officer must be aboard for the entire flight. Airplanes weighing under 12,500 pounds are banned entirely, so virtually all private aviation at DCA is business jets. In any case, DCA has limited capacity (only 48 private aircraft slots per day, and not much room to park) for private airplanes. Though the Metropolitan Washington Airport Authority (MWAA) warns of longer-than-usual lines for commercial passengers flying in for the inauguration, they aren't expecting a deluge, and the Authority is temporarily opening DCA's parking garages to anyone who wants to park there.
Dulles International Airport (IAD), though farther from the city than Reagan National, will bear the brunt of inauguration visitors. Dulles is the primary international airport for the capital, and the closest unrestricted jet-capable runway to Washington, so it's used to a constant stream of high-powered visitors. (One of the airport's two fixed-base operators, Signature, boasts the ability to fuel and service private Boeing 747s and Airbus A340s; they are not uncommon sights at Dulles).
"We're expecting to park at least 600 business or general aviation aircraft at Dulles airport," says MWAA spokesperson Kimberly Gibbs. "Usually private aircraft just park at Signature, [or do a] quick turnaround. This is unusual in that they'll be parking overnight for several days" as passengers attend inaugural events lasting through the weekend.
Dulles, prepared as it is, simply can't park 600 airplanes, so in a rare move the giant international airport will shut down one of its four runways (Runway 1L/19R) just to park all the overnight visitors. Another very uncommon restriction will be to impose distinct slots for private aircraft departures through Sunday, January 22, because while attendees have historically arrived at staggered times, they tend to all depart on the same day.
More extreme is the impact on Washington-area general aviation. A roughly 30-mile circle of special airspace surrounds Washington, called the Special Flight Rules Area (SFRA), within which all GA aircraft are required to be in contact with air traffic controllers and file a special flight plan (most airspace in the U.S. doesn't require either), as well as adhere to speed restrictions, etc. On the day before and the day after the inauguration, the SFRA is restricted to pilots arriving and departing from airports within the 30-mile circle. No "transients" will be allowed, and standard general aviation activities like flight training or banner-towing are temporarily prohibited.
On Inauguration Day the entire SFRA is closed to general aviation traffic that isn't either departing from or arriving at Dulles, Baltimore-Washington International, and Manassas Regional Airport in the Virginia suburbs. Within the SFRA is an even more tightly restricted zone, a roughly 15-mile circle of airspace called the Flight Restricted Zone (FRZ). There are only a handful of small airports in the FRZ, and everyone flying in or out must undergo background checks, which is a burden to local pilots during the best of times. On Inauguration Day and the days on either side, the FRZ is completely closed to all general aviation traffic.
Though these restrictions might seem onerous, they're typical of large-scale Washington-area events, says Joe Kildea, spokesperson for the Frederick, Maryland-based Aircraft Owners and Pilots Association (AOPA).
Despite all the airspace restrictions, commercial flights should encounter no unusual snags aside from fuller flights than usual. Business and general aviation, however, should steer well clear of Washington airspace unless they're headed for the inauguration themselves—or their pilots want to end their flying careers with a close-up view of an armed F-16.