Here's What May Be Behind the Laptop Ban on International Flights
The threat is real, but the implementation raises a few questions.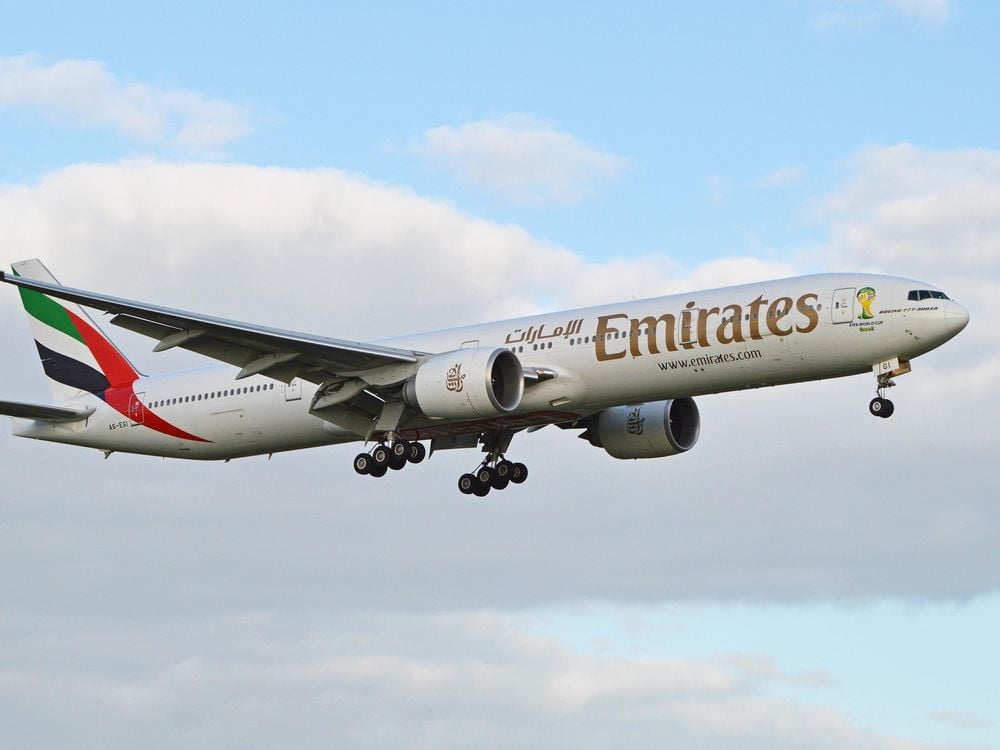 The U.S. and British governments on Monday placed broad restrictions on passengers' access to electronics aboard certain Middle Eastern and North African flights. Passengers flying to the U.S. from 10 airports will no longer be allowed to use laptops or other electronics larger than the average cellphone, the Department of Homeland Security announced, with exceptions for specially screened medical equipment. As many as 18,000 people per day could be affected, according to Flight Global.
Laptops and tablets are mission-critical entertainment items for many airline passengers on long flights. So ubiquitous have they become that after years of installing expensive seatback entertainment systems, the latest trend is to remove those systems entirely, the idea being that passengers are now well equipped to fend off their own boredom.
The ban, which was introduced suddenly, and with just 96 hours for airlines to comply, affects direct flights to the United States from the following airports:
·       Queen Alia International Airport in Amman, Jordan
·       Cairo International Airport, Egypt
·       Istanbul Ataturk Airport, Turkey
·       King Abdulaziz International Airport in Jeddah, Saudi Arabia
·       King Khalid International Airport in Riyadh, Saudi Arabia
·       Kuwait International Airport, Kuwait
·       Mohammed V International Airport in Casablanca, Morocco
·       Hamad International Airport in Doha, Qatar
·       Dubai International Airport, United Arab Emirates
·       Abu Dhabi International Airport, UAE
The U.K. government imposed similar restrictions on flights from anywhere in Turkey, Lebanon, Jordan, Egypt, Tunisia, and Saudi Arabia. There are far more flights from affected nations to the U.K. than there are to the U.S. 
The new restrictions come at a spectacularly bad time. U.S. President Donald Trump has in recent weeks repeatedly attempted to restrict travel to the United States from certain Muslim-majority countries, and those restrictions have been suspended by courts until various legal issues are addressed. The new laptop ban does not include any of those nations, but the affected airports account for almost every direct flight from Muslim-majority countries to the United States (Pakistan is the exception). And no U.S. airlines are affected. The immigration policies Trump introduced are contentious, and some critics say the laptop ban is simply another way to dissuade Muslims from visiting.
Those charges probably don't hold water: The fact that both governments imposed their restrictions almost simultaneously, and that neither has divulged many clarifying details, strongly suggests that American or British intelligence agencies learned recently of a specific plot involving laptops or large electronics, but do not have enough information to stop it. Laptop bombs are a real threat, and using electronics to trigger remote bombs is a frequent tactic of modern terrorism. The reason no U.S. airlines are affected by the new restriction is that no U.S. airlines currently fly from the named airports; several British airlines are affected.
There are a few more oddities worth noting about the restrictions, the biggest being the discrepancy between the American and British rules. Both lists include major international gateways: Istanbul in particular is a major hub serving one of the world's great cities. But absent from the British list are Qatar, Dubai, and Abu Dhabi, respective homes to Qatar Airways, Emirates, and Etihad Airways—known collectively at the "Middle East Three."
The UAE and Qatar have geography on their side: The Persian Gulf area is a sensible stopping point between Europe, Asia, Africa, and India, a fact not lost on the caravans and ships that plied the ancient Silk Road. Backed by enthusiastic governments, the ME3 (4 really, as Turkish Airlines is often included) set out to conquer the skies, focusing especially on lucrative business travelers. They have largely succeeded, much to the dismay of the European and Asian airlines that traditionally dominated many of those routes. Over the last decade or so, the ME3 (and Turkey) have expanded into North and South America, plugging an increasing number of airports directly into their massive transfer hubs. North American airlines simply haven't been able to keep up. Until recently you could fly Delta to Istanbul or United to Dubai, but enough fliers have switched to the ME3 that the U.S. airlines no longer offer those flights, having lost some of their best customers.
As the ME3 expand further, U.S. airlines are trying to hit back. Affected U.S. carriers regularly lobby to restrict market access for the ME3, arguing that those airlines benefit from government support (not an entirely unfounded position, although the issue is complex).
The most puzzling thing about including Abu Dhabi, Dubai, and Doha on the restriction list is that airport security at all three airports is in keeping with stringent U.S. standards. All passengers on flights to the United States—from anywhere—undergo extra screening before they board the airplane, regardless of where they're flying from or where their trip originated. Abu Dhabi even has U.S. Customs and Border Patrol officials at the airport. Etihad's passengers clear U.S. Customs before they take off, making life easier for bleary passengers disembarking on the other side.
There are a few potential explanations for the U.S.-U.K. discrepancy. The two nations cooperate closely on intelligence matters, so it's unlikely the Americans know about any UAE- or Qatar-based threats that the British don't. It's possible that the United States just doesn't trust current airport security measures—X-raying, chemical swabbing, or demonstrating that your laptop works—to detect this particular threat, while the United Kingdom does. But that's probably not the case either, since the security requirements for U.S.-bound flights are the same in Dubai as they are in London or Frankfurt, and presumably there's no reason a laptop-bomb-toting terrorist couldn't just connect in Europe instead of flying direct. There may be a political aspect to it, but not the one you think: The Gulf States (Dubai in particular) are home to an enormous number of expatriate Brits, so the United Kingdom has incentive to publicly show trust in UAE security even as the United States errs on the side of caution.
No ending date has been given for the new restrictions, which feeds suspicions that this is just another way to dissuade would-be travellers from certain parts of the world. Those suspicions are likely to remain until more information about the threat becomes public.