The Flying Emergency Room
One reason more soldiers are making it home alive.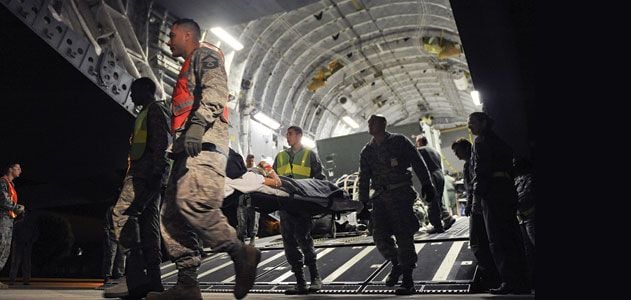 During the Vietnam War, it took an average of 45 days to return severe casualties to the United States, and the survival rate was 75 percent. By the time of Operation Desert Storm, in 1991, getting wounded patients home averaged 10 days, but their survival remained stubbornly at 75 percent. Today, the Air Force has gotten the time down to three days or less from virtually anywhere on the planet, and as for the survival rate, "if you make it to a field hospital in theater with a heartbeat," says Justin Brockhoff, an officer with the Tanker Airlift Control Center at Scott Air Force Base in Illinois, "you have a 98 percent chance of living."
Two major factors account for the improvement in survival rates. First: Robust and sophisticated en route care, which is part of a continuum of advanced care that begins at the moment of injury—soldiers are trained and equipped to self-administer medical care, including tourniquets and even intravenous fluids. Second, improved evacuation logistics, thanks especially to aviation. Crews now move critical patients more safely and effectively with a wider array of equipment and airplanes. Much of this is orchestrated by planners at Scott, getting data on flights from a variety of sources.
The base is home to the 375th Aeromedical Evacuation Squadron, one of four active-duty aeromedevac units: Another is in North Carolina, one is in Japan, and one is in Germany. But Scott, about half an hour east of St. Louis, Missouri, is also the headquarters of the Transportation Command, the Air Force's cargo-moving operation. "We're like the quarterback: We make audible calls. We shift. We're planning and tasking," says Brockhoff of Scott's NASA-style mission control, where banks of military and civilian staff watch flat screens and world maps sprinkled with icons representing airborne cargo, some of it U.S.-bound patients. "We're here if they run into weather or maintenance problems."
Scott also runs an Aeromedical Staging Facility, which can accommodate 40 patients overnighting on their way to other points for specialized care or discharge. "The facility is a little bit of home," says Army Sergeant Leonard Hathaway, a coordinator in a Transportation Command program that welcomes home wounded soldiers. While visiting Scott, I talked to Private Tanner Williams, 20, who had just flown in on a sunny Monday morning. Williams was a member of the Iowa Army National Guard. If you could ignore his cast and crutches, he looked no different from a college kid watching TV in a dorm lounge. Williams had been stationed at Forward Operating Base Kalagush in eastern Afghanistan. The prior Wednesday evening, he had been part of a routine patrol when an improvised explosive device went off beneath his all-terrain vehicle.
"I was instantly out," he told me, and he didn't wake up until the helicopters arrived. "I remember getting littered to the chopper." The first stop in his long aeromedical evacuation was the airfield at Jalalabad. X-rays done there revealed a broken heel, another broken bone in his foot, and stress fractures in his lower vertebrae. He stayed the night, and the next morning flew out to Bagram, where he spent the day, then flew to Landstuhl Regional Medical Center in Germany. "That was by far the best hospital I've ever been to," said Williams, grinning. "Just a really high level of amenities." After a day and a half at Landstuhl came the long flight to Andrews Air Force Base, outside Washington, D.C., where some severely injured personnel were offloaded to head to other points in the eastern United States. (During the flight, Williams was given a switch to administer his own morphine. "I needed it anywhere from every 20 minutes to two hours," he says.) Yet another flight brought him to Scott. He will stay until tomorrow morning, then board a C-130 Hercules transport outfitted for aeromedical evacuation. That airplane will make a tour of the Midwest, dropping patients off at various bases. Williams will get off at Fort Hood in Texas for surgery and rehab.
Over the years, aeromedical evacuation has also gotten a boost from what is called universal qualification. "That was a direct result of Desert Storm," says Rick Stefanski, a medical technician and former Air Force flight tech now working as a civilian at Scott. "Prior to that time, every [medical staffer] was qualified basically in one or two, maybe three different aircraft. And it was seen in Desert Storm that there weren't enough crews going to different platforms, so that's when certification was put forth that a flight nurse should be able to fly on any of the certified type of aircraft." This was formalized by 2002.
Airplanes also lost some of their specialization. Today, a variety of aircraft are used for aeromedical evacuation missions, including the C-130, the KC-135 Stratotanker, and the C-17 Globemaster III. The military also uses the Civilian Reserve Air Fleet: commercial airliners—usually Boeing 767s—that serve as backups to Air Force craft. "While a particular mission might be designated as an 'aerovac,' the aircraft is not," writes Florida Air National Guard physician Bruce R. Guerdan in the fall 2011 issue of the American Journal of Clinical Medicine. "Indeed, you will no longer see the red cross on the tail of any USAF aircraft. Essentially, any USAF non-fighter aircraft can be configured to carry patients."
"Now it's any crew and any plane, essentially," says Colonel Beverly Johnson, the chief of aeromedical evacuation clinical operations and training at Scott. "Whatever plane is out there, we're taking that one."
This degree of flexibility was required in 2008 when an Air Force team boarded a KC-135 in Texas to make a pickup at Hickam Air Force Base in Hawaii. The airplane had engine trouble before takeoff, so the team transferred 2,000 pounds of equipment to a C-5 Galaxy, which got them to Hickam to make their pickup: a 12-day-old baby girl with a heart defect. They loaded her and the equipment into a waiting C-17—in flight they kept her alive with an ECMO, or extra-corporeal membrane oxygenation, machine, a device to get oxygen into the patient's blood—and got her to Rady Children's Hospital in San Diego, where she had surgery that saved her life.
Much of the improvement in the aeromedical-evacuation survival rates can be attributed to the efforts of Paul "P.K." Carlton, an Air Force surgeon and pilot who advocated for maximizing medical care in the sky. In 1988, Carlton came up with the idea of critical care air transport teams: basically flying surgical teams with a physician, a critical care nurse, a respiratory therapist, and an array of other nurses and technicians to look after a severely wounded patient in flight. While the idea initially got a slow reception, it gained support when critical care teams responded to crises in the 1990s, such as the bombing of the Khobar Towers in Saudi Arabia. Soon the Air Force was providing an entire intensive care unit for the U.S. president whenever he traveled abroad to less-developed countries.
The practice of aeromedical transport was also advanced by a more rigorous academic approach. Around 1990, William Hurd, an Air Force Reserve flight surgeon, was given responsibilities for flying sick and injured people long distances. "I'll just get the reference book," he recalls saying to himself. "Well, that had never been written before." In 2003, he and co-editor John G. Jernigan published the book that had been missing: Aeromedical Evacuation: The Management of Acute and Stabilized Patients, which details standards of medical care administered in aircraft.
The book also gives a history of the specialty. In 1910, two Army medical officers, Captain George H.R. Grosman and Lieutenant A.L. Rhodes, used their own money to design the first documented air ambulance. (On its maiden flight, in Fort Barrancas, Florida, it traveled 500 yards and crashed.) The first true evacuation of the wounded in airplanes specifically equipped for the job took place during World War I, when French medical officer Eugene Chassaing transformed military airplanes into air ambulances: In April 1918 at Flanders, Belgium, a modified Dorand II flew two patients side by side in the fuselage. By the end of the war, U.S. Army Major Nelson Driver and Captain William Ocker had converted a Curtiss JN-4 Jenny into a flying ambulance.
Flight evacuation during World War II benefitted from the airplane's jump in size, range, and reliability. By January 1942, U.S. Army Air Forces C-47s had transported more than 10,000 casualties out of Burma, New Guinea, and Guadalcanal. The next year saw the first intercontinental evacuation flight, with Lieutenant Elsie Ott, an Army Air Forces nurse who had never set foot on an aircraft, overseeing five gravely ill patients on a flight from India to Washington, D.C. A training program for flight nurses was started at Bowman Field in Kentucky; the first class graduated in February 1943.
The Korean War coincided with the debut of the C-124 Globemaster, which could carry 123 patients on litters or 200 ambulatory patients. But it was the helicopter that provided the era's most important contribution to aeromedical evacuation: "medevac," or flying the wounded directly from the site of injury to the nearest medical facilities, frequently MASH (Mobile Army Surgical Hospital) units. Since then, MASH units kept growing until they no longer had the flexibility that had been their initial purpose. By the 1990s Bosnia conflict, the MASH was replaced by the Combat Surgical Hospital, or CSH (pronounced "cash"), which might house an emergency room, an operating room, a few intensive care unit beds, and several more standard beds, all run by a couple of surgeons and nurses and an anesthesiologist. Says Johnson: "Instead of having 1,000-bed hospitals in our war zones, we've reduced our footprint to 10 beds here and 10 beds here and 25 beds here, and we hub-and-spoke. Because we're able to clear those beds [with evacuation flights]. Logistically we don't have to have all the personnel, all those supplies. It's huge for us. We can quickly move resources."
Most patients can be moved with standard aeromedical evacuation crews. But up to eight percent need intensive care in the air. One such patient was U.S. Army Sergeant Dan Powers, a squad leader with the 118th Military Police Company. Powers was on his second deployment in Iraq; it was a sweltering day in July 2007, and he was helping train local police at the height of the counterinsurgency strategy, or surge. All at once, an insurgent ran up behind Powers and rammed a nine-inch knife into the right side of his head, just below the rim of his helmet and above his cheekbone. The tip penetrated to the core of his head, passing just below the eye, into a cluster of arteries that feed blood to the right side of the brain.
His men sped him, still conscious and able to speak, in a Humvee to Forward Operating Base Shield. There his wound was wrapped in clumps of gauze, the knife still anchored almost to the hilt. He was then rushed to the city's Green Zone, where medics loaded him into a helicopter, which took him 50 miles north to Balad Air Base (now Joint Base Balad). Less than two hours had passed since the stabbing when Army Lieutenant Colonel Richard Teff, a physician, took over the care of Powers. His surgical team anesthetized Powers and opened a large portion of his skull. After some discussion with another surgeon, Teff determined that the best course of action was to pull the knife out. Blood began gushing from Powers' head. By the time Teff found and clamped the ruptured artery, Powers had lost 40 percent of his blood.
Teff relayed details and photos to one of the Army's top neurosurgeons, Lieutenant Colonel Rocco Armonda at Walter Reed Army Medical Center in Washington, D.C. Armonda pulled over in D.C. traffic, examined the images on his laptop, and told Teff to close Powers up and get him to Washington on the double.
At Al-Udeid Air Base in Qatar, a U.S. Air Force C-17 Globemaster crew was preparing to take off with two Stryker anti-tank missile carriers to another airfield within Central Command. Abruptly they received new orders: They boarded a different Globemaster with a larger fuel capacity and flew it to Balad, landing about two hours later. There they refueled and prepared to take Powers nonstop to Andrews, outside Washington, a 14-hour flight.
Flying directly from Balad to the States was highly unusual. "Most missions do not fly direct from the AOR [area of responsibility; Iraq, in this case] back home, due to the required aerial refueling and extended-duty day," says Major Corbett Bufton, the Globemaster's command pilot. But aerial refueling is always available if the mission is critical enough, as was deemed the case with Powers.
Two refuelings were scheduled: one over Turkey and another over the United Kingdom. Powers was loaded on, and swaddled in padding to protect his head from turbulence and engine vibration. At the last minute, a soldier with a gunshot wound to the neck was brought aboard as well. A seven-member critical care transport team for each patient boarded, plus a total of three and a half tons of medical equipment. Bufton was told to avoid turbulence. But he was also told to set the cabin pressure equivalent to an altitude of just 4,000 feet above sea level (the most common cabin pressurization is closer to 8,000 feet). This would reduce the risk that Powers' frayed blood vessels would reopen, that his brain might swell further, or that tiny pockets of air trapped in his head might expand. Bufton would have to fly the airplane below 26,000 feet, well down from its optimal level—around 35,000 feet—and right into the thunderstorms forecast for eastern Europe that night. "It's easier to pressurize it to a lower altitude if the aircraft is at a lower altitude," says Lieutenant Colonel Andrea Gooden, deputy chief of aeromedical evacuation clinical operations and training at Scott. Furthermore, while an emergency depressurization at 26,000 feet could be bad for Powers, it would not be as bad as one at 38,000 feet.
The airplane took off. Diplomatic clearances paved the way through airspace above Iraq, Turkey, Bulgaria, Romania, Hungary, the Czech Republic, Germany, the Netherlands, and the United Kingdom. As it waded through the relatively thick air at 26,000 feet, the Globemaster burned more fuel per hour than normal. "The biggest issues that pilots must deal with in evac scenarios are time and fuel," says Bufton. "As far as time, we made sure that all air traffic controllers were aware that we were a time-critical medevac, and we were given priority."
Then a glitch surfaced: A miscommunication occurred between the tanker and the Tanker Airlift Control Center, so the rendezvous planned over Turkey for the first refueling couldn't happen. Luckily, the mission planners had anticipated that possibility: In case one of the refuelings didn't work out, they had had the airplane loaded "heavy" with fuel. "Since we had excess gas, we were able to continue without the first upload, and met the second tanker over the U.K.," says Bufton. "It could have been an issue if we had not switched to an extended-range jet out of Al Udeid [Qatar]."
Fourteen hours after takeoff, and 20 hours from the moment he was stabbed, Powers touched down at Andrews. It was 4 a.m., July 4. Still in critical condition, Powers was rushed the 20 miles to the Naval Medical Center in Bethesda, Maryland.
Following surgery and a month-long stay at Bethesda, Powers returned to his wife Trudy and his home, near Fort Bragg, North Carolina. Amazingly, his vision, cognition, and memory are intact. He had balance difficulties, but several months of therapy overcame them. Two years later, he was back with his unit, making a parachute jump.
As for the C-17 crew who flew him to Washington, they were given 18 hours to recover. The next morning they flew to Dover Air Force Base in Delaware, where they took on 17 pallets of cargo and headed to Ramstein, Germany, then back to Qatar. "The return put us back in the system flying regularly scheduled cargo across the pond, just like any other mission that C-17s normally fly," says Bufton.
It's never ideal to put a gravely ill person into a potentially unstable environment like an airplane fuselage, but now, military aircraft can be so well equipped and the crews attending the injured so well trained that the patient can receive almost hospital-level care. Today, aeromedical evacuation crews average 10 potentially life-saving missions a day. Says Captain Kathleen Ferrero, a spokeswoman with the Air Mobility Command, "We move patients 3,000 miles that a civilian entity wouldn't consider moving 50 miles."
Michael Klesius is a former Air & Space/Smithsonian associate editor.