RAF 100
Happy birthday to the chaps who gave us the scramble, the "few," and the world's first independent air force.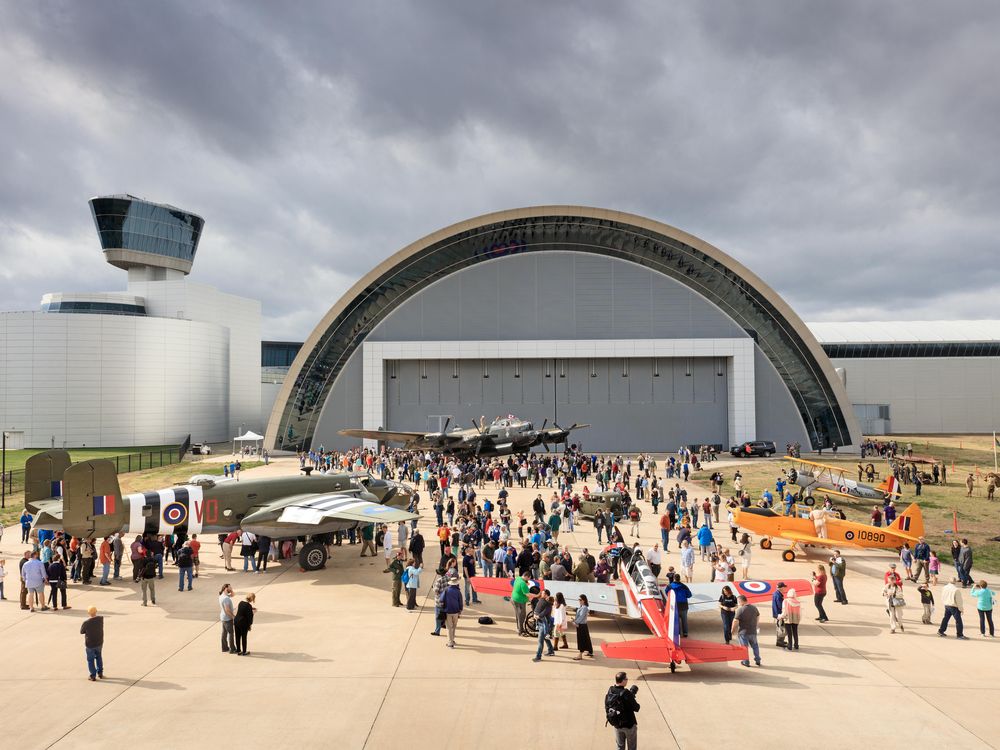 Early on the morning of March 31, 1944, 795 bombers of the Royal Air Force—mostly Avro Lancasters—thundered toward the storied city of Nuremburg in a stream stretching 70 miles. The unescorted bombers were an easy target: Cloud cover had been forecast, but it never developed, and the airplanes' contrails were easily visible under the unobstructed moon.
In the pilot's seat of a 101 Squadron Lancaster, serial no. DV276, was 22-year-old John Batten-Smith. His 22nd combat mission over Germany began when he and seven crew members lifted off from Royal Air Force Ludford Magna, in Lincolnshire, under the watchful eye of his girlfriend, who at his request awoke at 1 am to say a prayer on his behalf. Batten-Smith and his entire crew—none older than 22—died not half an hour after her entreaties near the town of Rothenbach an der Pegnitz. His was one of four Lancs claimed that night by Messerschmitt Bf 110 ace Helmuth Schulte, and one of 95 bombers destroyed. During the attack, 545 bomber crewmembers were killed. The Nuremberg raid entered history as Bomber Command's worst night of the war.
Seventy-four years after Batten-Smith's death, his niece Jane Crossley proudly displayed his logbook and the Distinguished Flying Cross he was posthumously awarded to visitors at the National Air and Space Museum's Steven F. Udvar-Hazy Center, outside Washington, D.C. On the tarmac nearby stood one of the world's two remaining flightworthy Lancasters, come to commemorate the RAF on a momentous occasion: the centennial anniversary of the world's first air force.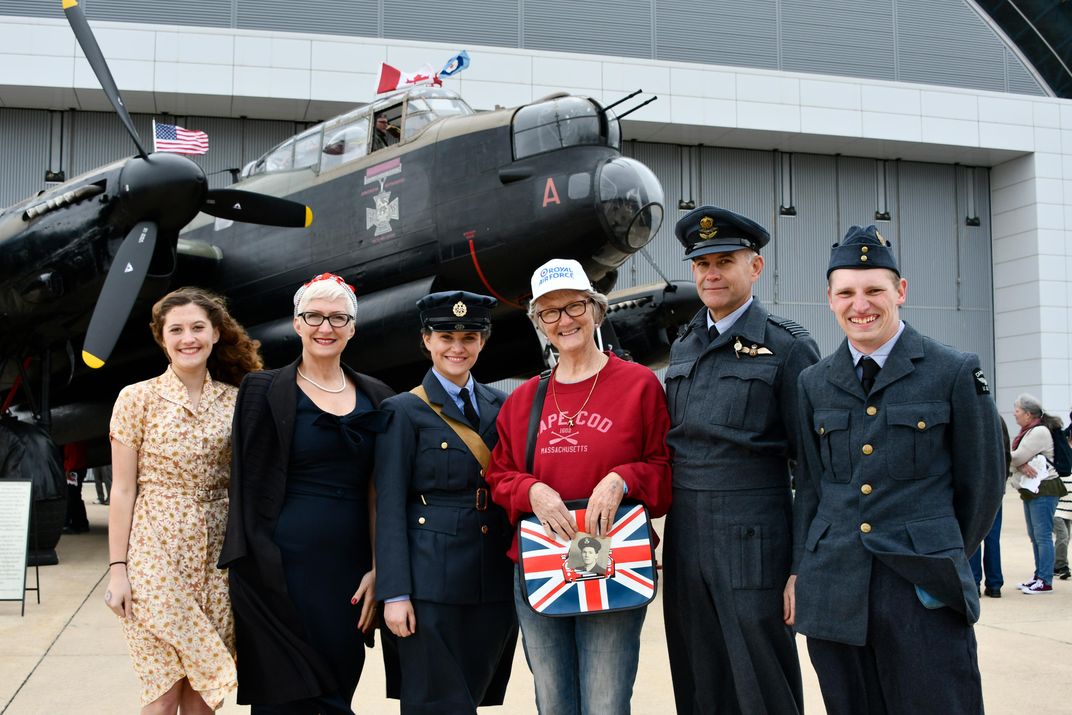 Best Buds
Some 17,000 people braved a drizzly, windy Sunday last April to learn about and celebrate the Royal Air Force. They crawled through the Lancaster and a North American B-25, which represented one of the many British-American collaborations during the war. British pilots flew more than 900 U.S.-designed and -built B-25s during World War II, a small fraction of the flood of war resources "lent" to keep the British going. Giggling children tried on flight helmets or ran around the other gathered airplanes waving small RAF flags. Inside the Museum, lecturers discussed RAF history, and an RAF marching band performed in flawless formation.
A foreign capital—in a former colony lost to revolt, no less—is not as strange a place as it might seem to fête the British military. The last century of Anglo-American relations has been characterized by the Special Relationship, a mutual recognition that the two nations are tightly intertwined in culture and outlook—more so than either is with other countries. "We're intrinsically linked via trade, defense, language; we're linked at the hip," says Squadron Leader Alex, an MQ-9 Reaper exchange pilot (who declined to give his last name for security reasons). "We have shared security interests, we have shared mental models of the world, and we share aircraft."
Those bonds were evident on the Museum ramp: The B-25, now painted as Grumpy, never left North America, but British pilots came to it. They trained in this and other B-25s to fly the larger B-24 Liberator. (The original Grumpy flew over 100 bombing missions with the RAF's 99 Squadron, but its ultimate fate is unknown.) Visitors spoke with costumed reenactors next to a Boeing Stearman, a type on which many RAF pilots trained during World War II (though the particular airplane present was a U.S. Army Air Forces trainer) and two de Havilland Chipmunks, a British postwar trainer popular with civilians. Even the single airplane on the ramp painted in U.S. colors—a Jacksonville, Florida-based Navy P-8—is a Royal Air Force tribute: Around 25 RAF crew members keep their antisubmarine tracking skills sharp through an exchange with the Navy. The RAF is awaiting deliveries of its own P-8s in 2019.
The Lancaster also represented another close ally: Canada. When it was formed in 1920, the Royal Canadian Air Force was modeled after the RAF (though not granted the "Royal" until 1924) and integrated seamlessly into the British service during World War II. This particular Lanc rolled off a Canadian assembly line just as the war ended, and after a few years in storage became an RCAF search-and-rescue airplane. The Canadian Warplane Heritage Museum paints it to mimic a different noteworthy Lancaster each year; this year it's ED392, lead airplane of the famous 1943 Dambuster's raid, which cut power to munitions factories by destroying concrete dams in Germany's industrial Ruhr Valley. (Thirty Canadians flew on the raid; only 15 returned.) The Lancaster tours North American airshows, and once made a trip to Britain to reenact a Dambusters practice run. It generally stays closer to home because each hour of flight requires at least 100 person-hours of maintenance. Still, for flight engineer Craig Brookhouse, "it's an absolute honor, because you are essentially flying a monument. Like something you'd see at Vimy Ridge [a Canadian war memorial in France], but it has wings." The Lancaster is an emotional icon, a reminder of both nostalgic glories and horrific nightmares; Brookhouse tells one story of captivating diners in a restaurant by talking shop with a former Lancaster crewman. He tells another of an Alzheimer's-stricken Holocaust survivor crawling on her hands and knees, begging him to bomb Auschwitz and end her family's suffering.
Si Vis Pacem…
When World War I began in 1914, aviation was considered of dubious use. The 80-odd airplanes in British military service were for observation and directing artillery, and air combat at first meant airmen dropping hand grenades on enemy troops and firing pistols at German pilots on similar missions. But technology and practice advanced quickly, and when the Royal Air Force was officially formed on April 1, 1918, after four years of gruesome trench warfare, the new service took control of thousands of specialized fighters, bombers, and observation airplanes (much to the regret of the British Army and Royal Navy, both of which had their own aerial needs, and neither of which wished to cede resources or authorities to an upstart).
The RAF no longer has much to prove to its sister services. Every British citizen (and many millions of foreigners) can recount a tale or two of Royal Air Force valor. During the Battle of Britain the RAF unambiguously saved the nation, a claim few air forces can make. As a muscled arm of British policy, the service's history includes stories of unequivocal heroism and unconscionable brutality, but as demonstrated 30 years ago when the RAF proved instrumental to retaking the Falkland Islands, few air forces have so thoroughly and decisively safeguarded their nation's interests.
The RAF's current battlegrounds would look familiar to its very first members. Afghanistan and Iraq were not only among the RAF's earliest proving grounds, but also areas of the empire to which British pilots flew mail and supplies (see "From Cairo to Baghdad," p. 34). A search of Libya would return British bomb fragments old and new. As the Iron Curtain fell, RAF personnel urgently measured their capabilities against Russia's, and 70 years later their grandchildren do the same.
Party On
The official RAF Centenary will take place on July 10, with a parade in and a 100-airplane flyover of London. The B-25, Grumpy, will show up at airshows throughout the northwest United States, including the Olympic Air Show in Olympia, Washington, and the Abbotsford International Airshow, just over the Canadian border. The Lancaster will star in an airshow near its home in Hamilton, Ontario, on July 7, along with other aircraft. Air Force Day will bring everything from World War I replicas to a frontline RCAF CF-18 fighter. The big Avro bomber will then join the Commemorative Air Force B-29 Fifi for the Community Charity Air Show in Brantford, Ontario, on August 29. Fifi will accompany the Lanc back to Hamilton, where from August 30 to September 2 you can buy a ride. The Experimental Aircraft Association has announced that a primary focus of its AirVenture fly-in in Oshkosh, Wisconsin, from July 23 to 29, will be the RAF's 100th.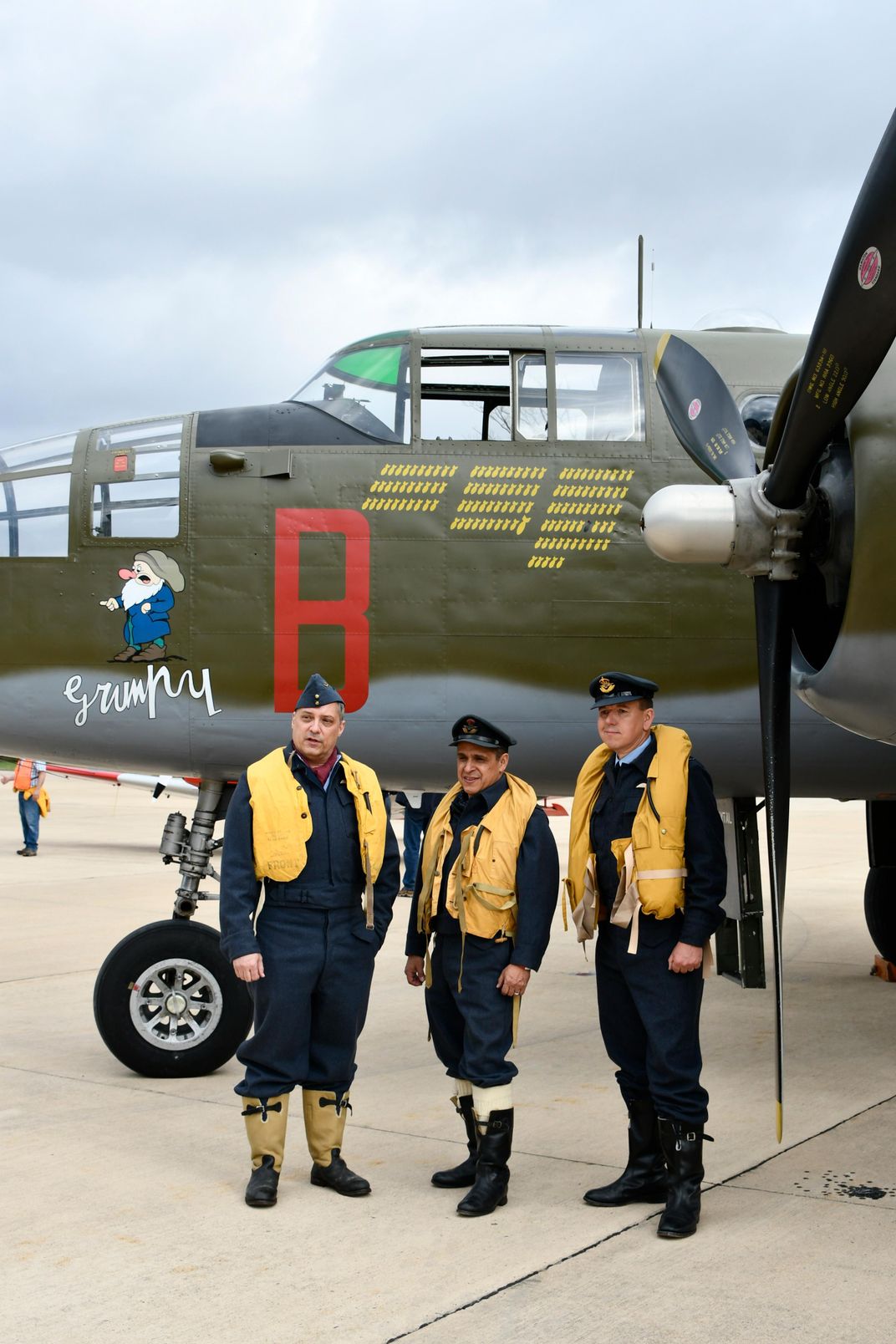 This summer's U.S. celebrations of the RAF confirm with festivity that America's appreciation for Britain is still strong. More serious confirmation includes the P-8s entering service next year and the first squadron of F-35B Joint Strike fighters moving to a U.K. base later this year. Both the P-8 and F-35B are U.S.-built, and British crews are training to fly them at Florida's Naval Air Station Jacksonville and South Carolina's Marine Corps Air Station Beaufort, respectively. At any given time, around 55 RAF personnel are on exchange with the U.S. military. The Special Relationship is alive and well.