Japan's Small Jet Gamble
Can Mitsubishi succeed in the crowded regional jet market?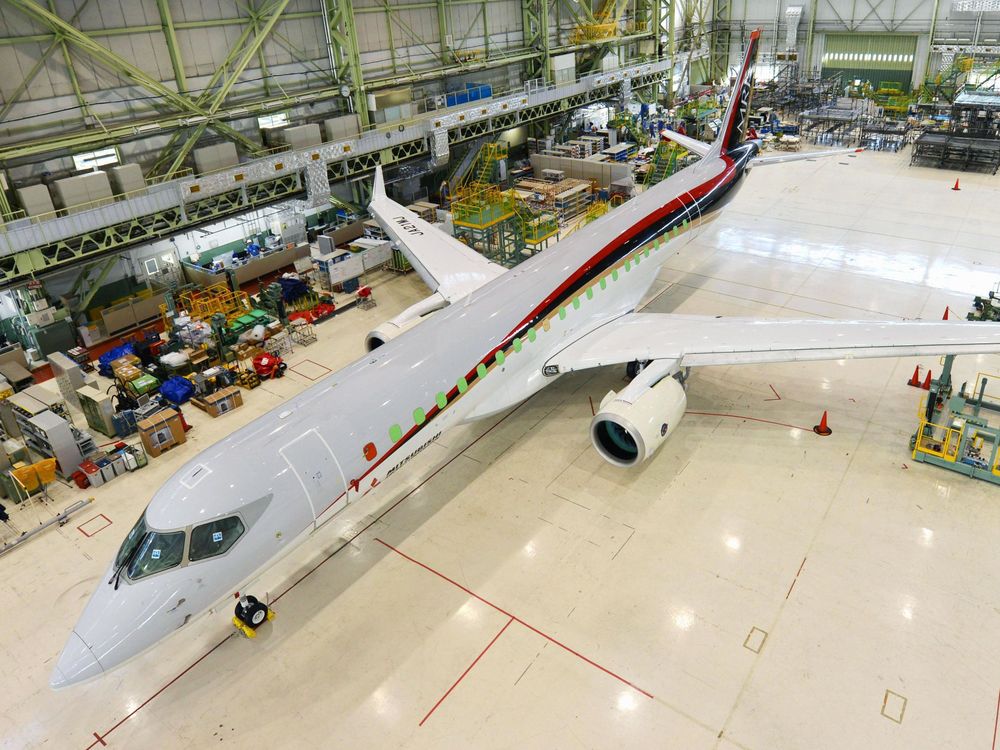 The Japanese aviation industry made a remarkable comeback after its near-total destruction by American bombers during World War II, but Japan hasn't built a commercial airplane since the 1960s, when the turboprop YS-11 essentially flopped. Since then Japanese companies have designed and built a handful of business and private jets with moderate success, in addition to a variety of aircraft for its own military (for which export is largely forbidden by its post-WWII constitution).
But the country has not abandoned commercial aerospace: Japanese companies build the kind of critical, complex structures for Airbus and Boeing that few others can, including fully a third of Boeing's 787. From a technical standpoint, Japan is certainly capable of building its own commercial aircraft. But a combination of economic and political concerns have kept that from happening.
"It isn't all that tempting to be a prime contractor in the aviation business," according to industry analyst Richard Aboulafia. "The requirement for up-front investment is huge, the risks are enormous, and the profit margins tend to lag the supplier base." The secret to Japan's impressive aerospace success, he says, has been not building aircraft, but instead "emphasizing a broad portfolio of important technologies."
That's why the Mitsubishi Regional Jet (MRJ) is making such a big splash. It's a major gamble for the behemoth manufacturing company, an entry into the already-crowded regional jet market.
That market is largely a duopoly dominated by Brazil's Embraer and Canada's Bombardier, neither of whom wants to give up ground. And they may not have to—market forecasters expect 4,000 or more orders in the next 20 years, more than the previous generation.
Embraer is entering the competition swinging. Though it will enter service a few years after the MRJ, the Brazilian company will build a new version of its ubiquitous E-jet aircraft using the same engines as its Japanese competitor. Bombardier is building its first CS100, a clean-sheet design (the larger CS300 competes with Boeing and Airbus), though it hasn't bothered to update its in-production Canadair Regional Jet. Russia's Sukhoi has produced the Superjet 100 since 2007, and despite a rare foothold outside that nation's sphere of economic influence (notably Mexico's Interjet, which has orders for 20) its appeal outside Russia's immediate neighborhood is limited. Chinese company Comac's ARJ21 is likely to tread the same path as Sukhoi, and may be even less successful.
Mitsubishi has racked up 223 firm orders and 184 options as of press time, anchored by two U.S. regional airlines that fly on contract for major U.S. airlines. Skywest and Trans States have ordered 100 and 50 respectively, and Skywest has another 100 options, giving MRJ a major vote of confidence.
But both those regionals have placed similar orders for Embraer's E2 series, and have been publicly noncommittal when asked for reaction to MRJ's various delays. Canceling an order of such magnitude would be very unusual, but not unheard of: In 2002 German company Fairchild Dornier formally rolled out its first Dornier 728, a regional jet of slightly smaller capacity, before declaring insolvency later that year and effectively ending the program despite 125 firm orders on the books. The MRJ still stands a real chance of failure.
So why bother? With the end of production of Mitsubishi's military aircraft the F-2, the company needs something else to fill the void, Aboulafia notes. And, he says, "Even though Japan likes to avoid being [an aircraft] integrator, it's important to the government to have that capability. This desire may be due to a quest for prestige, national security, or the mistaken belief that there are technology multipliers that accrue from being an aircraft prime."