Iraq Air Force One
New pilots, new government.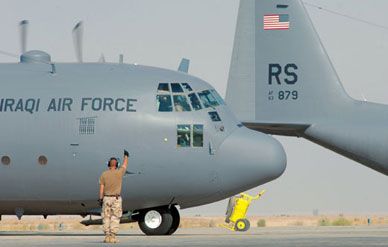 ON FEBRUARY 12, 2005, five U.S. Air Force Lockheed C-130 Hercules instructors flew a training mission tagged Train 60 with an all-Iraqi crew and, considering the nature of the mission, an unusual passenger manifest: the top officials of the newly formed interim Iraqi government, including prime minister Ayad Allawi and his deputy. The U.S. Advisory Support Team was charged with standing up Iraq's air force, and this group of former Iraqi pilots and crew, none of whom had flown in years, would be among the first to fly the transports that Iraq would soon operate. Says U.S. team leader Major Michael Frame, "They had flown Soviet-bloc aircraft, but that had been 10 years ago."
They took off from Ali Air Base, around which thousands of Coalition troops are based, destined for an unfinished commercial airport known as Al Sulaymania, near the northern city of Kirkuk.
Major Brian Lewis served as navigation instructor for the flight and would bring all his skills into play before the day was out.
As Frame heard Kirkuk radar inform Train 60 that it was leaving radar coverage, he also noted a cloud layer at about 6,000 feet. Because they were flying into rising terrain, the U.S. air crew made the decision to duck beneath the cloud layer and navigate to the airport visually. A lower altitude could have exposed them to enemy fire, but the decision itself was instructive to the Iraqi crew members, who will face such situations in the future.
Radio calls to the airport went unanswered, but the mission called for delivery of one prime minister, and that's what the team would provide. Train 60 made a low pass over the airport and spotted people and vehicles lined up along a taxiway. Two more low passes were made to ensure the landing could proceed, and, as planned, Frame took the controls on final approach and brought the C-130 in for a smooth landing.
For the mission, the U.S. Air Force and the National Aeronautic Association awarded the team of instructors aboard "Iraq Air Force One" the Mackay Trophy for the most meritorious flight of the year conducted by a member or members of the United States Air Force.