A High-Flying Glider Takes Its First Baby Step
5,000 feet down, 85,000 more to go.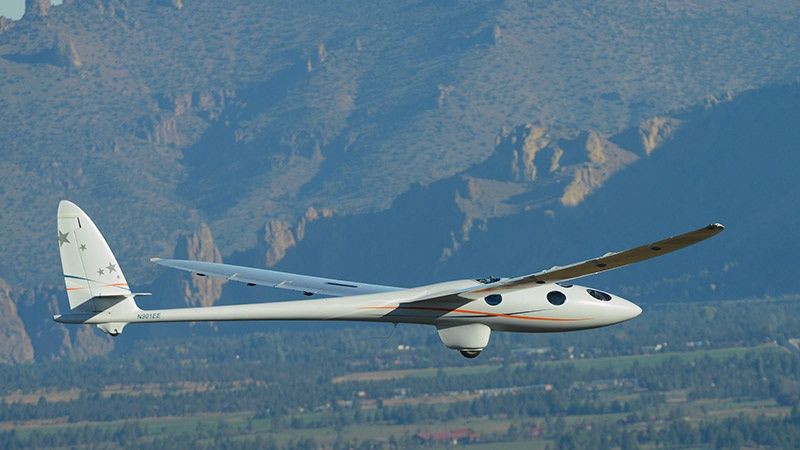 The Perlan II glider is built to fly higher than any glider ever has—and yesterday it took its first small step. The ultimate goal is to reach 90,000 feet, higher than most powered airplanes could ever climb.
The custom-built glider left the runway (behind a tow-plane) at Redmond, Oregon, then climbed to 5,000 feet, where chief pilot Jim Payne and project manager/pilot Morgan Sandercock performed a few basic handling checks before coming back for a landing. Future flights will incrementally raise the altitude so the Perlan pilots can evaluate the glider's flight characteristics and acquaint themselves with how it performs at higher altitudes and under different conditions.
Perlan II is the brainchild of a team supported by Airbus and led by Einar Enevoldson, a former U.S. Air Force and NASA test pilot and veteran glider flier. He'll be attempting to break his own altitude record, set in 2006 in Perlan I, a modified DG-505m that reached nearly 51,000 feet. The project was put on hold a year later, following the unrelated crash of financier and copilot Steve Fossett. Only recently has Airbus come along to fund resumption of work on the glider.
The Oregon flights are just for testing; the record attempts will be flown from El Calafate, Argentina, where the southern polar vortex hits the Andes Mountain range and shoots upwards to create mountain waves. These waves are rare and tough to catch, but a pilot lucky (or unlucky) enough to find one can rocket to heights that were thought impossible to achieve until recently.
The record-setting flights are due to begin in 2016.