As China Unveils Its First Airliner, Private Pilots Look for a Boost Too
Chinese general aviation advocates sought advice and inspiration at a recent meeting in California.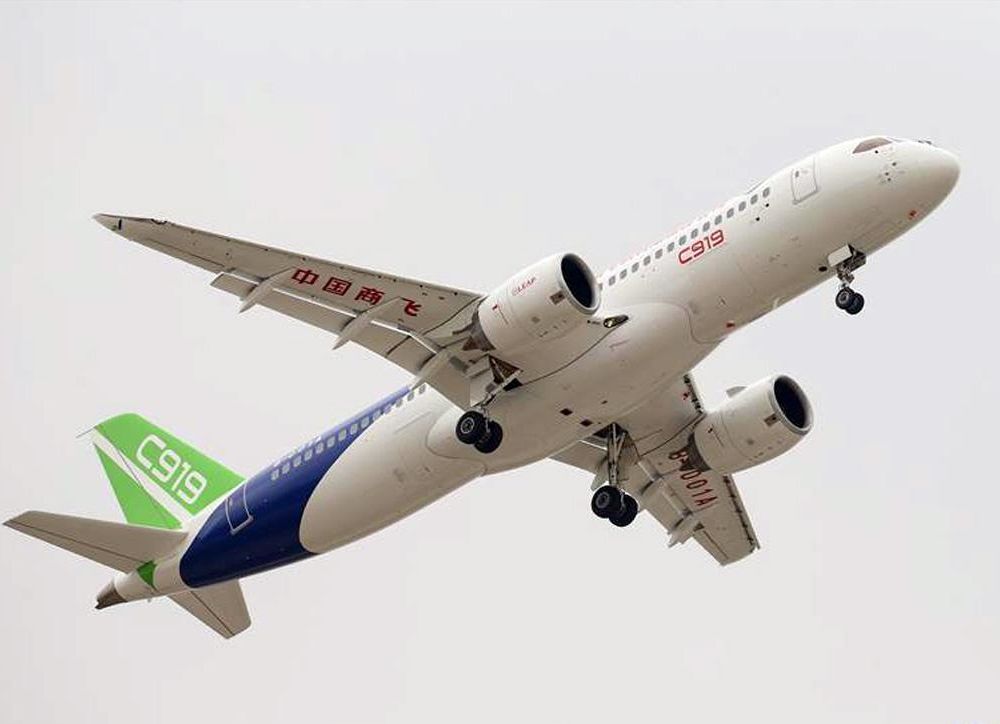 China's interest in airplanes extends well beyond the new C-919, the country's first homebuilt passenger jet, which made its debut last week in Shanghai. The Chinese government is also rewriting rules for private pilots, after the State Council announced that general aviation will be the next big driver of China's economy.
Last year the Civil Aviation Administration of China (CAAC) earmarked $11.9 billion for 11 large airport construction projects and 52 upgrades to existing facilities, according to the Xinhua News Agency. The country also plans to build 500 new general aviation airports by 2020. By that time 5,000 GA aircraft are expected to be flying in China, compared to fewer than 2,000 today. In addition, the CAAC has removed some of the barriers facing private pilots by opening up airspace below 1,000 meters, at least in test cities, to allow non-commercial flying without restrictive flight plans. The agency will gradually raise the threshold to 3,000 meters. 
All of this is contingent on massive upgrades to an airport and communications infrastructure that currently ranges from antiquated to nonexistent. The Chinese Air Force still maintains strict control of 70 percent of the nation's airspace, and has been squabbling with the CAAC over the use of facilities, radio, radar and airspace. "The majority of the airspace is still restricted," says David Hsu, Vice President of Pegasus International Resources in Los Angeles, which works closely with the CAAC and U.S. flight academies to train pilot cadets for China's commercial airline fleets. "Even after the government opened up the space for general aviation and corporate jets, pilots and even flight schools still can't operate as they wish because most of the air is still restricted by the Air Force, especially [during global events] along the coast."
That hasn't slowed the boom in commercial aviation, however. Shenzhen has a new commercial airport near the Hong Kong border; Urumqi, the capital of Xinjiang in the far west, is building another giant airport, and Beijing South is under construction. Forty new commercial airlines have received government approval. 
Yet China's general aviation community is still comparatively undernourished. In March CAAC announced a two-year program to expand GA across four key Chinese regions. The initiatives aim to reduce the time needed to obtain flight permits as well as operator certificates for fledgling GA businesses, some of which have operated on the brink of failure as they wait years for government approval. 
These are the kinds of issues that came up recently at the first U.S.-China General Aviation Business Conference held in Chino, California. Threshold Aviation Group, who hosted the meeting, is among those eager to help American companies benefit from China's expected aviation boom.
The speakers included Bradley Harker, who's in charge of aviation and other transportation relationships at the U.S. embassy in Beijing. "There's a tremendous pent-up demand for general aviation in China," he said. "The general market is so massive it could amount to $40 billion or more."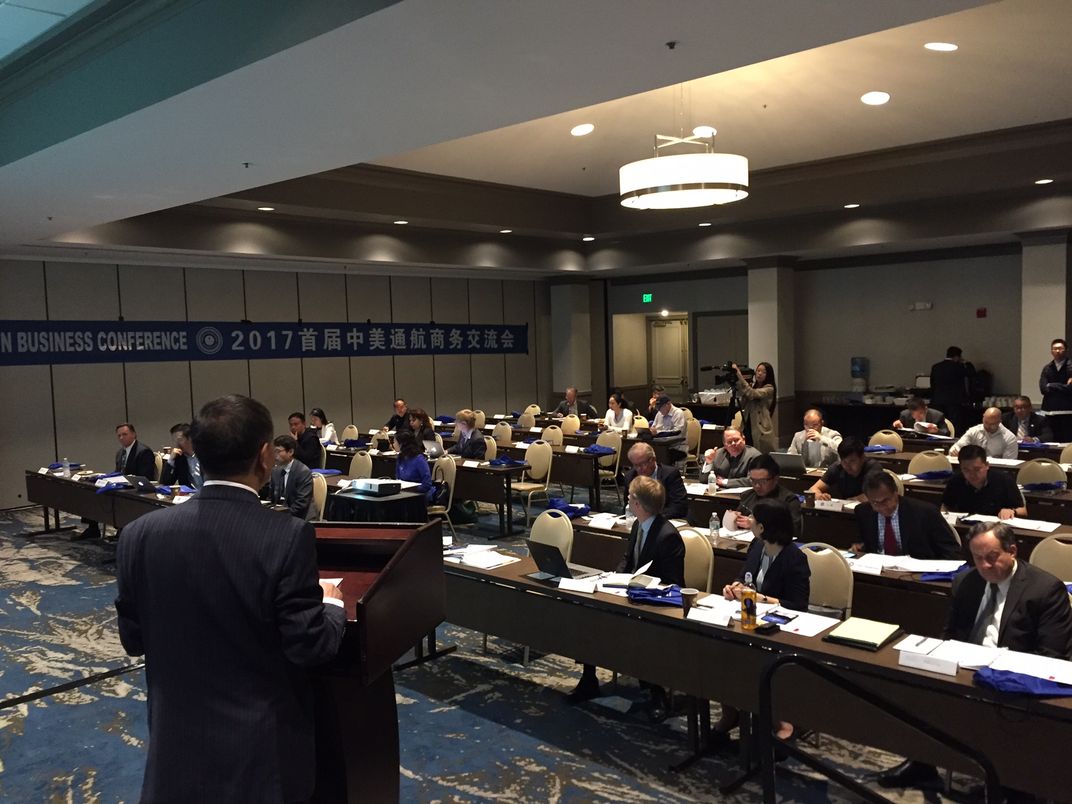 During a day trip to nearby Rosamond Skypark, pilot Olaf Landsgaard led the Chinese entourage around the tiny residential airport, showing homes with attached hangars and tiny single-engine aircraft that the Chinese were eager to try out. The afternoon itinerary included the L.A. County "Red White & Boom" air show, featuring aerobatic performers along with the supersonic Navy Hornets and Air Force Thunderbirds.
The real action, though, took place the following Monday and Tuesday at the Embassy Suites in Brea (near Disneyland) and at Threshold's 150,000-square-foot hangar in Chino, where the company keeps its charter fleet of Gulfstream 550s, G-IVs, Grumman Tigers, Beechcraft Bonanzas and Bombadier Challengers, among others. The Chinese attendees—a mixed group of researchers from Beijing University of Aeronautics and Astronautics, plus aircraft reps from different regions in China—engaged in aircraft tire-kicking and a few serious manufacturing discussions. Mostly, it was a chance to meet U.S. aviation officials, airport managers and sales people to fill in the blanks on how Americans run modern GA and business aviation operations. "I understand China has about 300 airports, but only 180 are usable," said Paul T. Glessner, the Chief Engineer at Threshold Aviation. "So there's a lot of dusting off to do to really understand where the Chinese are coming from."
"This is the first opportunity for U.S.-based companies to meet the people who are responsible to a great extent [for growing] the aviation business in China," said Yuanyang Gao, director of the university's General Aviation Research Center. Gao was the principal organizer of the conference along with Threshold's Karl Zhao, a director of Chinese business development who has known Gao for years.
Mark DiLullo, Threshold's founder and CEO, said that China needs consulting advice on everything from refueling services to aircraft repair to avionics installation. "We can help develop literally 30 percent of world general aviation in the next several years," he predicted. But it won't be easy. During the conference, John Tulac, an aviation business attorney, said that despite recent improvements, China's legal system poses "an unacceptable level of political risk for foreign companies wanting to do business bound by China law." He said that restrictions on foreign companies selling jet fuel have made it difficult to sell into the country despite an urgent need for fuel.
Business aviation also is subject to tight restriction. A recently reported near miss involving a Shanghai-bound business jet resulted in drastic rule changes at Shanghai Hongqiao airport. As of March, business jets in China were permitted to land only from 6 to 7 a.m. and 11 p.m. to midnight. "It's a huge problem," said Douglas Carr, a vice president at the National Business Aviation Association (NBAA). "Business flights have been reduced from more than 20 landings a day to two or three." Meanwhile, he said, "China is expecting 8,600 business jet deliveries in the next decade, with a value of $255 billion," Carr said.
With those kinds of numbers, and with clear official support for aviation, there is reason to be optimistic. "The Chinese government has already decided to expand general aviation," Gao said, and that amounts to a mandate in a country controlled by a single party. "We've opened up several pilot testing areas and new airports in Xinjiang and Mongolia," he continued. "Every year China has more and more airplanes, including private airplanes."
One of the conference participants, Wang He Wen of the Dongguan MiBee Aviation Technology Company in Guangdong, shares this view. He took the opportunity to hop into a single-engine Diamond DA20 at Rosamond Skypark, pushing the throttle back and forth as he imagined his takeoff. Later, he showed off a Chinese newspaper article about his company, with his picture and a bold headline: "In the future the common man of China will be able to fly—it's not a dream." 
For Wang and possibly millions of others, the dream may still be five years away. But in the Chinese view of time, that's just around the corner.