Etihad Airlines' Luxury Suite in the Sky
With your own gourmet chef, too.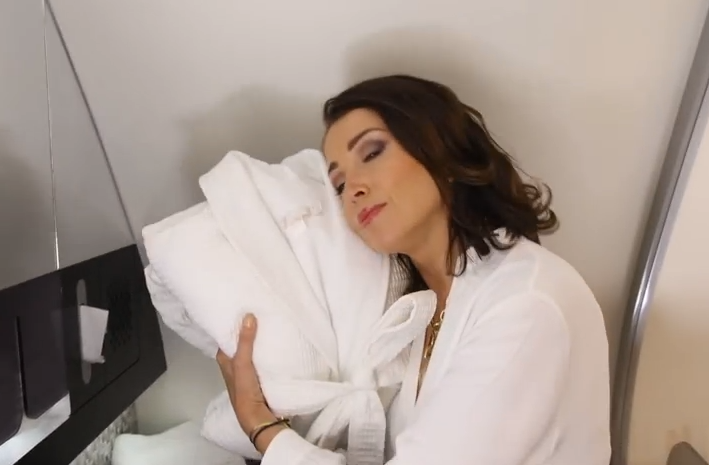 Etihad Airways, the national airline of the United Arab Emirates, already has among the most lavish first-class cabins in the business, and it's about to step up its game another notch. The airline will soon take delivery of ten double-decker Airbus A380s with a new twist: in addition to the usual luxurious first class service, passengers will be able to book "The Residence," an immaculately outfitted three-room suite, featuring a chilled minibar stocked with fine wines, a dedicated bathroom with a shower—and best of all, trained butlers serving chef-cooked gourmet meals. It's the kind of luxury one would expect only on a large private jet. The cost: a reported $20,000, one-way, between Abu Dhabi and London.
The first A380 was delivered on Thursday. The first routes to be served, according to Etihad, are from Abu Dhabi to London, and then Sydney.
Here's Etihad's video tour of The Residence, with Australian pop star Dannii Minogue:
You might not think so based on Etihad's announcement, but first-class service is actually declining across the industry, while business and economy (and recently, premium economy) passenger numbers are rising. One reason is that the recession hit the pocketbooks and profit margins of companies that used to be willing to spring for first class, but another reason is that business class has become much nicer as airlines have introduced lie-flat beds, better food and more amenities.
"Airlines have effectively killed off paid demand for first class by pricing the product in the stratosphere," says Henry Harteveldt, a longtime industry analyst who heads Atmosphere Research Group. ".…in essence, when airlines say there's less demand for first class, they should really add that they killed off that demand through their own business decisions."
For the airlines, the trade is between how much money they can make off a first class passenger versus how much space they take up, which could otherwise be used for more seats. Business class has seen something akin to an arms race, with competitors on major business routes constantly attempting to one-up each other. First class, not so much.
"Airlines are no longer going to spend on their first-class products with the abandon of a drunken sailor on shore leave," says Harteveldt.
That message apparently hasn't gotten through to Etihad.
Nearly irrelevant 20 years ago, several Middle Eastern airports have transformed from relative backwaters to critical hubs of global transport. Some of the rise is connected to growth in the region, which has seen massive population and economic development.
Of equal importance is the region's geography, located conveniently between the markets of Africa, Europe, India and the Asia-Pacific region. As a result, Middle Eastern carriers have been taking passengers from traditional airline powerhouses in Europe and Asia. The big winners are informally dubbed the Gulf Carriers or Middle East Three: Dubai-based Emirates, Doha-based Qatar and Abu Dhabi-based Etihad.
"So far, only Etihad and Emirates appear to be pursuing a 'super premium' level of first-class accommodations with multi-room, hotel-like suites," says Harteveldt.