China Rolls Out New Passenger Jet to Compete With Boeing and Airbus
The Comac C919 is unveiled to fanfare, but it's a very ambitious gamble.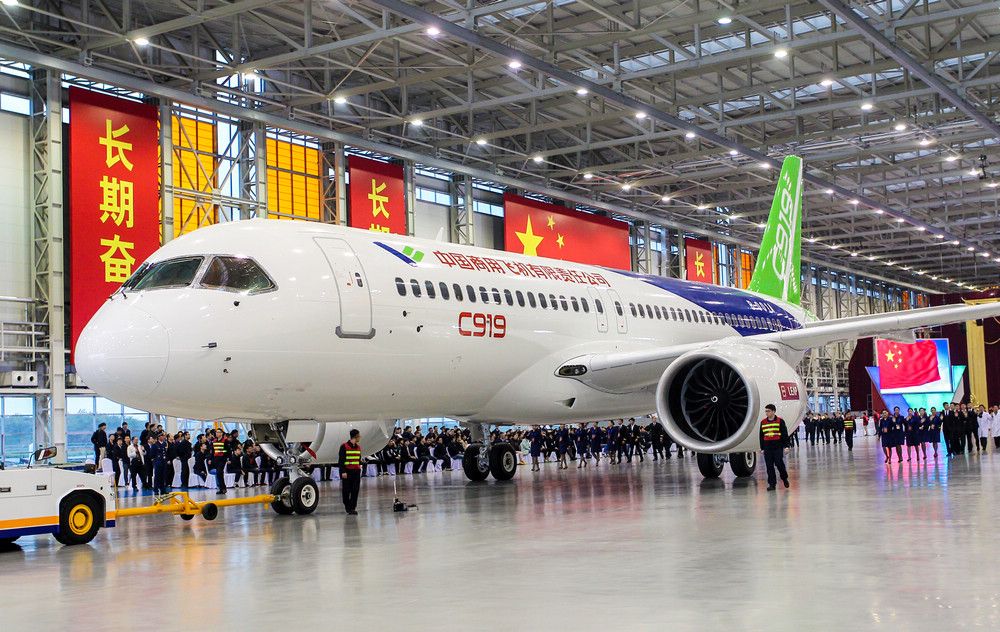 The Commercial Aircraft Corporation of China (Comac) yesterday rolled out the first direct challenge to airplane manufacturers Airbus and Boeing in many years. Called the Comac C919, the passenger liner unveiled in Shanghai will be put through rigorous testing, and if all goes according to plan—far from guaranteed in the aerospace manufacturing business—its first flight will be next year, with the C919 entering airline service in 2018.
The jet is stuffed with the most up-to-date technology: The engines are CFM LEAPs, the same used on Airbus and Boeing's latest airplanes, the A320neo and 737MAX respectively (which themselves have yet to enter service). The avionics and major subsystems almost all come from proven Western suppliers (many in joint ventures with Chinese companies). The C919 is a conventional and straightforward design, breaking no technical or aerodynamic ground, befitting a risk-averse industry. Comac already boasts around 500 orders, far fewer than Boeing has for its 737MAX or Airbus for its A320neo, but certainly a respectable number. If you want to challenge the Airbus-Boeing duopoly with a low-risk solution, this seems like a good way to start.
In theory it's a pretty good idea. China is one of the largest airliner markets in the world, and it's growing rapidly. Chinese labor is much cheaper than European and American labor, so Comac's airplanes will be as well. Chinese industry has years of experience building military aircraft, including transports, and even though most designs were directly copied from the Soviet Union (later Russia), recent Chinese military projects have demonstrated an increased willingness to innovate. Major Western manufacturers—McDonnell Douglas, Airbus and Embraer among them—have operated factories in China, and Boeing recently announced it would follow suit.
But all is not quite as it seems, and the C919 is a very ambitious gamble.
Virtually all of China's aviation experience has been in service to the military, rather than the profit-minded market. The country's few recent forays into civil aviation resulted in such flops as the Xian MA-60 (originally a derivative of Russia's Antonov An-24) and Harbin Y-12, which are often said to be unreliable and even dangerous—not a good reputation for the commercial aviation business. Only a handful of those airplanes have sold outside China, to smaller airlines. Manufacturer and aftermarket support, critical to introducing new aircraft, have largely been absent. Chinese aircraft haven't come close to threatening their competitors.
Despite the flashy rollout, the C919 doesn't look like it will change the situation much. China's centralized economy means that its airlines are largely under government control, and Beijing can (and does) tell the nation's airlines how many airplanes they will buy and of what type, as well as where they will fly and what routes they will follow. Plans to seek certification from American and European aviation authorities (FAA and EASA respectively), the gold standards of aircraft safety, have stalled, and reports differ on whether Comac will continue trying to get certified. Even though 500 orders is an impressive feat, all but one customer is from China (the lone exception, a huge U.S.-based leasing company called GECAS, could very well lease the airplanes within China). That suggests, at best, a wait-and-see attitude from international airlines.
Still, the new airplane may not need to fly anywhere but China to make money. Just as a rising tide floats all boats, China's rising passenger population should leave Comac plenty of room to succeed without denting the duopoly's share (China has been ordering Airbus and Boeing aircraft at a rapid clip).
Breaking into the commercial aviation industry isn't easy, as quite a few companies—Lockheed, Sweden's Saab, and Germany's Dornier among them—can attest. But none of these had the substantial political and financial backing that the Chinese government can bring to bear. And China's not stopping there: Already there are plans for a larger aircraft to take on the Boeing 777 in a joint program with Russia's United Aircraft Corporation. 
For China this isn't just an airplane, it's part of national policy. China has been playing catch-up on all sorts of high-value manufacturing, everything from cars and consumer electronics to supercomputers and nuclear reactors. So far it hasn't taken the lead in any of these industries, and Chinese goods are often perceived to be of lower quality. Of course, that could change. Following World War II Japanese goods were held in similar regard, and now companies from Japan are at the top of many industries—among them aerospace component manufacturing. Building and maintaining a commercial aircraft for domestic use will be an excellent learning experience for China's manufacturers.
As it enters the market, China might take a lesson from Russia's aerospace industry, which has been building commercial airliners (and many other types) for decades. Domestic (and former Soviet bloc) use is relatively high, and the latest Russian offering, Sukhoi's Superjet 100, is by all accounts a capable and reliable airplane, with both FAA and EASA certification. But it has few foreign customers. Despite its lower acquisition costs, the Superjet's operating costs are not quite on par with its competitors, nor is its support network. The politics of buying and maintaining Russian jets is another hurdle: The nation has been subjected to a number of political embargoes, and a ban on Russian aircraft parts is not unimaginable. Foreign airlines looking to buy from China may well bear these kinds of  political factors in mind as they weigh their options.