Amazon Delivers!
The shopping behemoth's first drone delivery goes off without a hitch.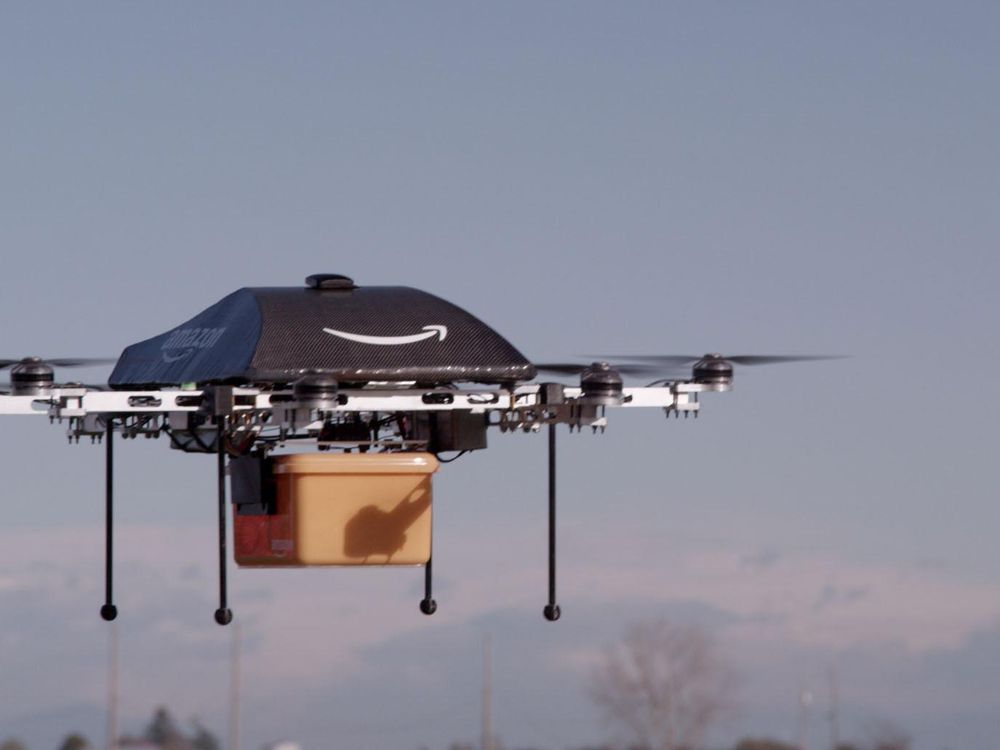 Online shopping giant Amazon made its first drone delivery on December 7, from its distribution warehouse in Cambridge, England. The delivery is a major step for Amazon, which was among the first big companies to pursue delivery by drone. The package—containing a small Amazon Fire TV and popcorn—successfully reached the client's house (identified in the video below only as Richard B.) after a 13-minute autonomous flight.
Though the flight was a carefully scripted publicity stunt, it kicks off a small trial in the Cambridge area. Initially only two customers will be able to order drone-delivered goods weighing up to five pounds: After placing an order and requesting 30-minute delivery on Amazon's website, an automated process begins, with the only human involvement being to order the drone and place the package where the drone can get it. After that, the drone's deployment, flight, delivery, and recovery are all automated.
Should these tests meet with success, the trial will expand to potentially hundreds of people living near the warehouse. But that's just the beginning. Once the kinks are ironed out, Amazon's ultimate goal is to expand the service all over the world, greatly reducing the company's transportation costs by automating package distribution and delivery to the greatest extent possible.
Amazon is far from the only company pursuing drone deliveries: Everyone from 7/11 to the U.S. military has its own delivery drones in varying stages of development. That's not to say you should expect drones to deliver your next package, however. Work on Amazon's drones is ongoing, from its machine-vision systems to safety. There's a good reason this trial took place amidst farms and cows: Should something go wrong there are few people to hurt and few flight paths to interrupt.
But Amazon, being an enormous international company and a common household name, serves as sort of a bellwether: As goes Amazon, so goes shipping. And the company's enthusiastic leap into drone technology put the world on notice that drone deliveries may soon become common. Ready or not, here they come.
Here's an older video, featuring "Top Gear" star Jeremy Clarkson and a different type of drone, that focuses more on the customer experience: