The Air Force's New Training Aircraft Gets an Old and Honored Name
A nod to one of the most respected units in U.S. military history.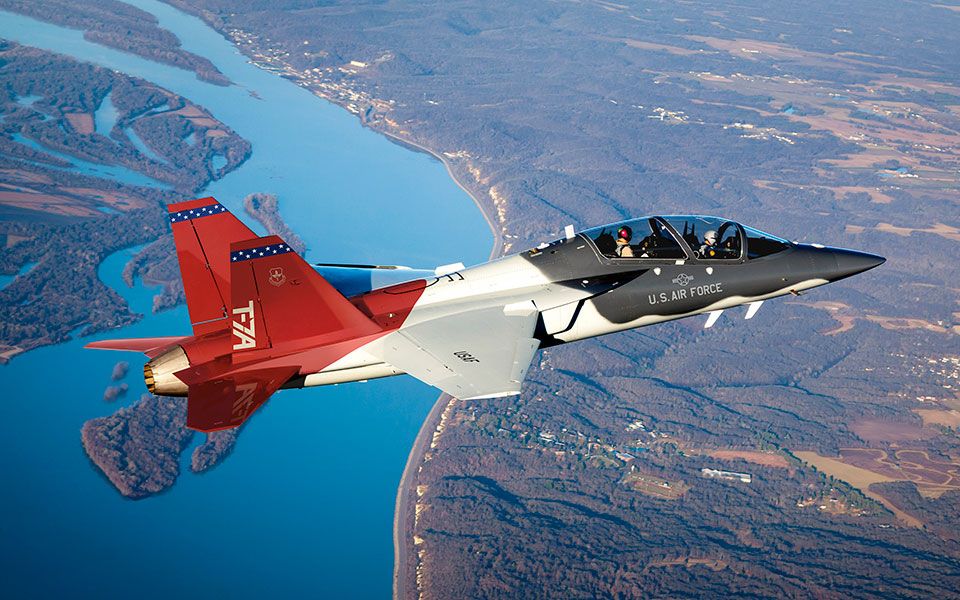 The U.S. Air Force has a name for its brand-new Boeing jet trainer: T-7A Red Hawk, a tribute to the legendary Tuskegee Airmen and the airplanes they flew. One of the last surviving Tuskegee Airmen, Charles McGee, joined Acting Secretary of the Air Force Matthew Donovan to announce the Red Tails name.
The Tuskegee Airmen were African-Americans who joined the Army Air Forces during World War II, when the service was racially segregated. The first Tuskegee unit was formed in June 1941, in Tuskegee, Alabama (hence the name, even though not all the Airmen trained there) as the only aviation unit in which African-Americans could serve. Despite intense prejudice and hazing, the Airmen served as pilots, crewmen, maintainers, and support staff, and fought with distinction over Italy and North Africa. The fighter squadrons were known for their distinctive red-painted tails, earning them the nickname Red Tails.
Some Tuskegee units for a time flew the Curtiss P-40 Warhawk, to which the new airplane's name alludes. The P-40 entered service shortly before World War II; a handful of the airplanes attempted to repulse the Pearl Harbor attacks that brought the U.S. into the war. The airplane was heavy for a pursuit fighter, and though it was often flown to great effect early in the war, it was quickly replaced by more modern fighters. The Tuskegee Airmen flew the P-40 over North Africa, but soon swapped them for P-47s and the group's iconic red-tail P-51s.
The new T-7A, formerly Boeing's T-X (a generic placeholder name), is still in prototype stage, and will replace the Northrop Grumman T-38 Talon as the Air Force's primary jet trainer. The T-38 is worn out: the first one flew in 1959, and the last one rolled off the assembly line in 1972. The T-38s are performance-restricted due to age-related wing cracks, and do not have the avionics required to train pilots on the latest fighters.