An Afghan Aviator's Hope
Shaesta Waiz wants her round-the-world trip to inspire girls everywhere.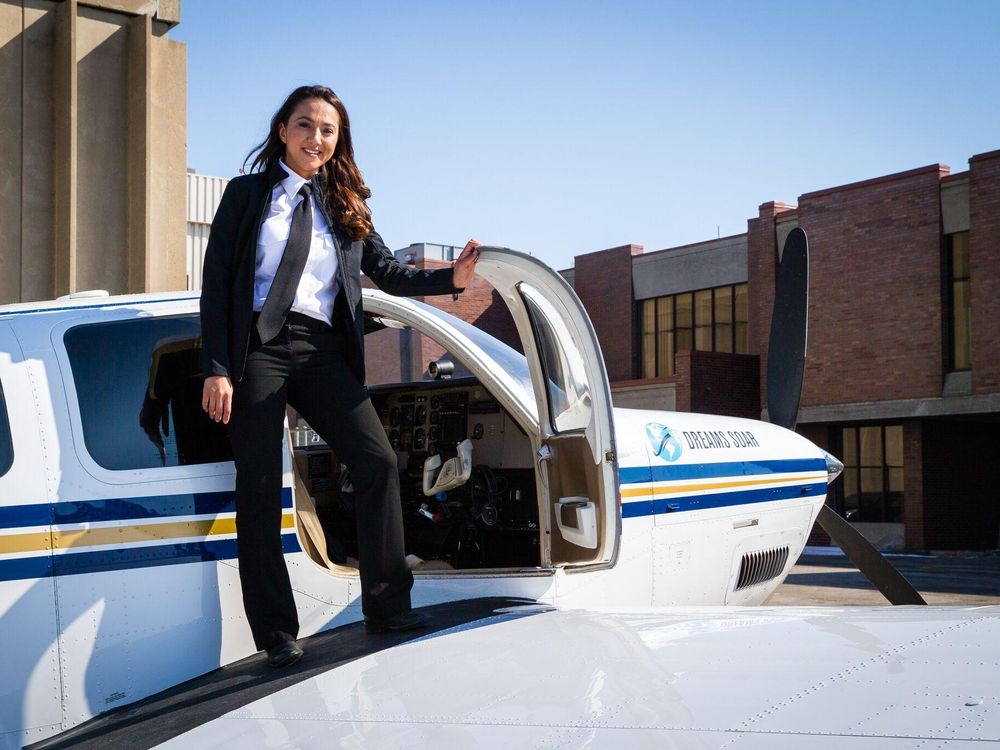 In Kabul this summer, a hundred young Afghan girls swarmed around 30-year-old Shaesta Waiz, the first woman from Afghanistan ever to hold a civilian fixed-wing pilot's license. Waiz was born in 1987 in a refugee camp in Afghanistan. Today she is circumnavigating the globe in a single-engine Beechcraft Bonanza A36, her mission to demonstrate that women can succeed in aviation and STEM careers despite huge barriers to education and self-image.
Waiz says she believes in hard work, dreams, and luck. She's the first in her family to earn both a bachelor's and master's degree, obtaining hers from Embry-Riddle Aeronautical University in Florida. She's also the first Afghan woman aviator to start a global organization—Dreams Soar, Inc.—with the express purpose of jump-starting an aviation and science/technology training movement for girls and ethnic minorities worldwide.
When she was barely a year old, her family fled to the United States to escape the Soviet-Afghan war. Waiz grew up in a home without wealth in Richmond, California; at home no English was spoken, only Farsi and Pashto. "I struggled in school. I couldn't read a chapter book in English until 10th grade," Waiz says. "I lived in an underprivileged school district where substitute teachers, sharing textbooks with classmates, and watching friends drop out of high school was the norm."
As a girl, Waiz thought she'd marry young and start a family. But as a teen, she surrounded herself with friends, many of them foreign born, who wanted to go to college. "I had an epiphany: I wanted to set an example for my five sisters," she says. That led her on a whirlwind of social entrepreneurship: starting college bound clubs, joining student government, figuring out how to help students like herself apply for financial aid. Her work led to a Fairfield High School staff scholarship, a trip to Florida on her first jet, and ultimately, after two years of community college, the opportunity to study aviation at Embry-Riddle.
"I grew up terrified of aviation," she says. "The only thing I knew about aviation were the air accidents I saw on CNN." When Waiz entered an airport the first time, on a trip to meet her aunt, "I was thinking the plane is going to launch like a rocket into the sky." By the time she landed in Florida, Waiz knew she wanted to become a pilot. "I tell kids, the thing you fear most can become your passion."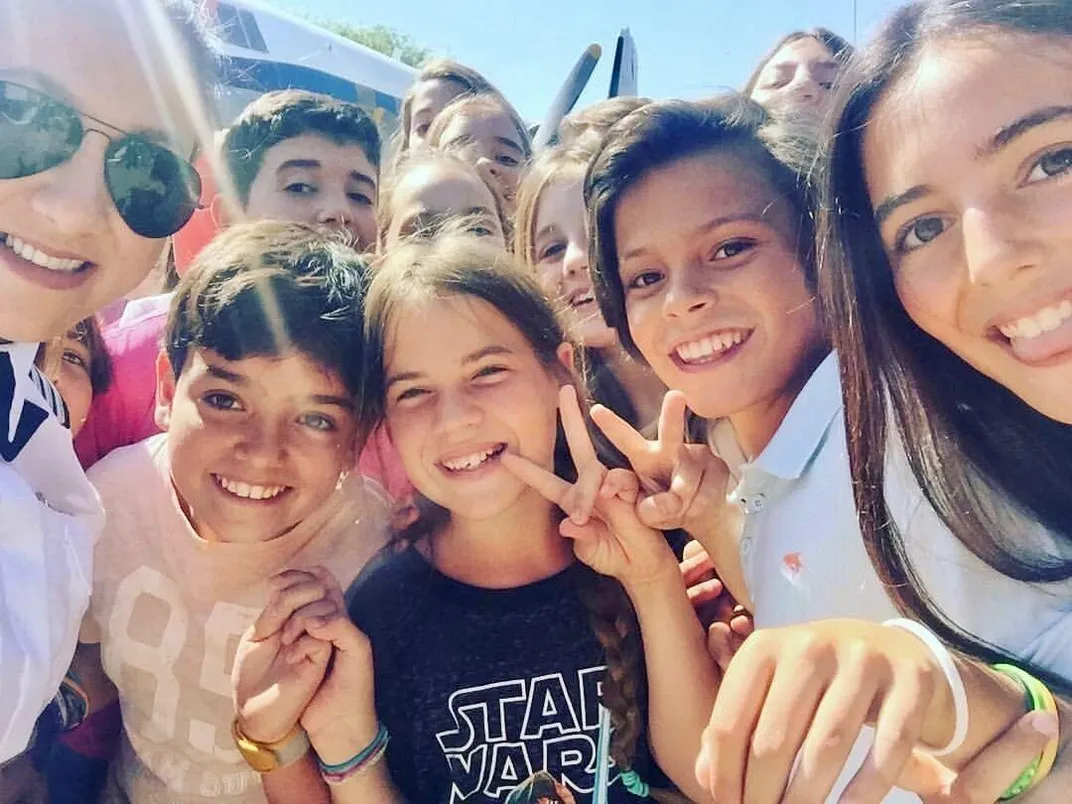 Waiz has become an astute organizer, building a remarkably effective non-profit, all volunteer organization in about two years. For her global mission, HADID International Services is providing flight planning and trip logistics; other funding, mission, aircraft equipment, and STEM support comes from an impressive array of aerospace companies and organizations. Waiz is flying the Beechcraft with donated Internet (from Honeywell) and five of six seats ripped out to accommodate extra fuel tanks for her two ocean crossings. Her five-continent, 25,000-mile tour began in May, and will include 33 stops in 20 countries. Waiz spoke with Air & Space contributor Arielle Emmett on two occasions, before and during her global flight.
Air & Space: What made you decide to start Dreams Soar?
Waiz: During my commercial training I was flying a Hawker 400 over Russia with pilot Barrington Irving (the first African-American to fly solo around the world). We went to seven different countries in Asia. Barrington told me, "This will benefit you if you sit right next to me to experience how the air traffic is." When we landed in Indonesia and got out of the airplane, our hosts introduced me as a pilot who wants to fly around the world. Then a girl came up to me and said, "My family can't afford for me to fly." She drives 45 minutes to the airport every day to work as a janitor, just to be near airplanes. I wished I could do something for her, to get her into the airplane and experience it. That's when I knew I wanted to do something with this [round-the-world] trip…so that's how Dreams Soar started. Our goal is to provide scholarships to anyone who dreams of [flying or pursuing a STEM career].
How did you find your own training?
When I started at Embry-Riddle, I was having the hardest time flying. At home there was controversy; family members thought this money is being spent on a woman who is probably getting married and will never be a professional pilot. Then I decided to reach out to the Afghan government, asking [officials] to please provide me with a list of pilots to mentor me. But there was no one, just one [female] helicopter pilot. I asked myself, it's 2008, how is this possible? But the government said, "We'll certify you as the first woman Afghan fixed-wing pilot" [when you get your license]. And that was the inspiration I needed.
What happened after that?
Even though I got my bachelor's in two years, I wanted to get an instrument rating, but couldn't afford it. So I put together a proposal, and started a "Women's Ambassador" program the first semester of getting my master's degree, because a lot of women applied to the program and then left. I got a stipend [from Embry-Riddle] to pay for my time managing the Ambassador program, and took the income and put it directly back into my training. We increased women's enrollment from 11 percent to 22 percent at the Daytona Beach campus.
Why do women leave flight training before graduating?
If you look at flight training, especially the syllabus, much of it is training for military pilots…I started with 15 girls in flight training, and only two made it to the end of training. A lot of the instructors were younger guys who had just gotten their [flight instructor certificates]. But if you look at a woman in the cockpit, you don't learn in an environment where the instructor feels he just wants to go home, or when an experienced pilot takes the controls when you're frustrated.
What did you think of the Air India pilots who flew around the world with an all-women cockpit and cabin crew?
I was very excited …happy. It's about time. I'm very proud of this crew that they were able to execute this flight, to show the world that women are capable of doing a 'man's job.' A worldwide flight gives you perspective. At the end of the day, the airplane doesn't know if you're a man or a woman, if you're Christian, Jewish, or Muslim…The plane will fly according to your skill…I hope there are more stories like this, but I also hope this becomes normal.
How are you managing the outreach meetings on your global flight?
We are partnering with the International Civil Aviation Organization, which is co-hosting events around the route. We're inviting young kids to come to the airport to learn about STEM. We're featuring local heroes, women who are successful in aviation, to talk to these kids, to say 'I grew up here, this is my backyard…you can do it too.' A goal is to feature these kids [in order to] build our scholarship fund—to award small training scholarships to kids around the world.
What's your route?
The first stop was Columbus, Ohio, to honor the late Jerrie Mock, a mentor. [Mock was the first woman to fly successfully around the world in 1964, in a 1953 Cessna 180 single-engine monoplane, the Spirit of Columbus.] International stops included Montreal (ICAO headquarters) and St. Johns in Canada, the Azores (Portugal), Spain, Italy, Egypt, Bahrain, the United Arab Emirates, Oman, India, Singapore, Indonesia, Australia, American Samoa, and Kiribati. The final swing through the United States includes stops in Honolulu, Phoenix, Wichita, Washington D.C., Atlanta and Mobile, Alabama, before returning home to Daytona Beach, Florida, in the last week of September.
What parts of the trip haven't gone as planned?
The North Atlantic was one of the most challenging regions I've flown, [since] my airplane has no de-icing equipment. It took me two weeks to find a window to go to Portugal and Spain, then to Italy, Cairo, the UAE, and Oman…. In India it's monsoon season, with a lot of convective activity. I was in the UAE, but couldn't find a good window to take off [to India], so I flew a commercial flight from Dubai to Mumbai. I had the opportunity to go to an orphanage in Mumbai and also to meet local women in aviation.
What about Afghanistan?
I actually did go to Afghanistan, and I have to tell you, it was probably one of the warmest welcomes anywhere. When I arrived in Kabul, there was a storm of people waiting for me. Since I'm flying a single-engine piston-powered airplane, I can't fly very high…and there was a big security concern about possibly being shot down…[so I flew in on a commercial carrier]. We did a program in Kabul with the United Nations Development Programme tour, and 300 people, the majority of them women, showed up and welcomed me with flowers. Dr. Abdula Abdula, the prime minister of Afghanistan, was there. He gave a heartfelt speech, tears in his eyes, talking about how Kabul had had recent bombings, and the city was on eggshells.
"Finally," he said, "we have an Afghan woman who is doing a very brave act flying around the world representing us…" He gave me an award, and I went to the palace of President Ashraf Ghani and met the First Lady of Afghanistan, Rula Ghani. We talked about STEM and what I'd like to accomplish in Afghanistan for women. I also met with young girls and women in the Air Force waiting for flight slots….At the United Nations meeting, a young girl said, "Shaesta, why are you here?" I told her, "When you are brave and strong in your dreams, they will come true." The entire country had embraced me in a way I didn't expect.
What are you planning to do after your world trip is over?
I'd love to start a STEM school in Kabul and tackle the five major issues Afghanistan is facing: environment, deaths related to severe cold, solar energy, exploitation of natural resources, and girls' education. Creating an all-girls STEM school can let girls put their talents to use so they feel empowered to solve the issues Afghanistan is facing. In Kabul, I noticed so many women in school, all excelling, but they were confined to home, and to walk in the streets of Kabul, they had to walk with their fathers… I could see how intelligent they were.
How is it that you're able to accomplish all of this?
I grew up very shy…I think about the person I am today, even as opposed to a few years ago, and it's like night and day. It's not even the fear of flying at this point, you just want to do it. I know so many girls who don't think they can do anything. But here [on this trip], I hope young girls can open their eyes and see past the limitations. If I can do it, anyone can do it.