Zuccotti Park: Protest Site as Tourist Attraction
Getting a feel for the sliver of green in lower Manhattan that Occupy Wall Street Protesters call home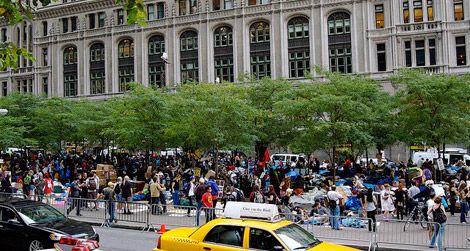 When I read in USA Today that Occupy Wall Street is the hottest new tourist attraction in New York City, I had to go down to Zuccotti Park. The crowds are there, all right, drawn as much by the rising World Trade Center next door as by the encampment; the two make an odd couple. But I wonder how many visitors know why protesters chose to pitch their tents in the small brick square, or what story the site tells about real estate development in New York.
Like about 400 other little green spaces in Manhattan, Zuccotti Park is privately owned and therefore not subject to city curfews. Its proprietor, the international commercial real estate company Brookfield Properties, makes the rules, keeping it open 24/7.
Brookfield acquired Zuccotti Park in 1996 when it bought One Liberty Plaza, a dour behemoth of a skyscraper north of the square, then spearheaded an $8 million renovation to repair damage caused during 9/11. In 2005 benches were laid and 50 honey locust trees were planted. Seward Johnson's Double Check, a sculpture of a businessman verifying the contents of his briefcase, was returned to the park after restoration necessitated by the disaster.
The refurbished park was a welcome oasis in the Financial District, though now, because of the protest, it looks like a state park campground on the Fourth of July. Much has been made about trash, noise and unhygienic conditions brought by Occupy Wall Street protesters. But it looked to me about as ship-shape as a tent encampment can be, with a neo-Woodstock vibe and a kitchen dispensing peanut butter sandwiches.
I talked to a few participants, sightseers and passersby, confirming my sense that the carnival nature of the event has eclipsed whatever message it had.
So I looked elsewhere for meaning and found it in the architectural history of the neighborhood.
Real estate maneuvering has long been par for the course in New York and the buildings around Zuccotti Park are a textbook example.
Join me in a little tour, aided by Michael Leapman's Companion Guide to New York and the American Institute of Architects' Guide to New York.
1. Approach Zuccotti Park by walking south from Chambers Street along Trinity Place. That way you get to see a replica of the cross found in the World Trade Center debris, Ground Zero under construction and the mossy graveyard at Trinity Church.
2. Stand on the south side of the elevated piazza at One Liberty Plaza to look over the tent encampment at Zuccotti Park and wonder what people saw from the windows of the Singer Building and Tower, a 1908 landmark that formerly occupied the block, demolished in 1970 so U.S. Steel Company could build the bleak tower behind you. At the time the area of a proposed skyscraper's site dictated how high it could rise. So U.S. Steel acquired the square across Liberty Street, adding its three-quarters of an acre to the total, thereby allowing One Liberty Plaza 54 floors. When Brookfield bought the building it also got Zuccotti Park as a front yard.
3. Cross Broadway on the east side of One Liberty Plaza to see one of the first skyscrapers built after World War II. You can't miss the 51-story Marine Midlands Bank Building because its mailbox is Isamu Noguchi's massive red cube, balanced on one of its corners. Look up to be enchanted by the building's evanescent window-paneled side.
4. South of  Zuccotti Park, the U.S. Realty Building exemplifies the best impulses of early 20th century commercial architecture. Its towers and gables were designed to harmonize with nearby Neo-Gothic Trinity Church.
5. Then look across Broadway at its neighbor and contemporary, the infamous Equitable Building. Both first-generation skyscrapers were built when New York was just beginning to adopt the steel frame construction style pioneered in Chicago by Louis Sullivan. But when unveiled, the Equitable's bulky, sunless, 38-story twin towers horrified New Yorkers, resulting in city restrictions on the height of new skyscrapers, subsequently circumvented, of course.
6. There's a Starbucks at the intersection of Liberty and Nassau Streets if you need an espresso to get your head around American capitalism. You just can't hold it down in New York; get a double.