Whale Mail Is the New Snail Mail at the World's First Underwater Post Office
All you need to reach the Vanuatu Post is a deep breath and a waterproof postcard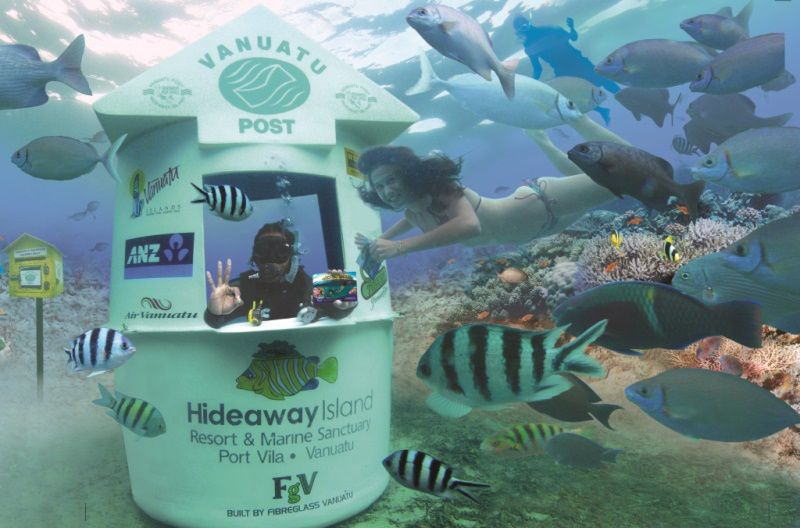 Vira Timbaci's post office job is similar to that of many postal workers around the world, except for one minor detail: one of the mailboxes he manages is underwater.
Located about 160 feet off the coast of Vanuatu, an island nation situated about 1,000 miles east of northern Australia, sits the Vanuatu Post's underwater post office. The mailbox and converted fiberglass water tank are submerged ten feet beneath the surface of Mele Bay, a body of water that feeds into the South Pacific Ocean. Devised over drinks by the local postmaster and a resort owner, it opened in 2003 as the world's first underwater post office to literally make it possible for vacationers to send postcards back home from under the sea.  
"Every week hundreds of postcards are dropped off at the underwater post office," Timbaci tells Smithsonian.com. "The number goes up when cruise ships come into port."
As a postal manager, it's Timbaci's job to ensure that the postcards, which are made of waterproof plastic and embossed with a special stamp, are collected on time at 3 p.m. each day. (The post office developed a special metal device that marks each postcard without using ink, which would smear on contact.)
Visitors know that the post office is open for business when a flag is flown at the surface. While Timbaci sometimes straps on scuba gear and mans the post office himself, he often taps one of the dive masters at the nearby Hideaway Island Resort and Marine Sanctuary to help out. (At one time, the local postal service trained its postal clerks to scuba dive, but over time this additional specialized training became difficult to maintain, which is why the dive masters now pitch in.)
"Swimming to the post office is a great way to see the local sea life," he says. "It really is beautiful here."
In the years since its opening, there have been several copycat underwater mailboxes that have opened, including ones in Susami, Japan; Risor, Norway and Pulau Layang-Layang, Malaysia, the world's deepest located more than 130 feet underwater, but the one at Vanuatu will go down in history as being the first of its kind.
The Vanuatu underwater post office is open to snorkelers, scuba divers and anyone who can hold their breath long enough to make a transaction. Can't swim? There's also a mailbox located on terra firma at the resort that will mail the waterproof postcards.