Wisconsin - Nature and Scientific Wonders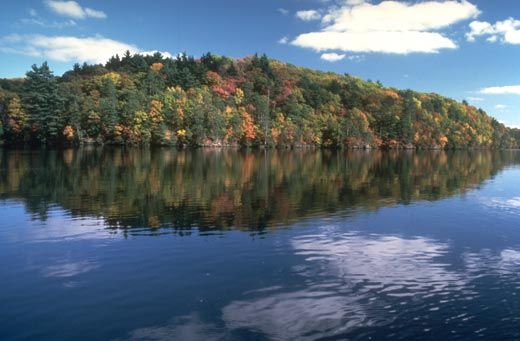 The first of the state's five newly created regional nature-viewing areas, the Great Wisconsin Birding & Nature Trail is a traveler's guide to the state's best bird- and nature-watching areas. A cooperative effort linking important wildlife sites within each region, the trails blend existing roads with customized maps to guide nature enthusiasts to Wisconsin's top wildlife areas, historic sites and bike trails.
Known worldwide for its breathtaking sandstone cliffs and accessible sea caves, the Apostle Islands National Lakeshore is ideal for exploring historic lighthouses, logging sites, old farmsteads and tranquil private beaches. Home to stunning rock formations and six of the country's finest lighthouses, this chain of 21 islands off the shores of Bayfield offers numerous kayaking and hiking opportunities for explorers.
One of the most picturesque and least-developed areas in the Midwest, the St. Croix National Scenic Riverway is a haven for dramatic scenery, wildlife watching and countless recreational opportunities. Established to preserve the area's natural resources and provide outdoor recreation, this national treasure boasts a hearty supply of everything from islands, valleys and cliffs to eagles, osprey and beaver. The lush landscape provides the perfect backdrop for camping, biking, fishing and other outdoor activities.
One of only 80 national scenic byways in the U.S. and the state's first, Wisconsin's Great River Road National Scenic Byway is steeped in natural resources, history, recreational activities and cultural opportunities. Encompassing 250 miles of roadway along the mighty Mississippi, the byway offers countless breathtaking views best enjoyed while meandering through quaint river towns dotted with Victorian buildings, historic sites and antique shops. A paradise for boaters and anglers alike, the region's parks and nature preserves are a favorite destination for hikers, bikers, campers and birdwatchers.
A breath of fresh pine, endless miles of hiking trails and nature- and wildlife-viewing opportunities abound in the Chequamegon-Nicolet National Forest. Covering more than 1.5 million acres, the forest is located in Wisconsin's Northwoods, where dense stands of pine and hardwoods surround hundreds of lakes and rivers. Feel the cool spray from whitewater, hike along a 41-mile segment of the Ice Age Trail and observe black bears, ruffed grouse and loons in their natural habitat.
Home to one of the nation's finest glacial imprints, the Ice Age National Scenic Trail is a 1,200-mile tour of Wisconsin's glacial history. One of eight scenic trails in the country, the trail offers hikers striking vistas along glacial lakes and streams, remnant prairies and former lumber camps as they meander along 600 miles of trail. Spanning the state, the trail ambles from Potawatomi State Park, south through the Kettle Morraine State Forest, north to Devil's Lake State Park and Antigo Falls and then west, ending at Interstate State Park.
A hiking path linking seven northern states, the North Country National Scenic Trail winds through Northern Wisconsin with 103 miles of exploration-ready trail. From the rocky outcroppings and overlooks of the Penokee Hills in the Chequamegon-Nicolet National Forest to the series of waterfalls and serene forests of the Copper Falls State Park, the route offers hikers no shortage of picturesque scenery.
A sanctuary for species ranging from egrets and blue heron to Whooping Crane and American White pelicans, Wisconsin's National Wildlife Refuges offer many waypoints and observation areas ideal for witnessing flora and fauna in their natural habitat. The 32,000-acre Horicon Marsh is the largest cattail marsh of its type in the U.S. and home to more than 265 bird species. Porcupines, wolves, bears and more than 220 bird species, including the training grounds for the Whooping Crane Reintroduction Project, are some of the highlights of the 44,000-acre Necedah National Wildlife Refuge. A resting grounds for migrating ducks, geese and American White Pelican, the Trempealeau National Wildlife Refuge is complete with a barrier-free observation deck and five-mile drive showcasing the refuge's different habitats.
Once part of Glacial Lake Wisconsin, the Necedah National Wildlife Refuge consists of more than 43,000 acres of wetlands and open water areas; pine, oak and aspen forests; grasslands; and savannahs, all of which support a rich diversity of fish and wildlife. Visitors can observe a treasure house of wildlife, including Canada geese, trumpeter swans, ducks, sandhill cranes and more than 220 other bird species, as well as deer, wild turkey, wolves, coyotes, bears, porcupines and beaver.
A short drive from Madison, Governor Nelson State Park is one of the most easily accessible parks in the Wisconsin State Park System. The 422-acre park is located on the northern shore of Lake Mendota and is a popular summertime destination providing hiking, swimming and boating opportunities. In winter, the park's hiking trails become a hotbed for cross-country skiers, while its forests and prairies draw snowshoe enthusiasts.
Covering more than 968 acres, Yellowstone Lake State Park has the unique benefit of having very few mosquitoes, thanks to its unique residents. During the summer, the park is home to more than 4,000 brown bats that roost in 31 bat houses throughout the park. As the sun begins to set, campers are treated to a spectacular display as the bats take to the sky to feed on as many as 600 mosquitoes each, virtually eliminating the population.