William Faulkner's Hollywood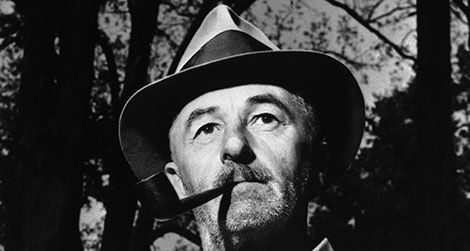 "Everything in Los Angeles is too large, too loud and usually banal in concept," said William Faulkner, a part-time Hollywood screenwriter and the Nobel Prize-winning author of The Sound and the Fury, Absalom! Absalom and As I Lay Dying.
He spent most of his life in Oxford, Mississippi, still the best place for a Faulkner pilgrimage, where visitors tour his home, walk the campus of Ole Miss (which he attended for three semesters), drink Bourbon at his grave and see places that figure in his novels.
Tracking the author in ever-changing Los Angeles is harder, a project suitable for true devotees and close readers of Faulkner biographies like those by David L. Minter and Joseph Blotner, which touch upon the time Faulkner spent in the 1930s, 1940s and 1950s grubbing for money as a contract writer for Metro-Goldwyn-Mayer, Twentieth-Century Fox and Warner Brothers. He abhorred the work, drank heavily and had an extra-marital affair with a secretary who co-wrote a tell-all about the liaison, A Loving Gentleman: The Love Story of William Faulkner and Meta Carpenter. The 1991 Ethan and Joel Coen film Barton Fink gives an even more lurid picture of Faulkner in Hollywood.
Most of Faulkner's old watering holes are gone, except for Musso & Frank Grill, founded in 1919 on Hollywood Boulevard, a necessary stop for aficionados. He can also be channeled in the ground-floor bar at the Spanish Colonial Roosevelt Hotel in Hollywood and downtown at the Gallery Bar in the Millennium Biltmore.
Faulkner worked on scores of scripts in Lotusland, including Gunga Din (1939), Mildred Pierce (1945) and The Southerner (1945), directed by Jean Renoir. But he got credit for only a few, including The Big Sleep (1946), based on a Raymond Chandler mystery. It was directed by Howard Hawks and starred Faulkner drinking buddies Humphrey Bogart and Lauren Bacall. If you take the VIP Tour at Warner Brothers Burbank studio you get to see New York Street where parts of the classic film noir were shot.
Faulkner lived like a vagrant during his stints in L.A. His temporary addresses included the Highland Hotel at 1921 N. Highland Ave. in Hollywood; the Garden of Allah apartments on Sunset Blvd.; a house on El Greco St. in Santa Monica; and a walled villa at 2058 Watsonia Terrace in Whitley Heights, a neighborhood that creeps up the hills behind Hollywood on narrow winding streets decked with bougainvilleas. You can't see much more than the wooden front door; but you can imagine Faulkner inside, writing in sunglasses with a hangover.